Trapped in a cluttered set meant to evoke an abandoned nightclub (with old, upside-down flowerpots? why?), the cast of TEN CENTS A DANCE do little but wander about singing strangely uninspired arrangements of some of America's best-known songs.
Ten Cents a Dance, a medley of songs by Richard Rodgers and Lorenz Hart. Conceived and directed by John Doyle. Produced in association with McCarter Theatre Center, Princeton, NJ, and the Williamstown Theatre Festival, Williamstown, MA, through August 28.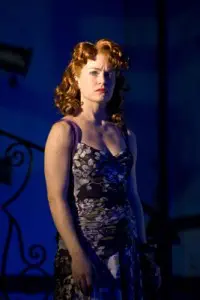 Scottish stage director John Doyle came to the attention of American audiences with a stripped-down version of Stephen Sondheim's Sweeney Todd that won him a Tony Award for direction in 2006. He had first staged the show at the 215-seat Watermill Theatre in England, making a virtue of necessity. Like many small theaters around the world, the Watermill couldn't pay even a small chamber ensemble of musicians to perform Sondheim's score. Many American theater companies have addressed this problem using pre-recorded music or a reduced piano or two-piano score. But Doyle put together what was then a novelty: an ensemble of actors who could sing and dance as well as serviceably play a variety of musical instruments.
I did not see his Sweeney, but my reed-playing son who was then in conservatory and is now a pit musician, did. He reported that most of the Broadway actors were good musicians, that its extraordinary star Patti Lupone, a small woman who briefly played the tuba, was a comic sensation; and that other effects like the lighting design were "amazing." He missed the lushness of an orchestra but thought it made for intriguing Sondheim.
Doyle followed Sweeney with Jerry Herman's Mack and Mabel, then Sondheim's Company. Ten Cents a Dance actually preceded all of these shows. He began working on it in 2002, and I wonder whether he isn't hoping to cash in on his recent successes rather than on the quality of the earlier work.
Ten Cents a Dance is a loosely structured set of dream sequences designated as Episode One; Episode Two; and so in in the program. Each features a medley of Rodgers and Heart songs performed by five incarnations of Miss Jones (as in "Have You Met Miss Jones?") and a pianist/singer at a baby grand. There is no dramatic narrative. The drama consists of the five women striding or drifting about the stage, scowling, smiling, looking wise or forlorn, picking up and replacing various instruments—cello, violin, bass, trumpet, guitar, flute—that they play while singing or ascending or descending a wrought iron circular staircase that looks as if it might have been taken from a set of A Streetcar Named Desire.
The pianist sits at the keyboard, reflects, signs, plays and sings. His biggest dramatic gesture is to fling off his shirt. Sometimes the women circle him. Sometimes he and his piano revolve on the small, circular, moving piece of the stage. When he stops playing, the women freeze as in the childhood game "Red Light Green Light 1-2-3" and he surveys them searchingly and sometimes walks over to inspect them close-up, as though they were statues.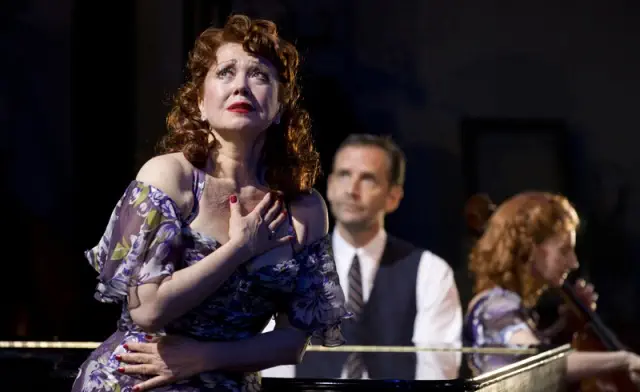 All this would be tolerable if the voices, actors, or musical performances were good. Unfortunately, they are not. The piano player lacks stage presence. I thought briefly of the musical Nine where a charismatic man plays against nine women. You need a compelling male lead, and this actor doesn't cut it.
The five incarnations of Miss Jones are equally uncompelling. They do not dance, though the music invites it. Dressed in slightly varying versions of floral print dresses that look as though they were taken from the set of Oklahoma or Carousel (this is Manhattan of the 20s and 30s isn't it?) and trapped in a cluttered set meant to evoke an abandoned nightclub (with old, upside-down flowerpots? why?) they do little but wander about singing strangely uninspired arrangements of some of America's best-known songs. One of them, the renowned Donna McKechnie, regularly punctuates musical phrases with a triangle.
The echoing sound design muffles the lyrics and makes all of them sound as though they're being sung in a church. The lighting is clunky. Guess what color came on for "Blue Moon?"
This Williamstown Theatre Festival production does not benefit by being located midway between the Marlboro Music Festival and Tanglewood. But I can't imagine this production pleasing anyone but a fond parent watching a local high school production.
You'd think it would be impossible to destroy an evening of songs by Rodgers and Hart, but John Doyle's Ten Cents a Dance makes their music and lyrics sound so drab and tedious that, at the end of the 90-minute show, I was actually wondering whether the classics of the Great American Songbook were all that good.
---
Helen Epstein is the translator of Acting in Terezin and the author Joe Papp and other work on Kindle.