A fascinating adaptation, well worth the trip to out-of-the-way Chester, MA, The Turn of the Screw is never less than interesting and often all-absorbing—especially when actress Allison McLemore lets loose. 
The Turn of the Screw. Adapted from the novella by Henry James by Jeffrey Hatcher. Directed by Daniel Elihu Kramer. Staged by the Chester Theatre Company, Chester, MA, through August 14. 
By Helen Epstein.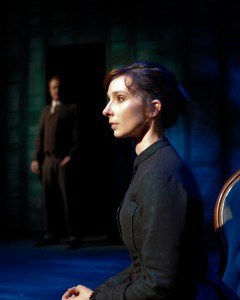 Adaptations—plays abridging, elaborating on, taking off from original works, reworking and recasting their form—are the stuff of Chester Theatre Company's (CTC's) 2011 season. A spunky pride@prejudice led the way, followed by a well-received Crime and Punishment. Now CTC has revived Jeffrey Hatcher's 1996 two-hander, with the prodigiously gifted Allison McLemore playing the intrepid and perhaps mad governess and the versatile Justin Campbell playing the Narrator, her employer, the housekeeper, and nephew Miles—all while costumed in man's Victorian dress. 
A fascinating adaptation, well worth the trip to out-of-the-way Chester, The Turn of the Screw is never less than interesting and often all-absorbing—especially when Allison McLemore lets loose. Henry James's ghost story, set in 1892, is simple: a rich bachelor hires a poor governess to care for his orphaned niece Flora and nephew Miles on a country estate. She will be well-paid, in total charge of the household, and have the aid of a housekeeper. His only condition is that she not communicate with him under any circumstances. 
The governess's circumstances come to include dealing with a 10-year-old boy who has been expelled from school for reasons that are "unspeakable" and repeated visitations by ghosts of former employees, one a predecessor of the governess. 
Writing a century after James, Hatcher is able to count on our collective, cultural literary memories to play with even more nineteenth-century staples and themes than the author originally did: old manor houses, governesses, bachelor uncles, children who have lost their parents, spiritualism, the love that dare not speak its name, hysteria, child molestation, repression, theories of seduction. 
Shades and lines of Charlotte Bronte, Freud, Dora, Louisa May Alcott, Edgar Allan Poe, Oscar Wilde, and Charles Dickens all passed through my mind as I watched and wondered what facet of James' ghost story had made it so appealing to Hatcher as well as to a host of other adapters, including the composer Benjamin Britten, who made it into an opera.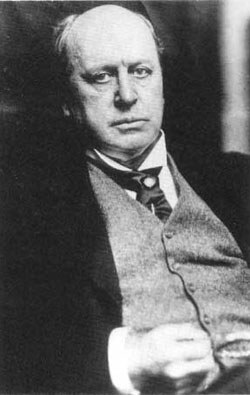 I myself was never an aficionado of ghost stories. The really good ones scare me beyond enjoyment; the bad ones bore me. I confess that I never understood the appeal of James's ghost story. It interests me because of its characters—particularly the intelligent governess heroine—and because of its all-pervasive ambiguity: What's real? Whom do we believe? Where is this really happening? Are the ghosts actually there or are they a fantasy? Whose? Why is this story called the turn of the screw? Is it a play on words? Does it allude to torture? Increasing pressure? Giving a story a twist? 
As usual in CTC's productions, the design team has worked as one to create an atmosphere that enhances the themes of the play. The beautiful and deceptively simple set consists of two converging walls of shutters with no obvious points of exit, a set-up that affords the lighting designer opportunities to play with light in a number of different ways. The shutters are themselves evocative of boarded-up, abandoned houses, attics in which old things and sometimes madwomen are stored. They made me think of closets, claustrophobia, and being cornered with no way out. 
The only furniture is a single large, Victorian chair and a chandelier placed so high that I missed it entirely, so riveted was I on the interaction of the two actors as well as their interaction with unseen characters, including the daughter Flora. The sound design is extremely subtle, barely audible at key times. 
This all provides a beautiful frame for Alison McLemore. After watching her last year in the Nibroc Trilogy, I was wondering how her demeanor and voice—which I had come to associate with Kentucky hill towns—would translate to England. I'm pleased to say they translated flawlessly, and she disappeared into her role with the quiet conviction that marks true acting. I look forward to seeing much more of her. 
Director Daniel Elihu Kramer used actor Justin Campbell to make the imaginary as palpable as possible. He moves from middle-aged employer to 10-year-old Miles to female housekeeper while wearing the same three piece Victorian suit (the costume design is simple and evocative). He hums the music he plays on an imaginary piano. Although only two actors inhabit the stage, we have the illusion of having seen many more characters. 
This performance, I felt, gave the somewhat inconsistent script its best possible shot. Hatcher's adaptation gives us one child, Flora, who's as invisible as the ghosts, whereas her brother Miles is enacted by Campbell. We wonder why. Why did the playwright choose to reframe the narrative leading us to believe that the narrator might himself be a ghost? Why are there several allusions to governesses being locked up in asylums and several uses of the word "seduce." I looked for the word in the James's original but didn't find it. 
Just the fact that I bothered is evidence of a production that keeps you thinking long after the lights have come up. Turn of the Screw is a modern, eroticized version of a ghost story whose author was famously skittish about overt sexual expression. Quite apart from providing an evening of riveting entertainment (you could have heard a pin drop for most of the intermission-less 80 minutes) this production shows the limits of adaptation. 
"Has she seduced you?" the Narrator asks rather sourly as he sprawls in his chair just before the play ends. "Well God be with you." 
---
Helen Epstein is the author of author of Acting in Terezin and Joe Papp and other work on Kindle.