The real draw of Win Win is its original and earnest story combined with its unexpected humor. It's not an overly complicated plot; it's just life with all of its ups and downs.

Win Win. Directed by Thomas McCarthy. The cast includes Paul Giamatti, Amy Ryan, Bobby Cannavale, Burt Young, Alex Shaffer, and Jeffrey Tambor.
By Sarah Sanders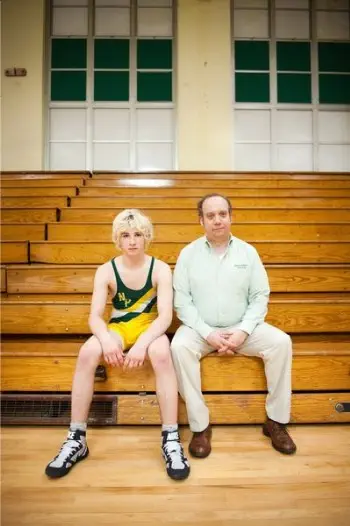 Down on his luck lawyer, Mike Flaherty (Giamatti) really needs a win. Saddled with a mountain of bills and a struggling law practice, Mike's stress levels have escalated to the point of chronic anxiety attacks and even the smallest victory is far from reach in this honest comedy drama about life and second chances.
In an effort to alleviate his money problems, Mike convinces a judge to let him have the guardianship of and a monthly commission to see after incapacitated Leo (Burt Young). But no stranger to upsets, he discovers Leo's estranged, runaway grandson Kyle (newcomer Alex Shaffer) on his doorstep and reluctantly takes him in.
Tight for money, Mike also moonlights as a wrestling coach to a band of scraggly misfits wholly without competitive drive. The skinny, awkward boys merely flop around on the mats until time is called despite the encouragements of Mike and his assistant coach, Vig (Tambor). Practices are a sad state until Kyle asks if he can workout with the team and reveals some serious brawling chops. Before running away, Kyle was a state champion wrestler. Mike sees in Kyle a chance at finally achieving a victory for them both.
Win Win is a perfect movie about ordinary people just trying to deal with realistic difficulties and disappointments. Rarely has a movie been so well cast. Ryan and Giamatti are fantastic and realistic as the happy, yet stressed out, average couple. They're caring people who try their hardest to do the best they can and help each other out. They take in Kyle because they couldn't bear to see him out on the street when they can easily take care of him. The audience sympathizes with their struggles and wants things to work out for them.
The rest of the cast shines too, with Tambor lending his unique blend of gravity and absentmindedness to his scenes and Cannavale's Terry, whose enthusiasm amid a sea of persistent underachievers garners the majority of the laughs. Not to mention the vastly entertaining wrestling team and scrawny Stemler, who seethes with anxiety before each match—even though he's benched and dreads the day when Mike will give him the "green light" to compete.
Writer-director Thomas McCarthy crafts convincingly bedeviled characters. Mike makes mistakes, but the audience understands it's for the right reasons. Kyle has a checkered record and an anger problem, but he's also helpful, motivated, and a leader. They have both been given a second chance to make things right, and they're going after it with everything they've got. And Shaffer, in his first acting role, holds his own against award-winning actors Giamatti, Ryan, Tambor, and Cannavale. There's heart in the writing of these characters, and the audience easily grows to care about them.
Some viewers might be disappointed to find that wrestling does take a backseat in this family-centric drama, but there's enough in there for fans of the sport not to feel too let down. The real draw of the film is its original and earnest story, combined with its unexpected humor. It's not an overly complicated plot; it's just life with all of its ups and downs. Win Win keeps audiences entertained and laughing, while also supplying some genuine drama.