By Erica Abeel
Tár is about a major artist with an outsize ego who ignores at her peril the seismic shifts in the culture.
Tár, directed by Todd Field. Opening at Kendall Cinema and AMC Boston Common on October 13.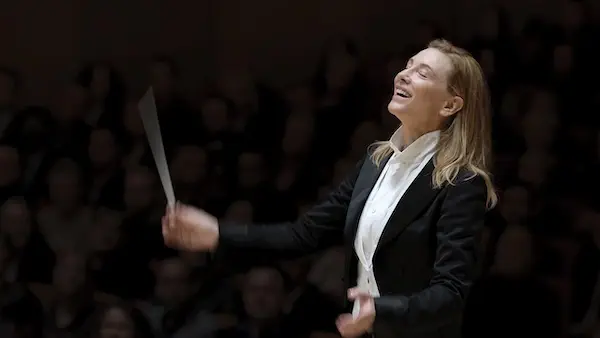 What a gift director Todd Field and Cate Blanchett have handed us in Tár. A gripping character study anchored by an astonishing turn from Blanchett, it's set in the world of, gulp, classical music. Given this milieu, the folks who boarded the project must have resigned themselves to turning a profit in the high two figures. It's intriguing that Todd Field (In the Bedroom and Little Children), who hasn't been heard from in 16 years, has resurfaced with a work that flings its highbrow creds in the air like confetti.
As my colleague Gerald Peary recently wrote, "Nobody goes to non-horror, non-comic book movies these days without major stars." It's hard to imagine, though, that Tár, by far the best film I've seen in the super-selective New York Film Festival, won't break some sort of philistine barrier and find a wide spectrum of viewers.
Center stage is Lydia Tár (Blanchett), a genius-grade conductor/composer, protegée of Leonard Bernstein, and first female conductor of the legendary Berliner Philharmoniker. Tár kicks off as she prepares to record Mahler's Fifth Symphony. Lydia lives in Euro-cool digs with longtime partner Sharon (Nina Hoss, reliably superb), who is also the orchestra's first violin and concert master. Years back, it appears, they came out as a high-profile couple. Their mildly troubled adopted daughter seems a bit of an afterthought, given the all-consuming demands of their profession.
Lydia's design for living is Euro-cool as well. Sharon equals home and stability; above all, a shared dedication to music that verges on the monastic. Lydia finds romantic intrigue elsewhere, principally with rising young musicians. In a hush-hush way, it's rumored she's a "groomer" who amps up the careers of her sexual partners. In her orbit is ever-watchful Francesca (Noemie Merlant), an aspiring conductor and likely former lover who's been censoring emails to Lydia from a dangerously distraught ex.
First sight of Lydia, she's standing in the wings, elegant in an androgynous black suit and white shirt, doing breathing exercises. She's about to appear on stage for an interview with the New Yorker's Adam Gopnik (as himself). There follows a lengthy bio of her lofty achievements; a discussion of Gustav Mahler, including thoughts on the tempo of the Fifth's sublime Adagietto; its link to Alma Mahler; an aside about Alma dumping Mahler for Gropius. The musically unschooled need not apply.
Even worse — in the sense of "better" — Tár begins with an endless fuck-you list of the film's credits, starting with such contributors as "Best Boy Grip" and other lesser lights. The opener is almost a room-emptier, inviting all but the Happy Few to pack up their popcorn and leave.
The first hint of rough seas ahead for Lydia surfaces in a master class she's teaching at Juilliard. Max (Zethphan Smith-Gneist), who identifies as BIPOC pangender (Google it), states they're "not into old white guys" like Bach, a cis patriarch who fathered 20 children. Lydia parries that she's a "U-Haul lesbian," whatever that is, who focuses solely on the music, and slams the student's POV as "robotic" and dictated by social media. This put-down will resonate when she's forced to reckon with social media in ways she couldn't have predicted. "Fucking bitch," the student mutters, leaving the class.
Tensions ratchet up after Lydia "rotates out" a longstanding orchestra figure, undermining her support base. She's on thinner ice yet when she indulges more than a professional interest in Olga (Sophie Kauer, a professional musician), the gifted Russian cellist new to the orchestra. Over lunch Lydia's eyes sweep the charming young prodigy with an almost vulpine gaze. In a flirtatious exchange Olga cites Jacqueline du Pré rather than landsman Rostropovich as her inspiration, in particular her reading of the Elgar E Minor cello concerto. Lydia taps Olga to perform the Elgar as a companion piece to the Mahler. The orchestra's resident first cellist, obvious choice for the plum assignment, is not amused. Here we go again, Nina Hoss's Sharon telegraphs with her eyes alone. When her former lover commits suicide, Lydia is yanked into the unforgiving glare of social media, with predictably disastrous results.
The film soars in its scenes of Lydia and the orchestra, as she probes the intricacies of Mahler's Fifth, stopping the players every few bars. "It's got to be like one person singing their heart out." Blanchett inhabits the role to an uncanny degree. In thrilling sequences, DP Florian Hoffmeister focuses on her hands, wrists, fingers, as she teases out nuances of the work. Of course, only tantalizing snippets are heard, an in-built flaw of films about music. (They'll likely send you back to the full work, as they did me.) Blanchett's androgynous allure, the creamy glow of her skin and mannish slouch, make all too plausible the trail of disgruntled exes.
During his time-out, Field has clearly mulled over the culture's seismic changes. That Tár addresses cancel culture and #MeToo lands it smack dab in the moment (Harvey W. is in the news again as I write). The specter of previous #MeToo dethronings haunt the film. Think maestro James Levine, whom Lydia et al. would surely refer to as "Jimmy."
Field devoutly avoids coming down with a thud on any side of the issues. Truth, in Tár, is elusive. Lydia's style of firing a colleague is cringeworthy; yet isn't any manager of a great institution forced into such choices? In another inspired move, Field refuses to pull out a ta-da! reveal about the past affair that topples Lydia. Yes, she fires off emails warning prospective employers off the woman — but here, too, the backstory remains ambiguous. This person might well have been too unstable to harmonize with the community that forms an orchestra. And isn't her pursuit of Lydia flat-out stalking? But for the court that righteously takes down Lydia, appearances are all.
It's tempting to read Tár as a cautionary tale about the abuse of power. But that would be too boringly on-the-nose. Rather, Tár is about a major artist with an outsize ego who ignores at her peril the seismic shifts in the culture. As conductor of the world's second-greatest orchestra, monomania is a job requirement, along with a heedlessness toward anything outside the music. But times change, as Lydia comments early in the film. Ironically, her sexual escapades, abusive as they may have been — Field never reveals enough for us to judge — are for Lydia minor interludes. They vaporize the moment she lifts her baton. Lydia lives to serve the composer. Think of all the past mates of geniuses who've complained that the work always comes first.
On some level the film does, in fact, slyly take a position on cancel culture. Or, rather, it's gestured at in a throwaway bit of dialogue about esteemed musicians who, despite a despicable past, continued to work. Lydia mentions the legendary conductor Furtwangler, with his murky ties to the Third Reich. And Herbert von Karajan, her predecessor at the Berlin Phil, a Nazi party member who remained a dominant figure in European classical music from the mid-'50s until his death. Moral depravity, Tár proposes, is a matter of degree.
---
Erica Abeel is a novelist, film and cultural critic, and former professor at CUNY. Her 2016 novel Wild Girls, about three women rebels of the '50s, was an Oprah Magazine pick. Her journalism has appeared in the New York Times, Indiewire, and other major sites and national publications. A former dancer, when not writing she's in a Pilates class or at the barre. Her new novel, The Commune, was recently published by Adelaide Books.