By Melissa Rodman
"Ukrainian culture — Ukrainian language, Ukrainian books, literature, poetry, arts — is the testimony of our existence through all these centuries…. It is still here, and we try to save it."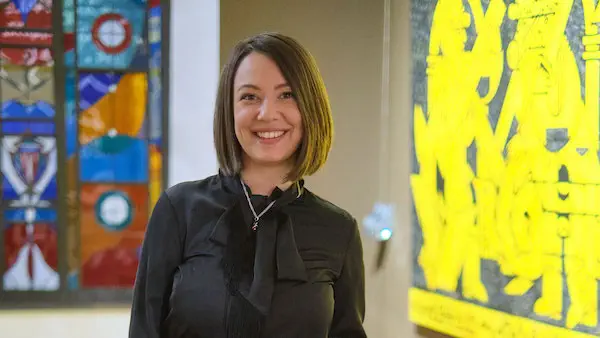 An 18th-century painting of the Ukrainian folk hero Cossack Mamay typically greets visitors at the Odesa Fine Arts Museum (OFAM) in Odesa, Ukraine. Cossack Mamay sits cross-legged, with a long-stemmed pipe resting between his lips, with his gun and bandura (a plucked string instrument) scattered at his feet. His trusty chestnut horse curves its neck around his head, halolike. "We always called him a superhero," OFAM's acting director Oleksandra Kovalchuk said during a July 10 lecture at the Museum of Russian Icons in Clinton, Massachusetts. "When the time comes, he stands up, and he fights for his freedom, and that's what we're doing today."
Days at OFAM are no longer typical. On February 24, when Russia invaded Ukraine, escalating the war that began in 2014, a group of OFAM staff and volunteers took down, packed away, and shepherded approximately 1,500 works to undisclosed locations within Ukraine. As of August 1, the United Nations Educational, Scientific and Cultural Organization (UNESCO) has reported that 171 cultural sites across Ukraine have been damaged: 74 religious sites, 33 historic buildings, 26 buildings used for cultural activities, 17 monuments, 8 libraries, and 13 museums, including OFAM, whose windows were damaged in the blast wave from Russia's recent strike on Odesa. "There is nothing safe," Kovalchuk told me over Zoom. (She, her husband, and their son fled to Massachusetts, where her parents have lived for more than a decade.) "We did whatever was possible."
Kovalchuk started volunteering at OFAM in 2016, while she was working as a branch manager and buyer for a chain of luxury boutiques in Ukraine. She had traveled widely and spent a great deal of time visiting museums abroad. "At a certain point, I realized that I hadn't been to the local museums for a very long time," she said. What Kovalchuk found close to home were beautiful collections in centuries-old buildings in need of conservation and renovation.
So in addition to volunteering, Kovalchuk in 2016 established a nongovernmental organization, Museum for Change, and applied for grants to fund one or two community projects annually, including a guidebook to Odesa's museums for children and a collaboration among museums in Odesa, Kherson, and Berdyansk that included lectures and an exhibition connecting art, culture, and politics. "We were thinking about, what can we do to make long-term changes to the fabric of society," she said.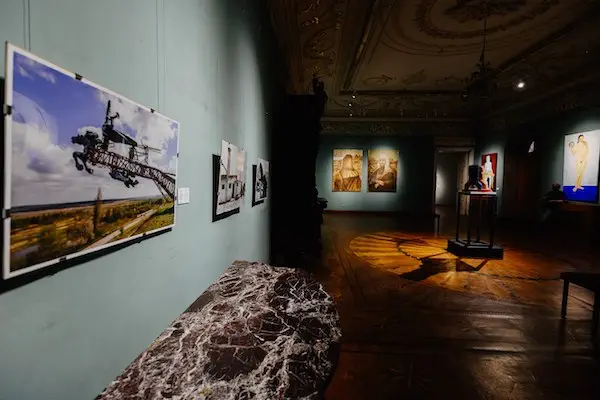 "Your Art Story Conserved"
Kovalchuk realized that change must begin with institutions themselves, specifically with their directors. In 2018, when then-director Vitaliy Abramov's contract ended, OFAM launched an open competition to fill the position. At that time, the director's salary was approximately $100 per month, compared to the $500-per-month average salary in Ukraine, Kovalchuk said. And the building itself — Naryshkins' Palace, a salmon-colored, colonnaded monument constructed in the 19th century — froze in the winter and overheated in the summer. "It was hard to find a person who would be willing to work in such a place," she said.
But Ukrainian New Wave artist Oleksandr Roytburd threw his hat in the ring. He became OFAM's director, with a mission to revitalize the museum and its collection. Ukrainian museums are funded by the government, and the last work that OFAM had purchased in 1989, coincidentally, was by Roytburd himself. As the museum's director — a position he held until he passed away in the summer of 2021 and Kovalchuk became acting director — Roytburd often spoke to elected officials about the need for museums to buy contemporary art. His pitch, Kovalchuk recalled, was that museums were crucial to the government, "so that the country always has your art story conserved."
It's a nuanced story. During her lecture, for instance, Kovalchuk highlighted the work of painter Arkhip Kuindzhi (1841–1910), who was born in Mariupol, then part of the Russian Empire. First, Kovalchuk showed a photograph of a small landscape painting by Kuindzhi — a few fluffy clouds suspended in a flawless blue sky, over a glassy teal sea — which is part of OFAM's collection. Then she presented a photograph of a study for Kuindzhi's painting Red Sunset on the Dnieper (Dnipro). That painting — a pinpoint of a setting sun bursting through dramatic, darkening clouds — hangs in New York's Metropolitan Museum of Art. The study, however, was stolen from Mariupol by Russian-backed separatists, Kovalchuk informed the audience. "Today, Kuindzhi is celebrated in both Ukraine and Russia," reads the Met's gallery label.
"It took us some time to make sure that the label on the work mentions that Arkhip Kuindzhi is a Ukrainian artist, because he was always labeled as Russian," Kovalchuk said. "In this way, Russia has always been not only trying to steal our art but also to steal Ukrainian artists."
In 2021, OFAM received a budget to acquire more than 500 pieces, including works by artists from Odesa, Kyiv, Kharkiv, and Lviv, from the 1990s, 2000s, and 2010s. "It was an incredible breakthrough," Kovalchuk said. Also in 2021, OFAM opened an exhibition that covered the last hundred years of Ukrainian art. President Volodymyr Zelenskyy visited the museum for the first time and announced plans to add the building to the national program for restoration as well as to expand the institution to a second location. Instead, with Russia's escalation of the war, OFAM staff needed to create a three-dimensional scan of the building. If Russian forces destroyed it, the museum would have a model to consult for rebuilding.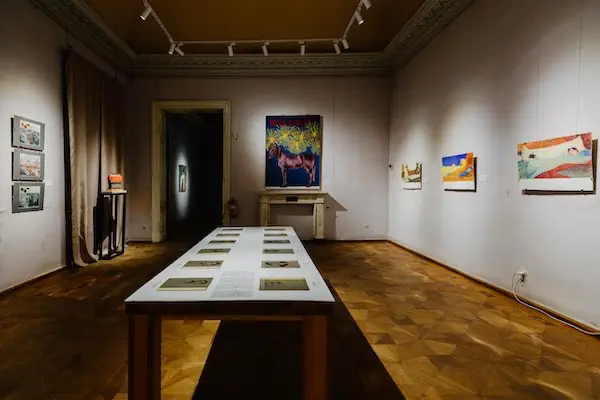 "Live Through This"
A couple of weeks before Russia's full-scale invasion, visitors to OFAM could view a room-sized installation by Pavlo Makov, a Kharkiv-based artist who also is representing Ukraine in the 2022 Venice Biennale. The piece, entitled Mappa Mundi ("map of the world"), looks like a blueprint for a huge apartment with many rooms, rendered in three dimensions. "The thing that is unusual for a blueprint is that there are no doors," Kovalchuk explained during her lecture. "His point was very clear, especially after Covid: that we can have borders, but we are not isolated in any way."
Kovalchuk and some of her OFAM colleagues — many relocated to different countries, some remain in Ukraine –are fundraising for museums across Ukraine, including those in Russian-occupied territories, through Museum for Change. The funds have secured conservation and packaging materials, personal protective equipment, and potable water. Another important mission, Kovalchuk said, is digitizing museums' collections. "There is always a hard result that you can see: that everything is ready for evacuation, everything is packed, everything is stored in nice conditions," she told me. "But it's also about empowering people and giving them very important tools to live through this."
About a month ago, OFAM reopened its doors one day a week — Saturdays — offering guided tours to small groups of people, and recently added Thursdays, Fridays, and Sundays. But most of the collection has not yet returned to the galleries. "This emptiness is a very loud statement," Kovalchuk said.
Delayed a week by the blast, OFAM this past Saturday unveiled a small exhibition featuring pieces from its 2021 acquisition, with safety restrictions for visitors in place. Only 25 people, for instance, can be in the museum at a time — that's the number of people who can fit in the museum's basement, used as a bomb shelter during the war. Still, Kovalchuk wants to ensure that the public has access to the museum, as guaranteed by Ukraine's constitution, for example, Article 54: "Cultural heritage is protected by law."
"Ukrainian culture — Ukrainian language, Ukrainian books, literature, poetry, arts — is the testimony of our existence through all these centuries," she concluded during her presentation. "It is still here, and we try to save it."
---
Melissa Rodman is a writer whose work also has appeared in Public Books, Bookforum, and the Harvard Crimson, among others.