By Clea Simon
This is history from a distance. Harris's characters feel more real when they're working out the equations that will make a missile fly or fall than when they're fleeing a double agent or a misfiring rocket.
V2 : A Novel of World War II by Robert Harris. Knopf, 320 pages, $28.95.
Buy at Bookshop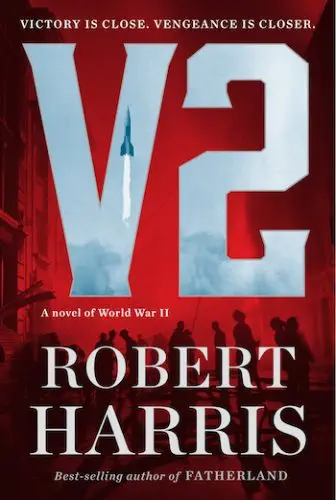 There's something comforting about a World War II drama. In this unsettled time, when we are under attack by our own leaders as well as a ruthless virus, it's relaxing to read about an external enemy — one we vanquished. While some authors, notably Alan Furst, have made a career out of the era's dread, particularly during those uncertain years leading up to open warfare when sides were being chosen and alliances forged, historical fiction stalwart Robert Harris goes for the consolation of hindsight. In his latest, V2, as a brilliant British intelligence analyst and a German rocket engineer face off in the final years of the war, there's even the possibility of love across the lines.
The setup is simple. It's 1944, the V2 is wreaking havoc on London, and Germany's rocket scientists are making the new weapon more accurate — and deadly —  by the day. Given that the new rocket — the first long-range guided ballistic missile — is virtually unstoppable once it is in the air, England's only hope lies in figuring out where they are being launched from. It is a feat of reverse engineering that, in those precomputer days, must be done with slide rule, pencil and paper, within six seconds of that first flash. The stakes are made clear early on, when Kay Caton-Walsh gets out of bed with her married lover, an Air Commodore, moments before one of the rocket strikes, sending the beautiful Women's Auxiliary Air Force Section Officer scrambling for help.
Her lover survives, but their affair doesn't, and, desperate to be rid of her, he arranges for the lower-ranked and apparently unqualified beauty to be shipped off to Belgium to work on the V2 project. What neither of them realize is that Kay has hidden talents, or that she will find herself facing off against a reluctant German genius, Rudi Graf. The fictional Graf is as sympathetic an enemy as Harris could write. An idealistic scientist who once dreamed of space flight, Graf — the engineer at the clandestine Pennemunde launching site — has been co-opted into the Nazi rocket program by his former schoolmate, the historical Wernher von Braun. As he and Kay alternate chapters, his are the ones with more depth and nuance, the losses and compromises that brought him to this point made clear in hindsight. While Kay's story supposedly has the urgency of a people under attack — real casualties are listed for emphasis — her tale is a bit wooden. There's the privileged background, the memories of Cambridge, and the inevitable winning over of her skeptical colleagues. It's fun, in a clockwork kind of way, and long before the two meet, the outcome is obvious.
It's not that Harris downplays history. His work is clearly meticulously researched, with everything from the new rocket's specs to the atrocities committed to create it in an underground factory. When he's writing about the new hardware, he's at his most poetic. "It was as if they'd come upon some huge and magnificent animal in the wild," he has Graf muse.
Nor was Harris always so gentle. His 1992 masterwork Fatherland used an alternative history, in which the Nazis had won, as the setting for a multilayered mystery, with his protagonist cop not only solving a murder but also uncovering the Holocaust. Even when staying within the bounds of history, he has excelled at building tension, as with his Enigma (1995) about the code-breakers of Bletchley, or 1998's Archangel, set in Stalin's Soviet Union. The dulling of Harris's edge could be attributed to age — a mellowing that allowed the author to find a happy ending in 2003's Pompeii — yes, really — and a certain talkiness to 2018's Munich. But in last year's The Second Sleep, he created a thoroughly unnerving historical fiction, revisiting medieval England with a twist that would give Barbara Tuchman nightmares.
If I were to indulge in a little armchair analysis, I would say that that last novel showed Harris coming to terms with mortality. His dark ages are truly that. Which would make V2 either a throwback or a way of cleaning out his desk. Putting to use the research he has done over the years. Because even as Harris has Kay making her dazed way through a bombed-out London and a fearful Rudi witnessing what happens to his dissenting colleagues, there's a softness in V2, a sentimentality. This is history from a distance. His characters feel more real when they're working out the equations that will make a missile fly or fall than when they're fleeing a double agent or a misfiring rocket. Maybe that makes this an ideal read for the times, but it also makes Harris's latest novel a bit of a disappointment, its expected explosion a squib.
---
Clea Simon's rock-world novel World Enough was named a "must read" by the Massachusetts Book Awards. Her next, Hold Me Down, will be published by Polis Books in September 2021. She can be reached at www.CleaSimon.com