By Kai Maristed
 A powerful allegory for our techno-crazed, consumption-addicted, soul-crushing times.
Kraft: A Novel by Jonas Lüscher. Translated from the German by Tess Lewis. Farrar, Straus and Giroux. 216 pages, $26.
Buy at Bookshop
At age forty Jonas Lüscher won the 2017 Swiss Book Prize for Kraft. This summer, he fortunately survived nine weeks in intensive care, seven in a coma. A scolding and sarcastic young writer before his illness, he has in a recent interview excoriated Covid deniers and belittlers, including so-called leaders such as Trump, Bolsonaro, and Johnson for their combination of lack of empathy and sheer incompetence. "The pandemic works as a burning glass, it enlarges the already present social distortions and shows up the problems…  We have to ask ourselves whether such a vulnerable economic order, based on constant growth and unbridled consumption, can be called rational in the face of a pandemic."
Rationality as sine qua non. Only to be expected from a brilliant anatomist of argument, a former philosophy student turned novelist. But when is a rewarding, challenging, and sardonically amusing novel — not really a novel?
No, this isn't to flog the dead horse of 'thinly veiled autobiography.' Kraft (American for cheese; German, as you know, for power, a meaning each chapter's epigraph plays on) belies its label in a different way. The story is simple enough, in fact rather a slight support for 230 pages of sentences that sometimes, in the good old-fashioned German syntactic way, hog nearly a page apiece. It does, though, check off just about all the basic requirements of novel plotting: a struggling protagonist, his or her desperately desired goal, suspense — usually involving a ticking clock — progress and reversals. Epiphany, closure.
Our unreliable hero is Richard Kraft, professor of philosophical rhetoric and, ever since his student days in leftist-radical walled Berlin, a vociferous, contrarian proponent of Thatcher/Reaganite neoliberalism. Now in his forties, he is suffocating at home, ignored by twin teenage daughters, long out of love with his wife Heike, who is horribly competent and has weirdly mesmerizing (not in a good way) bunions. But a Heike divorce won't come cheap. So when Kraft's old Uni pal, Istvan, now smoothly Ivan at Stanford, tells him of an academic contest bankrolled by a Silicon valley chieftain, Kraft jumps at the chance. For one million dollars, all he has to do is come up with the winning PowerPoint presentation titled: 'Theodicy and Technodicy: Optimism for a Young Millennium. Why whatever is, is right and why we still can improve it.'
Encouraged by Heike, Kraft scrapes up the money to fly from Tübingen to Stanford for four weeks of precious alone time, in order to focus on the contest he is totally confident of winning, never mind how absurd and even repugnant the premise is to him. He will spend the rest of the novel working, or trying to, in the 'tower' of the Hoover Institute of War, Peace and Reconciliation, under the discombobulating gaze of Rummy Rumsfeld's portrait.  Days, he's distracted by Japanese tourists, his view of and ruminations on Silicon Valley, and an immigrant cleaning woman's ever-roaring vacuum cleaner. Sleep, in the flowery bedroom of Ivan's absent daughter, eludes him. Things Are Not Going Well. The clock ticks.
Novel-writing instructors emphasize the importance of throwing mounting obstacles and reversals in the protagonist's path, in order to stoke reader anxiety and identification. Kraft suffers a number of picaresque misadventures, notably getting so lost in a sculling boat that he ends up naked and shivering in swampland at sundown, to be eventually rescued by a fellow he despises. Nothing special there; Kraft mildly despises most people when he doesn't fear them (the latter tend to be women) except for Ivan. This makes him a not especially likeable character — which does violate one basic rule of novel-writing. But the 'make character likeable' rule is notable for its raffish exceptions. Besides, one suspects that Lüscher himself finds Kraft sympathetic, or at least deserving of pity in his foggy lack of self-examination. This reader, throughout, could not have been more indifferent to the fate of insecure, intellectually vain, clammy-hearted Richard Kraft. Although swaths of the narrative jump back in time to two previous alliances and the reveal of additional Kraft-sired children, there's no warmth to be found there either. And while the omniscient narrator sparkles with ironic wit, Kraft is not given to laughter. Patricia Highsmith's helpful advice to writers with an unappealing protagonist was 'give them a dog.' Alas, Kraft is petless. Even with a dog to hug, as a straw-man, a punching bag for his sly creator's opposing world view, he wouldn't stand much of a chance.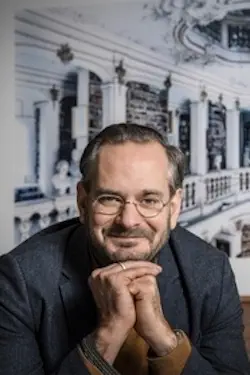 Since very little happens in the Stanford present, Kraft perforce spends a lot of time in the past, particularly in Berlin of the early seventies, later in the Germany of Chancellors Kohl and Schroeder, and finally during and after the fall of the Wall in '89. Though probably too young to have experienced the 'radikalinsky' days of the Free University, violent protests against Reagan's visit etc., Lüscher excels at recreating the anarchic atmosphere and wild righteousness of the times. His research is impeccable, the set scenes plausible. Kraft's faith in the economists Friedman and Hayek, in trickle-down and all boats rising, coexists with his lustful pursuit of Ruth, a 'socialist battle-ax' of generous maternal proportions. Istvan, the fake Hungarian chess genius dissident who actually was the chess team's shirt washer, mistakenly left behind when they boarded the bus from Berlin back to Budapest, shares Kraft's career-boosting, hard-nosed philosophy. Their enthusiasm for the political-economic theses of Graf Lambsdorff leads to… oh, dear American reader, have I lost you? I richly enjoyed visiting this familiar historical turf, but will that hold for all readers, even with the help of Tess Lewis's deft translation? Whatever the case, Kraft's Berlin-honed persona as a liberal conservative is vital to the purpose of this book.
A turning point comes when Kraft spends a surreal evening as dinner guest of Erkner himself, the Silicon Valley magnate. Here Lüscher's talent for satirical skewering, already unleashed on German politicians, Stanford students dreaming up their first unicorn venture, a horny art professor, annoyingly garrulous children, and Ivan the Fake Border-jumper, finds its ultimate target. The exclusive restaurant serves gourmet mac and cheese — possibly another play here on Kraft? — exclusively. The suave and voluble Erkner is unfazed by apparent logical contradiction. He espouses Catholicism for its intellectually demanding dogma, while investing a fortune in life-extension technologies, cryogenics and so forth. He sketches the inevitable trajectory of the Singularity on a cocktail napkin. (Novelists today seem to buzz like wasps around the notion of the Singularity, that semi-scientific, cultish vision of a man/machine fusion lurking around the historic corner. Check out Winterson's Frankissstein, or DeLillo's Zero K..)
As for the million dollar contest? At the eleventh hour Kraft hasn't got word one to show for his four weeks of straining. There's no spoiler in assuring that just before the clock runs out, a wrenching epiphany strikes. Followed by absolute closure.
It isn't a story, but the mutually exclusive ideologies, duking it out in Kraft's mind as his very identity starts to waver, that provide the book's real tension. So if Kraft isn't much of a novel, then whence its power? As a pitch-perfect social satire. As an allegory for our techno-crazed, consumption-addicted, soul-crushing times. (The pitch to Hollywood might be: 'Jonathan Swift meets Pilgrim's Progress.') As an alternative, perhaps, to the simplistic formula underlying so many best-sellers today, which it pretends to apply.
It's worth noting that Lüscher's dissertation topic was 'On the Meaning of Narration for the Description of Social Complexity against the Background of Richard Rorty's Neo-Pragmatism.' He has no plans, he said in his interview, to write directly about his personal experience with Covid. However, "my writing will be changed…in a certain sense, presumably, like every serious author's."  One looks forward to seeing what direction his future work takes.
---
Kai Maristed studied political philosophy in Germany, and now lives in Paris and Massachusetts. She has reviewed for the Los Angeles Times, the New York Times, and other papers. Her books include the short story collection Belong to Me, and Broken Ground, set in Berlin. Recent fiction includes Evangeline, or Theories of Childhood Development, in The Iowa Review, and The Age of Migration, in Ploughshares Magazine. Read Kai's Paris-centric take on politics and the arts here.