By Isaac Feldberg
What comes through most resonantly in Apples is its envisioning of a society starting over, and its suggestion that a clean slate, accepted honestly, might not be the worst thing.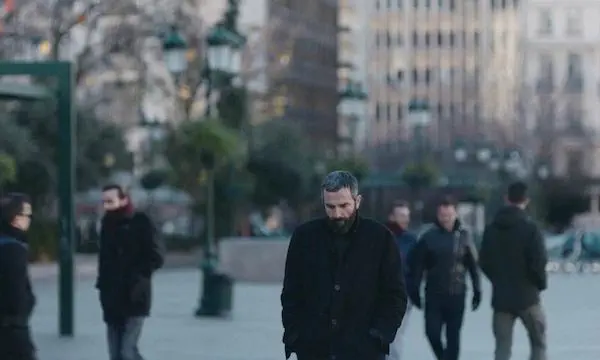 Christos Nikou comes to Toronto with the name Yorgos Lanthimos ringing in his ears and scribbled on his notices. As the second-unit director on that filmmaker's breakthrough Dogtooth, Nikou is part of the same New Greek Weird Wave that Lanthimos's sensational, darkly absurdist satires catapulted to the attention of an uneasily thrilled global audience.
Hyper-composed, densely metaphorical, and veined with macabre humor, films in the New Greek Weird Wave have tended to depict individuals or social groups in isolation, often afflicted with mysterious ailments, from the estranged loner in Ektoras Lyzigos's Boy Eating the Bird's Food to the dying patriarch in Athina Rachel Tsangari's Attenberg. Lanthimos's films, from The Lobster to The Killing of a Sacred Deer, all unfurl in quirky, cruelly compressed dimensions. Characters are often constricted by rules or situations beyond their control. His dialogue's stilted nature and the  sterilized spatial dipoles of his framing communicate a sense of oneiric alienation some have called Brechtian. Others point to it as proof Lanthimos is willfully restaging classic Greek tragedies in his own theater of the absurd.
Nikou's feature debut, Apples (which premiered this week at the Toronto International Film Festival), will be eaten up by Lanthimos's base like the eerie yet undeniably airy aperitif it is. Thanks to its premise, the narrative's dystopian gloom, Kafkaesque illogic, and dissociative tension is flattened into a curious, unexpectedly apropos metaphor – albeit one less deceptively nasty than Lanthimos's typical exercises.
In the film's aloof vision of Athens – situated in either our recent analog past or a more technologically muted present (i.e., one where smartphones and social media don't factor into the equation) – a solemn and bearded man (Aris Servetalis) awakens on public transit without, it appears, any idea who he is. Taken to a nearby hospital, the man is discovered to be the latest victim of an unusual pandemic that's sweeping across Greece, wiping clean its people's memories and leaving them at the mercy of an official Disturbed Memory Department's treatment program.
The patients there, a rising tide of amnesiacs, are given new apartments to live in and instructed to lean on cassette tapes and Polaroid cameras as they make their way in a newly unfamiliar world. These tools create physical artifacts that inform their furtive attempts to ride bikes, have sex with strangers, catch carp in a river – you know, all the little adventures that make up a simulacrum of the human experience. What's missing from their new lives is the emotion, the joy; one of Apples' most insidious running jokes is the blankness with which the man goes about documenting his completion of the tasks assigned by the doctors. "Can you stop moving?" he asks a stripper midway through the lap dance he's paid her for; dutifully, he holds out the camera, snaps a shot of them together, then vigorously shakes the Polaroid as it develops and she watches, a little baffled. In another early moment, dressed a little obviously as an astronaut in full space-suit regalia, the man returns from a party to moonwalk awkwardly by his bed; his sense of isolation is total, painful, and silly.
Are these prescribed mementos an attempt to bring back lost memories, or simply insurance against the fear these new impressions will vanish as suddenly as the old ones? Either way, Apples in its mumbled, shuffling way lodges a reasonable complaint against outsourcing memories to hard-drives and virtual servers, or trusting that the brain alone – that grand compartmentalization storage facility – can safeguard all our recollections. What is there that's even worth remembering, anyway? In what's likely the film's best scene, one that might play well as its own mysterious vignette, the man edges onto the floor at a nightclub to dance to "Let's Twist Again" and appears to remember something of the motions as he goes, excitedly letting his muscle memory lead the way. Throughout, flickers of recognition complicate our view of the character; is this man slowly regaining a sense of himself, or has he perhaps chosen to forget what came before? He keeps eating those titular apples, ever-so-freighted in the language of myth; do these forbidden fruits bear terrible knowledge, are they symbols of life itself as cores most of us just gnaw around, or are they merely clues to another, more hidden disruption of domestic tranquility?
Apples litters its exaggerated what-if narrative with plenty of philosophical asides about the nature of collective amnesia that feel both achingly specific to economic crisis-era Greece (in the way of all Weird Wave cinema) and hyper-relevant to our world at large. It helps that the film is premiering in a year all but the luckiest among us would like erased from the history books. Nikou is clearly influenced by the mordant tragicomedy and diagrammatic spaces of Lanthimos's Alps and the director's more recent efforts. But his film is also reminiscent of Charlie Kaufman's reflexive memory plays. Eternal Sunshine of the Spotless Mind, with its gradually surprising exploration of selective amnesia, comes especially to mind. Apples possesses a ruminative quality that feels more individually melancholic and questioning in the way of Kaufman than it does Lanthimosian-level bitter; there's a compassion to it, a sense of lingering humanity that suggests there's more hope left in the New Greek Weird Wave than other directors might admit.
Still, in one scene, the man visits a movie theater to see what's billed on a poster outside as "The Chainsaw Massacre" – a little flavor of just how creepily dislocated, how robbed of specificity, Nikou's world feels. Leaving, he encounters a fellow amnesiac (Sofia Georgovasili) and reluctantly accepts as she tags along on his walk home, soon enlisting him as both a partner in the program and a sexual/romantic probability. As they leave, another woman steps up to the poster and takes out her camera, preparing to document her own screening. Despite a gathered crowd, no one offers to take it for her. There's something vicious in Nikou's view of society: people continue to find new ways to remain anguished and detached, even as they collectively experience a world-altering event that might otherwise open up fresh possibilities for connection. "Alone Together" by Ella Fitzgerald would have been too apt a needle-drop for a film with this deadpan, affectless sensibility, but it could have fit nicely. The entire movie is epitomized in one scene toward the end, where the man and the woman take a drive together outside the city, at the wheel of a car that could be theirs, humming a song whose exact lyrics remain frustratingly out of reach. We are given a moment of terribly, terrifically ungainly pantomime, as both let the edges of their mouths tug upward in hesitant smiles.
What comes through most resonantly in Apples is its envisioning of a society starting over, and its suggestion that a clean slate, accepted honestly, might not be the worst thing. Those of us on the run from our past, however, are in a much trickier position. Is it better, sometimes, to forget? That's almost besides the point. Apples aligns with that old chestnut about people forgetting what you said, but not how you made them feel. However aimless we appear, our emotions still register: the solitude and the anguish, as well as those occasional stirrings of purpose and belonging. Nikou's first time at bat displays a kindness that's inviting, even if there's nothing here as nastily cynical or as (ironically) memorable as the finest films from this Weird Wave. Still, Apples casts a peculiar spell in places; at a somewhat unfocused 90 minutes, it's a good idea more than a great movie, but an end-twist implores you to look back over what you've just seen and consider it through another, more plaintively humanist lens.
This review was filed from the 2020 Toronto International Film Festival, as part of its "Industry Selects" program.
---
Isaac Feldberg is an entertainment journalist currently based in Boston. Though often preoccupied by his on-going quest to prove that Baby Driver is a Drive prequel, he always finds time to appreciate the finer things in life, like Michael Shannon.