By Peg Aloi
Robert the Bruce is a chronicle of war that contains moments of bucolic beauty and poetry that will surely appeal to lovers of historical films.
Robert the Bruce, directed by Richard Gray. Streaming on Amazon Prime, Google Play, and YouTube.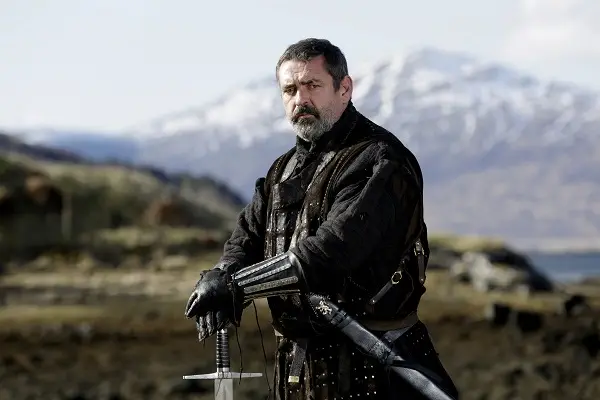 You've got to admit, it's a ballsy move to create a sequel to an extremely popular star-driven vehicle like Braveheart. Even though director, co-producer, and star Mel Gibson was at least 20 years too old to play Scottish freedom fighter William Wallace, the 1995 film delighted audiences and inspired years' worth of bad blue face painting and amateur bagpipe playing. One character in the story particularly fascinated me: Robert the Bruce, played by Angus Macfadyen, a Scottish nobleman who pledged to help William Wallace in his effort to unite the clans and fight for Scottish independence. In the eleventh hour, Robert betrayed Wallace, who was then captured by the English, tortured, and executed. Robert, riddled with guilt, took up the fight after Wallace's demise. The film ends with yet another passionate battlefield scene.
This continuation of the story marks the 25th anniversary of Braveheart's release. It has also been exactly 700 years since the Declaration of Arbroath, when Robert the Bruce declared Scotland to be a free land. Executive produced, co-written by, and starring Macfadyen as Robert the Bruce, the film picks up about 20 years after the end of the martyred Braveheart. The intervening years are filled in by way of that well-loved and ubiquitous Celtic tradition — oral history. A woman narrates what happened at a notorious 1306 meeting (one year after Wallace's execution) at Greyfriars Church in Dumfries between Robert the Bruce and John Comyn. The latter was a Scottish nobleman and supporter of King Edward of England, who had just become the ruler of Scotland. Played by Jared Harris in a juicy cameo, Comyn betrays the peaceful conditions that had been agreed to for the chapel meeting. The exposition establishes the depth of mistrust that continued to exist between Scotland and England, and underscores how difficult it was for Bruce to maintain loyal allies.
The narrative jumps forward. Years of fruitless fighting have not won Scotland's freedom. Robert dismisses his band of soldiers, releases his horse, and sets off into the wilderness. He is not so much on retreat as in defeat. We learn that the woman performing the voice-over is relating this background as a bedtime story to her nine-year-old son. Morag (Sugar Mountain's Anna Hutchison) is a widow whose husband and brother both died fighting alongside Wallace; her teenage niece Iver and nephew Carney also live with her. Carney (Brandon Lessard) is the man of the house, trying his best to be a father figure to Morag's young son, Scot, whose strong-willed nature tends toward the impulsive.
At first, the narration is somewhat confusing, but it is clear that the legacy of Wallace, still bound up in the struggle of Robert the Bruce, remains deeply relevant in Scotland's fight for independence. Robert's soldiers are splitting up because some have been tempted by the price on his head. These traitors are led by Morag's brother-in-law Brandubh (The 100's Zach McGowan), who also has his eye on his brother's widow. Injured by a bounty hunter's arrow, Robert is hiding out in forests and caves, finally collapsing not far from Morag's remote farm.The family nurses him back to health, with Scot (American Gothic's Justin Bateman) torn between the desire to avenge his father's death and feeling loyal to the hero his mother's stories have glorified.
It may be tempting to compare this film to Braveheart, but it's not nearly as grandiose in scope. Still, the cinematography is elegant and thrilling (DP John Garrett also worked with director Richard Gray on Broken Ghost and Sugar Mountain). Also, though it lacks a central romantic love story, the presence of women does much to redress Braveheart's macho energy. Morag is a strong and wise character, her niece Iver (Talitha Bateman) is a skilled archer, and nephew Carney's intended is the blacksmith's daughter Briana (Shameless's Emma Kenney), a brave fighter who saves the day. There's even a witch (Big Love's Melora Walters) who strikes fear into the hearts of the male villagers. Macfadyen gives a subdued but intense performance as Robert, a man of few words but soulful depths whose rejection of his noble heritage fires his unswerving loyalty to Scotland.
The use of traditional music lends additional authenticity; Mel Elias's score is excellent. Writers Macfadyen and Eric Belgau have done Robert the Bruce's epic struggle for independence cinematic justice, crafting a chronicle of war that contains moments of bucolic beauty and poetry that will surely appeal to lovers of historical films.
---
Peg Aloi is a former film critic for the Boston Phoenix and member of the Boston Society of Film Critics. She taught film studies in Boston for over a decade. She writes on film, TV, and culture for web publications like Vice, Polygon, Bustle, Mic, Orlando Weekly, Crooked Marquee, and Bloody Disgusting. Her blog "The Witching Hour" can be found at themediawitch.com.