By Peg Aloi
The Field is a fairly original, if slightly problematic, folk horror-tinged story.
The Field plays today at 5 p.m. at the Somerville Theatre as part of the Boston Science Fiction Film Festival. (Also currently streaming on Amazon Prime.)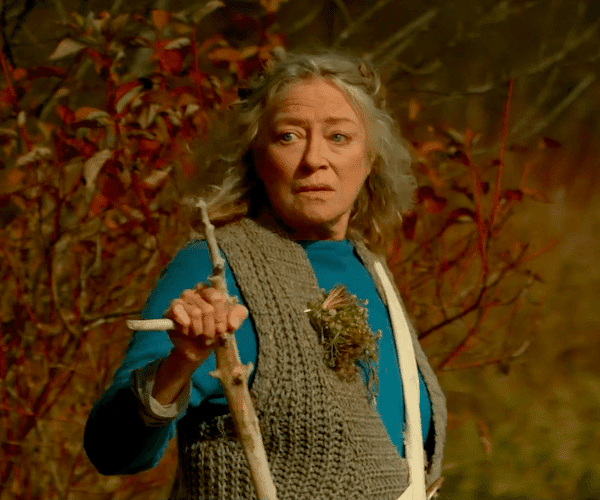 Though it borrows some imagery and basic plot points from earlier horror texts, such as Harvest Home, I found The Field to be a fairly original, if slightly problematic, folk horror-tinged story. Harvest Home (a novel by Tom Tryon adapted into a 1978 television miniseries called The Dark Secret of Harvest Home) features a Manhattan couple who take a drive into rural Connecticut and decide to chuck the big city for a simpler life. Once there, they stumble onto a sort of time warp in which people keep the "old ways" and adhere to strange folk customs. The book is a brilliantly macabre, slow-burning literary masterpiece, in my not-so-humble opinion.
The Field opens with a brief scene set in 1961. A young couple, Edith and Roy, playfully skip into a field by a large farmstead. A strange storm comes up. Smiling at the sparkling clouds, Edith seems to disappear in a flash of lightning while Roy scrambles away in fear. The narrative then leaps forward to the present day (the antique cars replaced with a late-model Subaru). Ben (Tim Higgins) and his wife Lydia (Kara Mulrooney) have just left Chicago, where Tim has been working long, stressful hours as a chef in a popular restaurant, and they left city life behind to buy a ramshackle farm in rural Wisconsin.
As the pair begin to fix up the place, an elderly woman (Veronica Cartwright) shows up, dressed like one of the hedge witches from Chilling Adventures of Sabrina, which, funnily enough, the actor appeared in last year. She wanders around with a wooden staff, wearing a wreath of dried leaves in her hair. She speaks in a strange way that leaves out verbs and prepositions (kudos to veteran actress Cartwright for making the linguistic acrobatics work). Ben has decided to immerse himself in his amateur photography;  impulsively, he takes her photo. When he makes a print and shows it along with others in his portfolio to local gallery owner George (Barry Bostwick!), he is met with anger and told to stay away from Edith.
Yes, this is apparently the young woman who disappeared mysteriously, then returned again years later suffering from mental damage. Where she was in all that time? Unknown, but rumors abound. She now lives in a small cottage at the edge of the farm property, and rambles strangely about her "home" and "family." Roy, Edith's long ago paramour, turns out to be the local sheriff (played by seasoned thespian Mark Metcalf). He's keeping a close eye on Ben, warning him to leave Edith alone. The town is protective of her; there is a hint of guilt and shame, as if her community could have done more to help her.
Meanwhile, Lydia is clearing out old junk from the farmhouse and finding some very weird photos in old albums. They depict strange rituals in the field by the barn, with people in odd dress wearing masks and a young (and naked) George with an old 35mm camera in hand. Photography becomes a major motif in The Field, as Ben begins to capture fleeting, frightening film images that he can't otherwise see. In scenes reminiscent of Antonioni's Blow-Up, Ben starts to become obsessive, determined to capture these ghostly figures, investing in elaborate equipment and spending sleepless nights in the barn. His relationship with Lydia unravels.
I enjoyed the oddness of the story, but the various plot points never fully coalesced for me. The ending, in particular, felt a bit abrupt and unsatisfying. Still, some writing issues aside, filmmaker Tate Bunker (co-writer with Anthony Wood) has a real skill for evoking subtle horror, and Bunker's cinematography is solidly impressive, veering skillfully between eras and realms. The photographic sequences that reflect Ben's photographic frenzy are beautifully done, and Higgins plays Ben's spiral downward with intense plausibility. Composer Peter Batchelder's score lends some great moody moments. This is not Bunker's first feature, but it's a strong indicator that his talent is considerable. His trajectory will be well worth watching.
---
Peg Aloi is a former film critic for The Boston Phoenix and member of the Boston Society of Film Critics. She taught film studies in Boston for over a decade. She writes on film, TV, and culture for web publications like Vice, Polygon, Bustle, Mic, The Orlando Weekly, Crooked Marquee, and Bloody Disgusting. Her blog "The Witching Hour" can be found at themediawitch.com.