By Mark Hänser
An exhilarating and entertaining evening with Puddles, a most personable and unique clown.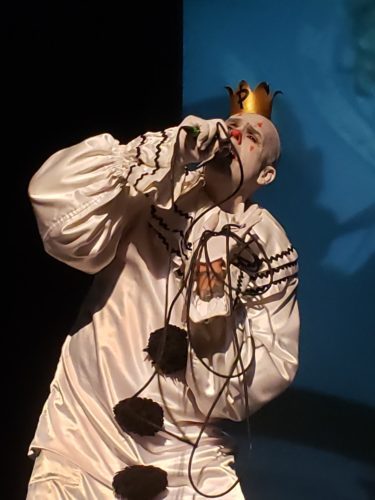 Puddles is a very special clown, and his Pity Party is a very special show. Part cabaret, part vaudeville redux, part sui generis whatever, Puddles brought his unique blend of music, prop comedy, and audience participation to the Cabot in Beverly on October 29. He was greeted by an SRO house. Because his set changes from night to night, many in the crowd have been following him from venue to venue on this most recent tour.
Puddles is nearly seven feet tall, the possessor of a beautiful baritone voice and an amiably charismatic stage presence. If you have a bit of caurophobia (a fear of clowns) á la Leoncavallo's Pagliacci or Pennywise from Stephen King's It (as I do), Puddles proffers a pleasing, even curative balm. The "Pity Party" part of his act is a tongue-in-cheek reference to the sad clown with a broken heart, an allusion to pathos that is convincing — in its ironic way.
He opened the show with a moving version of Paul Simon's "The Sound Of Silence," while a young woman on the screen behind him "said" the lyrics in American Sign Language. This was the first clue to the joke — if one hadn't guessed already. Puddles sings, he moves his lips, he gestures, he mimes — but he never speaks! (An homage to Harpo Marx?) A grand bit that followed emphasized this comic conceit. An audience member (the first of many) was brought on stage to participate in a "coffee break"– cued by way of a projection on a screen. Puddles, in an extended and masterful bit of mummery, dragged two stools across the stage as if they were made of iron, mock-ground coffee in an old-fashioned coffee grinder, produced a percolator and poured coffee for his onstage guest, and offered him sugar — which the clown grabbed by the handful out of a bag marked "sugar." The exaggeration and execution of this mime bit was highly vaudevillian. Then Puddles at last launched into song — a stately rendition of Stephen Curtis Chapman's gospel standard, "Magnificent Obsession."
The rest of the evening followed a similarly satisfying pattern, alternating between musical performance and audience-involved comedy, usually involving some sort of props. Occasionally Puddles accompanied himself on acoustic guitar, but on most numbers he had prerecorded backing. There were also frequent nods to Puddles's hero, actor/director Kevin Costner, and his country/rock band Modern West (Why, you ask? Who knows? Just go with it.) The best huzzah to Costner was an operatic rendition of "We Don't Need Another Hero" from Mad Max Beyond Thunderdome, embellished by images of Costner from Waterworld flashing above on the video screen. And there were several "smoosh-ups," a favorite Puddles medley format best seen on his YouTube videos. ELO's "Telephone Line" was conjoined with Adele's "Hello"; the Styx-by-way-of-South Park-anthem "Come Sail Away" was nicely smooshed into "Let It Go" from the Disney film Frozen. And a Bowie fan like myself amply enjoyed the mock-2001 theatrics of his version of "Space Oddity."
All of this was expertly timed and placed, and came to a superb conclusion with the encore, a dynamic take on Lorde's "Royals." An exhilarating and entertaining evening with a most personable and unique clown (he gave free hugs to all fans who might want one!). This is one of those rare, one-of-a-kind events that essentially defeats criticism. Puddles throws the kind of party that really shouldn't be missed.
---
Mark Hänser is a visual and performing artist, poet and writer, actor and musician, and educator. Mark has a BA in History from California State University Long Beach, where he majored in Medieval and Renaissance Studies; a BFA in Painting and Interrelated Media, with a minor in Art History, from Massachusetts College Of Art And Design; and an Ed.M in Arts In Education from Harvard University. He has written and edited for a number of publications, including the Boston Phoenix, where he wrote about music.
Mark has taught art in a number of Boston-area arts programs, and taught drama for a semester at the Cambridge Friends School. He really enjoys donuts.