By Erica Abeel
After the Wedding never finds its emotional rhythm; melodramatic confrontations about betrayals and past choices lurch clunkily along.
After the Wedding, directed by Bart Freundlich. Screening at the Kendall Square Cinema and Loews Boston Common, beginning August 16.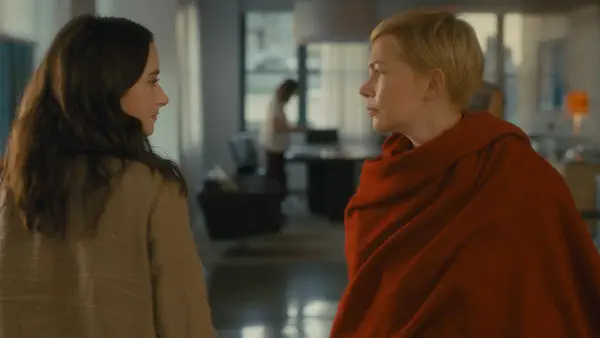 American filmmakers have long felt impelled to remake foreign films, often turning to the French for inspiration.  And why not?  — their juicy stories and premises virtually beg for a re-do.  Consider such inspired knockoffs as La Cage aux Folles, reborn as The Birdcage, and Plein Soleil (Purple Noon) revisited in The Talented Mr. Ripley.
After the Wedding, directed by Bart Freundlich and anchored by Julianne Moore and Michelle Williams, is adapted from a 2006 Oscar-nominated film by Danish director Susanne Bier.  The original's whiplash-inducing plot twists must have fascinated more than a few filmmakers.  The current adaptation faithfully follows Bier's original, scene for scene, even hewing to its color palette — but Freundlich swaps the twin male leads for female actors.  Isabel (Williams), long time manager of a struggling orphanage in Calcutta, is called back to the States to claim in person a twenty million donation from entertainment mogul Theresa (Moore) that will keep the institution afloat.  The motives behind Theresa's largesse remain shadowy and, once divulged, churn the plot forwards.  Ever the boss, she all but commands Isabel to attend the wedding of her twenty-one-year-old daughter (Abby Quinn) at their lavish Oyster Bay estate.  They'll get to know each other better, Theresa says — but more pointed motives behind the invite soon kick in.  Accustomed to the privations of Calcutta, Isabel is appalled at the crass carnival of wealth.  The wedding becomes a locus for revelations about all the principals that will upend their lives.
Bier's original is high concept and then some, rife with outlandish coincidences — yet her auteur-inflected melodrama works on its own terms. You happily suspend disbelief due to the film's energy, conviction, and the charisma of such actors as leading man Mads Mikkelsen. (Bier's film nearly grabbed the Oscar but was up against The Lives of Others).
The remake also features a powerhouse cast, including an under-used Billy Crudup as Theresa's sculptor husband — but oh what a clunky, at times cringe-worthy affair the film turns out be.  In swapping the male leads for two female actors perhaps Freundlich hoped to provide a showcase for Moore (his wife) — hard to beat when it comes to displays of alcoholic angst — and, more generally, create a pair of meaty roles for women past ingenue age, not exactly plentiful in Hollywood.  Also, the idea of a high-flying woman entrepreneur harmonizes with celebrations of the current workplace (or its idealized version).
That said, After the Wedding Take Two never finds its emotional rhythm; melodramatic confrontations about betrayals and past choices lurch clunkily along, much as Theresa does after her second martini.  That she's often seen scarfing pills telegraphs a big plot point and betrays a lack of confidence in audiecnes.  As an actress, Moore comes across in most of her roles as an immensely likeable person: she's never been the sort of chameleonic actor who disappears into a character —  no matter which role, she is never not Julianne Moore.  (The same is true of other notable actors, but here it plays against the film.)  Moore's mogul never rings true; the bossy bitch antics, down to verbally abusing her personal assistant, feel contrived and play against Moore's niceness.  Especially painful to watch (because it's so actorly) is Abby Quinn in the challenging role of the daughter, called upon to deliver several tiresome weep-a-thons as she absorbs the betrayals of her elders.
Moore's final waterworks scene ends up making you squirm.  In Bier's original, Rolf Lassgard, the Danish actor who played the mogul, raged against mortality, and it remains one of cinema's more powerful arias,  rivaling the terrors of Tolstoy's Ivan Ilyich.  Bier offsets the film's morbid notes with sex — their later-life encounter reignites the embers between Mads Mikkelsen and his youthful love.  Instead of the lobster risotto, Freundlich's wedding blowout could have done with a serving of Casanova's oysters.
Ironically, the scenes at Theresa's estate that supply an obscene display of wealth, including literal as well as emotional fireworks, will likel leave viewers with a case of heartburn.  True, Isabel's dismay serves as a lens through which to view the 1% at play.  But given our times, the Wedding's wallow in excess strikes a sour note, as much a gawk fest at 'the good life' as condemnation.  Among the leads, only Williams, bravely makeup-free, maintains her integrity.  As always, she can be relied on to deliver honest, and magnetic, intensity even when she's trapped in an American telenovela.
---
Erica Abeel is a novelist, film and cultural critic, and former professor at CUNY. Her recent novel Wild Girls, about three women rebels of the 50s, was an Oprah Magazine pick. Her journalism has appeared in the New York Times, Indiewire, and other major sites and national publications. A former dancer, when not writing, she's in a Pilates class or at the barre.