By Jonathan Blumhofer
This performance of Ives' Third was the most welcome entry in the Boston Philharmonic Orchestra's celebratory season – a beautifully considered, powerfully rendered account of this too-neglected score.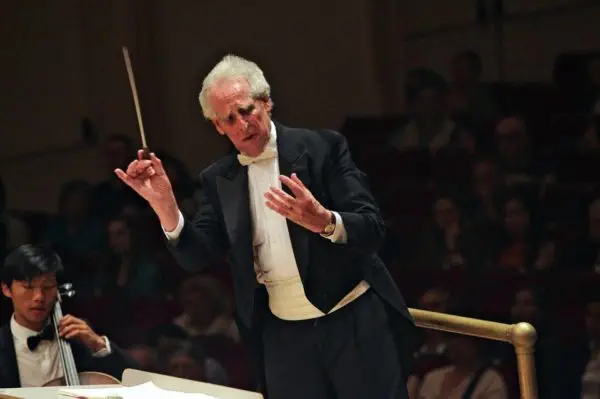 The Boston Philharmonic Orchestra (BPO) and music director Benjamin Zander capped their fortieth-anniversary season Friday night at Symphony Hall with a triumphant juxtaposition of two seemingly-mismatched symphonies.
Yet the pair – Charles Ives' Third and Gustav Mahler's Fifth – proved a winning combination, in part because each symphony approaches similar questions of form and content from opposite perspectives. They also share a few fundamental qualities.
Both, for instance, draw on non-traditional symphonic source materials: hymns, marches, folk music, popular dances, and the like, repurposing them to striking ends. Each also provides a singular sense of narrative (the Ives follows a semi-autobiographical program, while the Mahler traces an abstract journey from darkness to light). Perhaps unsurprisingly, it took some time for both works to enter the repertoire.
Ives' Third Symphony wasn't premiered until 1946, more than forty years after it had been written. Adapted from some organ pieces Ives composed between 1901 and '02 and subtitled The Camp Meeting, it evokes a 19th-century New England revival service, the likes of which Ives would have been familiar with from his childhood. The three movements depict, respectively, "The Old Folks Gatherin'," the hurly-burly of "Children's Day," and a devotional communion service.
Ives drew heavily on Protestant hymn tunes in the Symphony, principle among them AZMON ("O For a Thousand Tongues to Sing"), WOODWORTH ("Just As I Am, Without One Plea"), and CLEANSING FOUNTAIN ("There is a Fountain Filled With Blood"). Together, they're combined in subtle and, ultimately, dramatic ways across all three movements. If The Camp Meeting isn't Ives at his most radical, it is, surely, one of his most personal – as well as expressively direct and accessible – musical statements.
Friday's performance certainly conveyed that, played as it was purposeful energy and understated Yankee emotion.
Indeed, the BPO lit into this unfamiliar work with a remarkable degree of assurance and sense of style: all of the Symphony's primary thematic materials spoke clearly and its wistful character came across strongly. The first movement's gentle dissonances unfolded with rich charm. Hiccupping rhythms in the second bounded gleefully while the finale's sacred dissonances glowed.
Zander allowed the music's subtle touches room to speak. Lisa Hennessy played her first-movement flute solos with liquid warmth, while Rane Moore and Robert Marlatt executed the respective clarinet and horn solos in the finale luminously. The off-stage chimes over the closing bars provided a lovely bit of atmosphere.
Coming, as it did, at the end of a season full of musical highlights, Ives Three wasn't the year's flashiest offering. (That was probably Ein Heldenleben.) But it was, for my money, the most welcome entry in the BPO's celebratory season – and a beautifully considered, powerfully rendered account of this too-neglected score, to boot.
Mahler's Fifth, which came after intermission, is no stranger to either the BPO or Zander, whose lifetime commitment to that composer's music was honored by the Mahler Society of Mexico before the performance.
Friday's reading of this epic ably captured its expressive extremes. The opening pair of movements were as tautly focused and turbulent as the finale was exuberant. The central Scherzo, a seventeen-minute-long deconstruction of the Viennese waltz, never lacked for Straussian schwung. And the famous "Adagietto," taken at a smartly-moving pace, was simply ravishing.
In the latter, Amanda Romano Foreman turned in a pitch- and articulation-perfect realization of the harp part. Zander then managed a flawless transition from its hushed, concluding bars to the opening of the finale's fugue, everything moving naturally and projecting with confidence.
Those latter qualities also applied to the preceding three movements. In all of them, tempos were neither too fast nor too slow; they simply felt right.
So did Zander's command of Mahler's stylistic language: above all, Friday's interpretation was notable for its motivic coherence and sure sense of large-scale structure. Throughout, textures were impressively clean and, aside from a couple of spots in the third and fifth movements where the brasses overwhelmed the rest of the ensemble, balances very well done.
Mahler Five is, of course, a showpiece and on Friday the BPO reveled in its challenges. Ensemble was tight across all sections, but those brasses, in particular, acquitted their demanding parts with aplomb. Who could blame them for getting carried away for a couple of bars here and there?
---
Jonathan Blumhofer is a composer and violist who has been active in the greater Boston area since 2004. His music has received numerous awards and been performed by various ensembles, including the American Composers Orchestra, Kiev Philharmonic, Camerata Chicago, Xanthos Ensemble, and Juventas New Music Group. Since receiving his doctorate from Boston University in 2010, Jon has taught at Clark University, Worcester Polytechnic Institute, and online for the University of Phoenix, in addition to writing music criticism for the Worcester Telegram & Gazette.