By Jonathan Blumhofer
The freshness of the "Spanish Mozart" jumps out in the BBC Philharmonic's new recording; Naxos's new collection of nine Lortzing overtures makes the case for their appeal; and there's much to admire about the music of the "French Mozart," Francois-Adrien Boieldieu.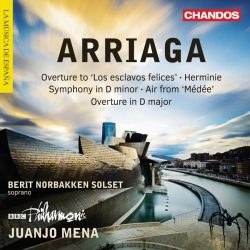 It's a fairly safe bet to make that no twenty-year-old composer will have a fully-established stylistic voice (unless they were Felix Mendelssohn, that is). Juan Crisóstomo Arriaga didn't even get that far – he died at just nineteen in 1826 – and, perhaps unsurprisingly, his music is steeped in the gestures of Mozart, Schubert, and Rossini. That said, there is a winning freshness to the work of this "Spanish Mozart" (as he came to be known), that jumps out in the BBC Philharmonic's (BBCPO) new recording of his orchestral music with Juanjo Mena.
The Overture to his opera Los esclavos felices, for instance, overflows with charm. Textures are lean, spirits high, Arriaga's writing highlighted by some dexterous woodwind scoring, as well as a keen ear for harmonic nuance.
Much the same goes for his Overture in D major. If, indeed, the piece was written before Arriaga "learnt the principles of harmony" (as a text on the manuscript's first page states), it at least shows a fifteen-year-old with uncommon command of the day's style – as well as (again) a striking sense of color (as the col legno strings accompanying a tripping flute melody around the Overture's midpoint demonstrate).
Hermine, Arriaga's late cantata (written around 1825), provides a deeper sense of where his considerable lyrical and dramatic gifts were heading. Setting a text by J. A. Vintay that relates the story of the daughter of the medieval of King Antioch and her love for the crusader Tancredo, it's a short, lively epic marked by a pair of engaging arias – the lilting "Longtemps, hélas!" and the vigorous "Il nest plus" – plus a fluent, pastorale-like finale, "Tancrède ma devre le jour."
Bright harmonies and engaging melodic writing also mark the Air de l'Opéra Médée, a piece whose ebullience belies (and is a bit at odds with) Euripides' tragic story from which it's drawn.
Arriaga's 1824 Symphony in D major is the album's most substantial entry. Clearly the work of a talented young composer, parts of it are dramatically inert and/or unwieldy (like the first movement's coda) and sometimes the phrasing's four-square (as in the finale's second theme). But other parts – like the delicately-scored slow movement and the hale, charming Minuet – are as refreshing as anything Arriaga seems to have written. And the score's unpredictable harmonic progressions, movement-to-movement, suggest a singular voice in the making.
Mena leads the BBCPO in a reading of the Symphony that is subtle and alive to its dynamic and textural details. The same can be said for their accounts of the overtures. Ditto for the vocal selections, which stand tall thanks to soprano Berit Norbakken Solset's silken tone, fine diction, excellent intonation, and tasteful ornamentations.
Simply put: you'd be hard-pressed to find better-played or -recorded performances of this fare. And it's pretty damned good stuff.
---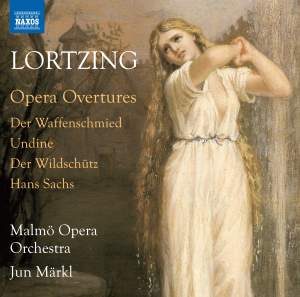 If you don't know any music by Albert Lortzing, you're probably not alone. A prolific composer of Spieloper (which developed out of the Singspiel of Mozart's day), Lortzing achieved success in the late-1830s and early-40s but died impoverished in January 1851. His stage works are now rarely performed, though his overtures turn up periodically. Naxos's new collection of nine of them – the only such disc I can find devoted to Lortzing overtures – makes the argument that these curtain-raisers ought to be heard much more regularly than is currently the case.
They are, by and large, much in the mold of overtures by Carl Maria von Weber and of Lortzing's contemporaries Otto von Nicolai, Ferdinand Hérold, and (early) Richard Wagner, full of lively tunes and striking instrumental touches. There is, for instance, some lovely horn writing in the Overture to Der Waffenschmied. And, in the Overture to Der Wildschütz, striking episodes for solo woodwinds and strings.
Harmonically, Lortzing's writing is fairly standard, though some unexpected turns in Zar und Zimmermann keep the ears on their metaphorical toes. There's wit and pathos to be found in these pieces, as well: the first half of Undine is about as turbulent as a mid-1840s overture gets. And the shorter entries, Die Opernprobe and Der Weihnachtsabend, offer plenty of charms. The rest of the disc's fare – Hans Sachs, Andreas Hofer, and Regina – is similarly engaging.
The performances by the Malmö Opera Orchestra and conductor Jun Märkl simply leave nothing to be desired. Surely they rank high with the best overture surveys of the past fifty or sixty years (like Karajans Berliners or Arthur Fiedler's Boston Pops), so marked by rhythmic zest, personality, and color is the orchestra's playing. Add to that excellent engineering and you've got a disc that is a blast from start to finish. How perfect, then, that it's devoted to the music of a composer so deserving of such an effort.
---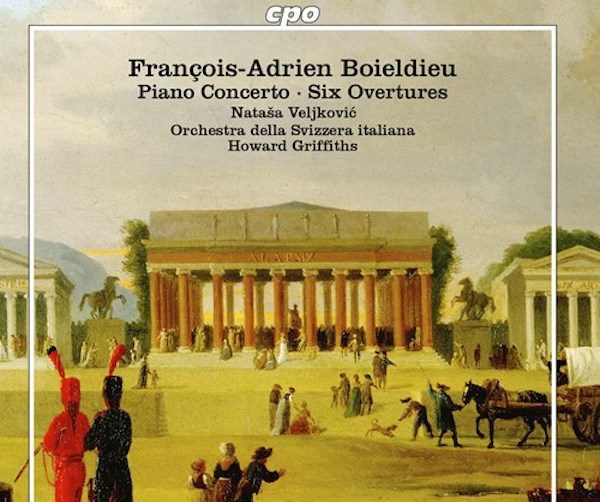 Then there's Francois-Adrien Boieldieu, the so-called, "French Mozart." Echoes of his namesake certainly dominate the Orchestra della Svizzera italiana's (ODSI) new recording of six of Boieldieu's overtures and his Piano Concerto.
The qualities of his music that don't shadow Mozart make up, of course, the most interesting characteristics of Boieldieu's writing: the exposed oboe solo, for instance, in the overture to Emma, ou La Prisonniére, or the chromatic runs in the middle of La dame blanche and towards the end of La voitures versées.
But even if his style didn't entirely break free from the conventions of the day, there's much to admire about Boieldieu's music. His melodic writing is quite fresh. Also, Boieldieu's scoring is often lively (his writing for woodwinds, in particular, shines) and his instrumental textures regularly lucid, tendencies invitingly evidenced in the overtures to Jean Paris and Le calife de Bagdad. And he could ably conjure up atmosphere, as the warmly lyrical introduction to Ma Tante Aurora attests.
In the two-movement Piano Concerto in F major, Boieldieu's natural gifts as a tunesmith likewise carry the day. And, though an early work (written in 1792, the Concerto predates all of the overtures on the CD), it evinces a solid understanding of musical drama, with some ear-catching harmonic turns (like a sudden shift to the parallel minor shortly before the first movement's end) and playful gestures (especially over the second-movement's theme & variations) that raise it above the commonplace.
Pianist Nataša Veljkovic gives a fluent, vigorous account of her part in the latter. The instrument she's playing on isn't the heftiest or most tonally brilliant, so certain rhythmic details don't project strongly in each register, but hers is a reading that ably captures the score's sunny disposition.
The ODSI and conductor Howard Griffiths provide Veljkovic a characterful accompaniment in the Concerto. Their playing in the overtures is likewise spirited and buoyant, especially in Le calife de Bagdad and La voitures versées. It's fine stuff, all: and, here, played with nice mix of enthusiasm and understanding.
---
Jonathan Blumhofer is a composer and violist who has been active in the greater Boston area since 2004. His music has received numerous awards and been performed by various ensembles, including the American Composers Orchestra, Kiev Philharmonic, Camerata Chicago, Xanthos Ensemble, and Juventas New Music Group. Since receiving his doctorate from Boston University in 2010, Jon has taught at Clark University, Worcester Polytechnic Institute, and online for the University of Phoenix, in addition to writing music criticism for the Worcester Telegram & Gazette.