Pianist Haochen Zhang's Boston appearance proved that his Cliburn win was no accident. He may be only 20, but his playing was nearly flawless all evening, and his interpretations were those of a fully mature artist.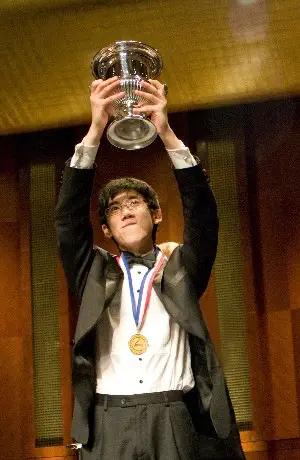 By Caldwell Titcomb.
Last year's Van Cliburn International Piano Competition turned out to be a most remarkable event. The judges voted to award a double first prize, so the Gold Medal went to both Nobuyuki Tsujii, a 20-year-old Japanese, and Haochen Zhang, a Chinese who had turned 19 just four days earlier. (Former Boston Globe music critic Richard Dyer was a member of the amazed jury.)
A documentary on the competition was aired on PBS this September. Like many, I was so captivated by the phenomenal achievement of Tsujii, who has been blind since birth, that I didn't pay much attention to the other contestants. So I was glad when our Celebrity Series decided to bring Zhang to Boston for a Jordan Hall recital on December 3.
Zhang certainly got an early start. He made his recital debut in Shanghai at the age of five, playing all of Bach's two-part Inventions along with Haydn and Mozart sonatas. His debut with an orchestra came when he was six, and at twelve he became the youngest winner in the history of the International Tchaikovsky Competition. Five years ago he moved to the U.S. to attend the Curtis Institute of Music and study with the renowned pianist Gary Graffman.
His Boston appearance proved that his Cliburn win was no accident. He may be only 20, but his playing was nearly flawless all evening, and his interpretations were those of a fully mature artist. His rubato was always tasteful. One might cavil at the occasional too long pause in the middle of a piece, but he, of course, has a right to make such a decision.
As a gesture to this year's Chopin bicentennial, Zhang devoted the first half of his concert to a traversal of all four of this composer's substantial Ballades, written between 1835 and 1842. The designation "ballade" suggests some kind of episodic narrative. There have been a number of assertions that Chopin's were suggested by poems of Adam Mickiewicz (1798–1855), but only the second can even remotely be linked to the Polish poet. All of these masterpieces can stand proudly without any connection to a text.
All four of these works begin with music that is not technically difficult but eventually moves into writing that demands considerable virtuosity. All save the second have a "big" ending, and all emphasize sextuple meter. No. 1 in G-minor (Op. 23) is the most frequently played, with a rolled dissonant chord in bar 7 that has caused some editors conniptions. No. 2 (Op. 38), dedicated to Robert Schumann, begins in F-major but ends tragically in A-minor. No. 3 (Op. 47) is in A-flat major, while No. 4 (Op. 52), in F-minor, concludes with stormy music.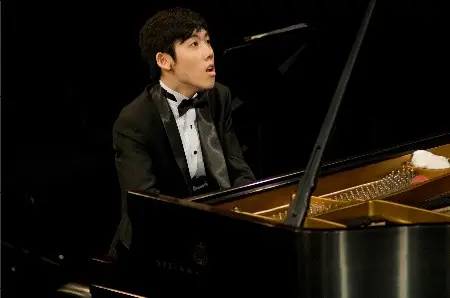 After intermission Zhang turned to Brahms' six Klavierstücke, Op. 118, dating from 1893. There is a certain fitness in following Chopin with Brahms. Brahms was not only a great pianist and composer, but he was also a committed and ardent scholar of music history. In the last capacity, he edited the music of a number of earlier composers, including several volumes of the German collected works of Chopin, especially the sonatas, mazurkas, Op. 49 Fantasie, and Op. 60 Barcarolle.
These half dozen Brahms pieces are intimate, relatively short, serious and, one is tempted to say, philosophical. There is no intent to dazzle hearers with bravura, and Zhang made no attempt to do so. This was courageous programming. Nos. 1, 2, 4, and 6 are titled Intermezzo; No. 3 is labeled Ballade and No. 5 Romanze. They are largely in ternary form, though some of the tonalities are unorthodox: the key that opens No. 1 is ambiguous, and it is strange in No. 3 for a piece in G-minor to have its middle section in B-major. No. 6, in E-flat minor, is unrelievedly mournful; one scholar termed it "perhaps the most eloquent expression of the tragic in all pianoforte music."
Zhang moved into the last century for his final work: the four-movement Piano Sonata No. 1, Op. 22 (1952) by the Argentine composer Alberto Ginastera (1916–1983). Unlike the Brahms, it is flashy and virtuosic. The first movement is agitated and polymetric; the second is in effect a scherzo. The slow movement is impassioned and ends with high wisps of sound. The finale is a sort of toccata, full of furious octaves. Zhang held nothing back here.
One of his two encores was the ever-so-simple "Träumerei" from Schumann's Op. 15 "Scenes From Childhood." Zhang made of it a lovely gem.
Now let us hope that the Celebrity Series will bring Nobuyuki Tsujii to town.