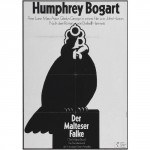 With gift season comes the existential quandary: What to give the culture lovers on your list? This season the writers for The Arts Fuse waylay the crisis by recommending items that will delight the heart and stimulate the mind. Please feel free to add your own suggestions in the comments section.
Keep in mind that if you order any of these from the Amazon link, The Arts Fuse receives a small percentage of the sale.
Electronics are an easy call, given the chic and convenient power of the Kindle and the IPad, even though, as Joann Green Breuer says, "you may need to conceal your identity as you pass a bookstore, but it means a book at your nose in two minutes, a light case when traveling, and an easy path to literary addiction." This page will be updated as more selections come in . . . .
Happy Holidays,
Bill Marx
Editor, The Arts Fuse
==========================================
Ipod Touch

Steve Jobs, Grand Master of Cool, calls it an "iPhone without the phone—or the contract."
It's also an iPad that fits in your pocket, with a couple of video cameras thrown in. It plays music just fine. But it does so many other things as well that the earbuds seem almost beside the point.
It's the new iPod touch, 4th generation, one of Apple's featured products for the holidays. I recently bought one for myself as a replacement for my ancient Palm pilot pdf (remember those?). It keeps contacts, notes, to do lists, your calendar, checks your email, and all those other old school Palm things with panache.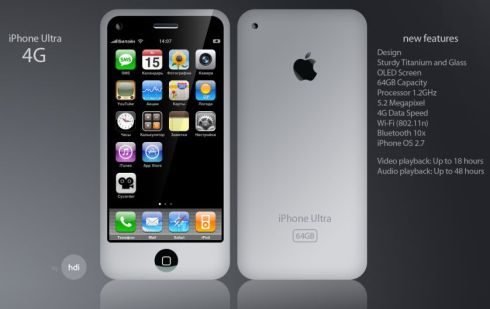 But why is it on an Arts Fuse gift list?
The thing is beautiful for starters. Elegant, smooth, and very petite in glass and polished metal, it is as cooly modern as a Norman Foster museum wing. Then there's that dazzling Retina screen. Borrowed from the most recent iPhone, it out does a 50-inch, plasma TV in rich color and mesmerizing detail. It sold me on the concept.
But what I quickly discovered in exploring the iPod's famous apps is that it can also be your own private cultural center that goes with you everywhere. You can listen to a full-length Bach cantata or watch a Bogart flick in bed, catch episodes of Mad Men from Netflix, rent PBS documentaries from iTunes for 99 cents, or read Keats and Byron for free on the free Kindle app. If you already have a Kindle, Amazon will keep your place in the book while you jump between devices. And your entire Kindle library will be ready for you to download onto your new iPod.
It's also great for international armchair cultural travel. Type a famous monument into the maps app, and the iPod will take you there instantly, for a vivid, 360-degree panorama. If, on the other hand, you want to head over to a European capital in person, other apps will book your flight, hotel, car and even warn you if your flight is delayed.
Once your arrive at your ultimate destination, the iPod's map app and myriad guidebook apps are there to make sure you see everything there is to see as quickly and easily as possible. Find a hot spot, and the maps app will tell you where you are and how to get to where you're going—car, public transport, or walking. My Paris Metro app sends me regular warnings of which subway lines are "perturbed" and even offers a little short story about why (a passenger was suddenly taken "mallade" and had to be carried off the train).
Best of all, you can read all of The Arts Fuse on the unit's Safari browser. A flick of the finger will bring each review up to readable size.
The iPod is not exactly cheap. Avoid the 8 gigabyte version (about $225) as it will fill up almost immediately. The 32 gigabyte edition (about $300) is a happy medium between that and the $400 62 gigabyte version.
Though the marketing materials don't tell you, the iPad keyboard dock (about $70) works just fine with both the iPod touch and the iPhone. The arrangement is not quite up to laptop standards but it beats the iPod's slow and dodgy built-in touch keyboard (which nevertheless beats my old Palm Pilot's stylus system). So you can catch up on your latest novel or review in a package considerably smaller than a netbook. I am writing this review on my setup.
On the other hand, if you are into newer media, the iPod shoots HD digital video and helps you edit it and upload it to YouTube.
This may well be the last season we hear about an iPod Touch. The iPad, iPhone, and Touch are now virtually the same machine with a range of memories and capacities to suit different needs and tastes. The Touch communicates only via WiFi (which avoids pricey data charges). The iPhone includes 3g and phone capabilities, as do some versions of the iPad with its larger screen.
So take your pick. You can't miss for coolness.
================================================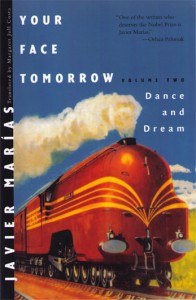 Your Face Tomorrow, a trilogy by Javier Marías (New Directions)
My favorite epic masterwork from a European writer since Proust's. Marías questions how deeply we can ever know another person, and whether the knowledge of someone's character is the same as predestination. If that sounds like gibberish, you'll have to read this trilogy to understand it. If it makes total sense, then you should read it anyway.
Belle and Sebastian Write About Love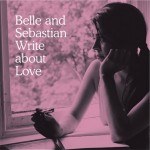 Fans of the Scottish super group haven't enjoyed a full-on release for almost 5 years, and B&S doesn't disappoint. They don't stray far from their sweet spot, but how sweet it is. Most surprising is a torchy duet between the band's lead singer and Norah Jones, in which a one-night stand is transmuted into a melancholy love song: "Can I stay here 'til the milkman's working?/Can I stay until the cafes awake?/Do you hate me in the night?/Did you get a fright/when you looked across from where you lay?"
====================================================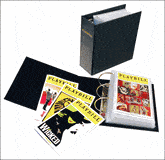 The Ultimate Playbill Binder
$40, available on the Playbill website store
Frequent theatergoers accrue many playbills and, even if they intend to carefully save them for souvenirs, those playbills often end up tossed in a desk drawer or shoebox never to be seen again. This handy 3-ring binder, stamped with the Playbill logo, provides a classy and convenient alternative for storing and displaying playbills. Acid-free backing boards help preserve the playbills, clear sleeves make it easy to organize and rearrange them quickly, and the binder fits 18 playbills. Playbill also offers a budget version of the binder, a version that will fit larger, older-style playbills, and 6-packs of extra sleeves and backing boards that can expand each binder's capacity to 24 playbills.
BosTix gift certificate
Sold in $25 certificates
Theater fans love receiving theater tickets, and BosTix gift certificates offer a way to give them without many of the hassles involved with giving tickets for a specific show. BosTix offers a wide variety of New England show options at both big and small venues — everything from Radio City Christmas Spectacular at the Citi Wang Center to My Name is Asher Lev at the Lyric Stage.
In fact, the options aren't limited to theater. There are plenty of dance and music events too for people with a range of cultural interests. The recipient can choose his own show and date—he'll be happy and you won't have to agonize over finding the right match. Best of all, because BosTix tickets are discounted, usually by 50%, the gift recipient will be able to see more shows for the money!
================================================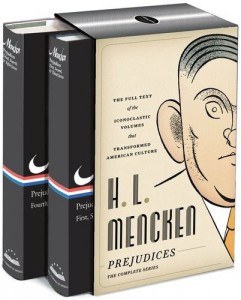 H. L. Mencken's Prejudices series
This season give the gift of iconoclastic horse laughs: The Library of America's (LOA's) handsome boxed set of H. L. Mencken's Prejudices series, books that shook up American culture aplenty in the 1920s. What with news of a new "Bible" theme park in Kentucky, the rise of anti-science mania led by climate change deniers, and the tidal wave of TV no-nothings, Mencken's reviews, commentaries, and salvos on American myopia are as timely as ever. His language remains vigorously delightful. In one volume, he even takes on the cultural pedigree of the home of The Arts Fuse. In a short review of a piece by composer Herbert K. Hadley, Mencken notes that the musician was born in Somerville, MA.
A prodigy thus unfolds itself: here is a man who lived in Vienna, and yet never heard a Strauss waltz! This, indeed, is an even greater feat than being born an artist in Somerville.
For those who want to know more, check out my interview with the editor of the LOA volumes, Mencken maven Marion Elizabeth Rodgers. I also have an essay-review on Mencken's Prejudices in the current issue of the Columbia Journalism Review.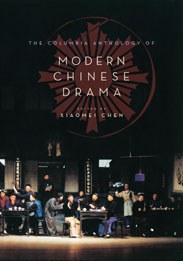 Mencken had little patience for American insularity. For the serious drama-lover on your list I would recommend the monumental The Columbia Anthology of Modern Chinese Drama, edited with an introduction by Xiaomei Chen. This is a door-stopper of a volume, the first of its kind in English, worthy of a country the size of China. Over a 1000 pages long, it contains translations of 22 scripts (some from Taiwan and Hong Kong), ranging from turn-of-the-century melodrama to contemporary social issue plays. The entries include Nobel Laureate Gao Xingjian's controversial 1983 drama "The Bus Stop." Columbia University Press has provided a brave new world of drama for English speakers.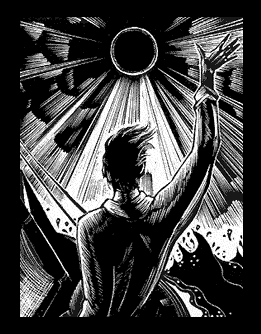 I am a fan of Library of America, and, along with the Mencken volumes, I strongly suggest the Lynd Ward box set, subtitled "Six Novels in Woodcuts." Edited by Art Spiegelman, the two volumes collect the astonishing chiaroscuro visuals of the one-of-a-kind Ward (1905–1985), a socially-conscious artist and printmaker who tells his fevered stories without the use of words. Author Jonathan Lethem gets it right when he says that Ward "is an unmistakable soul-companion to contemporaries like Frank Capra and John Steinbeck, but also to Fritz Lang and Franz Kafka." Looking at Ward today not only sheds light on contemporary graphic novels but the political images of South African artist William Kentridge.
For the first time since the 1930s, Ward's images are being presented as he wanted them, one image per right hand page. Bonus material: essays by Ward about his work, as well as a piece by Speigelman about the pioneering American book artist.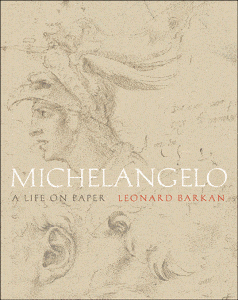 Michelangelo: A Life on Paper by Leonard Barkan
A fascinating and visually alluring look into the mind of a genius, Michelangelo: A Life on Paper by Leonard Barkan (Princeton University Press) microscopically examines Michelangelo's paper trail for essential insights into his life and masterpieces. Combing over the artist's memos, letters, notes, poems, and scribblings, the author also sheds light on the mysteriously fertile tension between words and images: "This book will argue that we cannot understand Michelangelo without a radical sense of the way pictures and words entangled themselves within his creative imagination."
===============================
Foreign film posters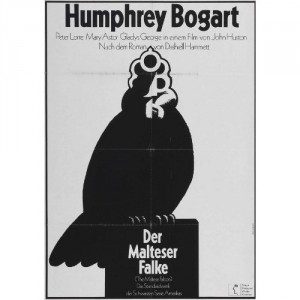 It's pretty easy to shop for a cinephile – you can't really go wrong with buying movies. But with most serious film fans signed up for Netflix or another digital distribution service and everything shifting away from physical copies of films, a DVD or Blu-Ray might not be the best choice this holiday season. Instead, why not go the film poster route?
Most American movie posters play it pretty safe and don't take any risks that could confuse anyone to what film is being shown—but with foreign film posters, all bets are off. This leads to some really interesting and unique designs that approach art. Check out this German version of The Maltese Falcon for just one example. If your cinephile has a favorite classic film, chances are there's an awesome foreign poster just waiting to be hung on their wall.
======================================================
Is there a poetry-lover on your gift list this holiday season? Take my advice and buy them one—or two, or three, or all—of the books I recommend below.
Recent publications by prominent writers, these books are as different as could be. Each is by a master of the craft. And each poet is young—the prospect of what these four might accomplish, say, over the next 30 or 40 years, is breathtaking!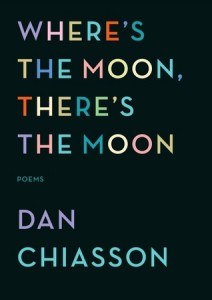 Where's the Moon, There's the Moon by Dan Chiasson(Alfred A. Knopf, 2010, $25, hardbound)
Where's the Moon, There's the Moon is a brave book by a poet who has shaken himself free from the limitations of a flatter, more contemporary sound. Say aloud the opening stanza of the title poem, which is "A Story for Children," and feel how Chiasson's anaphora ("If I…", "and watch myself…"), slant-rhyme ("there" and "here"), and enjambment establish the theme of the poem:
If I look to the opposite shore and greet myself there,
if I call out to myself come here
and watch myself laboriously construct from shore-things
a boat, and watch myself over the waters come rowing,
but, crossing the midpoint between shores,
out in the middle of the colorless lake,
no longer approaching, no longer coming closer,
disappear, where am I now, has my boat capsized?
"Where's the Moon, There's the Moon" is the stuff of classic myth (it recalls the predicaments of Ursanabi in Gilgamesh, and of Charon, and of the spellbound punter of the early Russian folk tale, "The Luck Child"). And it's the stuff of High Modernism (the fragments that compose hard poems like Eliot's The Waste Land are "shored-things," no?)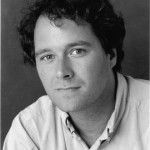 But the 27 stanzas of "Where's the Moon, There's the Moon" are also, more importantly, a re-imagination of the something much closer to home and much older, even, than any of that: the obdurate inclusion of a parent's childhood imagination in how and what stories he tells to his own children. Uh, I mean, it re-imagines, in a way we all can all feel, how the meaning of everything is generated and regenerated in the space between a parent's lips and a child's ear. When Chiasson's speaker recounts how
…the mule on page four will always be sad, the owl
overhead will always mourn for the mule in his sadness,
nobody will ever bring news of page eleven when mule-boy
returns from the dead, and the child reading the book
will always preside like a sinister god over these animals,
always dipping in and out of their moods like a snacker,
a little sadness to tide you over until suppertime,
a little elegiac owl, some time at the grief picnic…
he's capturing the predicament of the parent-ferryman, condemned to be both "here" and "there," on both shores at once, as he raises, and in some way writes, a child. This big, delicious poem is haunting and true, and it's as sad about as it is grateful for the predicament it explores.
Don't be afraid! There are lots of shorter poems in Where's the Moon, There's the Moon that are just as beautiful as the title poem. Chiasson is keen and precise, and short forms, sonnet-size and smaller, respond to his touch. Some, like the "Satellites," are serial and communicate with each other. "Thread," my favorite satellite, pierces with its closure: "Being near me never made anyone a needle."
I'll close with a poem that doesn't. Have you ever pondered a paradox involved in any of our modern conveniences? In the brief monologue "Revolving Door," Chiasson reaches an amazing depth about a device that is always on ground floor. The six lines present themselves as glassy surfaces:
I spit and swallow with equal gusto.
Spitting is not a sign of disgust.
Swallowing is not a sign of hunger.

Casting out is not a sign of anger.
Allowing in is not affection.
I chug along, doing what I'm meant to do.
I will never walk that arc of a circle in the same way again. And I love the rhymes here, especially how by implication, following from the relatively full rhymes ("gusto" with "to do" and "hunger" with "anger") "disgust" is mated with "affection." Is the poem also a brilliant reflection on deciding whose poems get into print? Chiasson is doing what he's meant to do.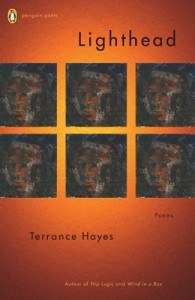 Lighthead by Terrance Hayes (Penguin Poets, 2010, $18, paperbound)
Lighthead has just been awarded the National Book Award for poetry. If recommending it earns me a front seat on a bandwagon, I ask you to climb aboard and to bring some tinsel.
There is no more talented word player in American poetry than Terrance Hayes. His early work, in my view, leaned toward and on the standard epiphanic narratives derived from lived experience. But the contemporary American poem is too small to accommodate Hayes's immense gifts. His work has grown, through four volumes, cleverer, more musical, more confident, and less like any one else's. His poems are as explosive as sudden laughter, as urgent as ululation, and as controlled as a keener's wail. In Lighthead, though story is present and sometimes crucial, the protagonist is language. And though language likes to tell stories, it prefers to light candles.
Sometimes the candles burn at both ends, as in Hayes's homage to Gwendolyn Brooks, "The Golden Shovel," in which, with characteristic dexterity, Hayes has placed the words of the anthology piece "We Real Cool" in a double acrostic, such that they occur as the first words and the last words of his lines. Future anthologies will make room for this amazing poem.
Who is the speaker of "Imaginary Wedding Song," which originally appeared in The New Yorker? And what constituency does the speaker stand for? Read aloud, twice, the two stanzas from it below and attend, as you read it the second time, to how quickly you know that the poem is bigger than any one person's experience:
You can never be a bride for more than a day
unless you are the bride of the Moose County Fair.
Or the bride of Sea Island. Or the bride of altitudes.
Or the bride of scrimmage. Or the bride of a miner's
lantern. The bride of eaves or the easy bride of naves.
The bride of the Second Avenue Glory Bound
Greater Covenant of Holiness in Christ Chapel
or bride of the Rock of Ages Full Gospel Sweet Home
House of Prayer. The bride of blistering scriptures.
The young bride of Doctor Roland Fumes, the pastor.
Or the bride of anchored ear lobes and slapstick lipstick.
Bride of the affirmative girdle and transparent mantle.

You can never be a bride for more than a year
unless you are the bride of a flamboyant boy king,
princessed and pressed in something as white
as luxury. Or the bride of withering edicts.
Or the bride of John Shore's wind-up contraptions.
Or the bride of Abraham Jones, the butcher.
The bride of Delfeyo Nekrumah and his handsome
handmade spears. Or the bride of Yukio Imaura
and the fish. The bride of James James Junior,
the eponymous. Or the bride of Wole Curtis, the soothsayer.
The bride a mile from the graveyard and the warmth
of good money. The bride of birthright hugging the finger.
This is the first great epithalamium of our new millennium. Buy two copies of Lighthead and keep one for yourself, so you can read and re-read the final stanza and wonder, as I do, what heights this energetic and resourceful poet might reach.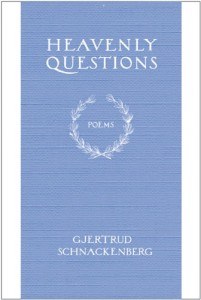 Heavenly Questions by Gjertrud Schnackenberg. (Farrar, Straus & Giroux, 2010, $23, hardbound)
Gjertrud Schnackenberg's Heavenly Questions, her sixth book of verse, is an otherworldly book. Comprised of just six poems, it wrestles with a single experience: the loss of the beloved. If I had written "the loss of a beloved," I would have given the lie to the intensity of the problem that the speaker of these poems faces. When Gilgamesh watches the worm crawl from Enkidu's nose and cries "Must I die too?" we understand, because of the self-involvement of the question, that Gilgamesh will outlive his grief for Enkidu. No such end of grief is implied by the repeated false starts and unmoored, life-sentence syntax of the first second and third sentences of "Sublimaze":
I sat beside him, dozing in my coat,
Our hands entwined, my chin sunk to my chest,
A sentinel, my vigil overcome,
The password lost, a ring of useless keys
Had fallen from my hand, but never mind,
Those keys were melted down from other locks
And locks from other keys, fifth surgery
Of five, the final one I argued for
Though one by one the locks were bolted shut—
A sentinel, my vigil overcome,
But where, and to what end, and guarding what—

A sunset-painted door, with long-lost keys
Left hanging in a conjured iron ring
With blowing ribbons just this moment blown,
And drops of opiates, threefold, fourfold, five:
Door to the house where no one ever died,
With countless rings of keys in iron locks
And bolts that multiplied and multiplied—

My vigil overcome, but starting here,
I reasoned that if someone swept a hand
And all the locks fell open all at once,
And if the door fell open, he would live—
A miracle for us. Another chance.
Here, as so often in her career, Schnackenberg employs an indelible iambic pentameter. The lines in Heavenly Questions are so powerful in their rhythms that it is impossible to conceive of these poems being constructed in any other way. Yet the book is a departure from Schnackenberg's earlier masteries in this most flexible and commodious form; it is as if the loss of her husband, to cancer in 2003, transformed even her approach to the measure in which she had accomplished most.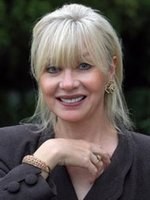 One might argue that the pentameter and the sentence structure in "Sublimaze" and other poems in Heavenly Questions collude to induce, mimetically, an opiate haze—as if the speaker has absorbed, transdermically, a dose of the fentanyl to which the title partly refers. Yet, in my view, the speaker's struggle to finish a thought or even a clause is more simply the correlative of her struggle not to let go of the beloved. In Heavenly Questions, Schnackenberg's speaker must defer closure, even closure as trivial as a full stop—no final resting place—unless it is cast as a moment's stay among words as welcome as "A miracle for us. Another chance."
The poems' textures are so interwoven that the whole of Heavenly Questions can be heard as a cantata. If the nightmare sung is very particular (highly intellectual, syncretic, full of personal allusions), it is also ours. At times Schnackenberg's speaker expresses raw and direct love for her husband in terms that are close to the vernacular, close to the ways ordinary people speak:
How could I memorize his gentle ways.
The way he mingled friendliness with passion,
Plain-dealing, open-handed, unafraid.
The swift, reflexive generosity.
In the context she's constructed, these are the sounds of devastation coming to consciousness. Such relatively plain-spoken attempts to account for the beloved are painful; pain is the survivor's condition—no anesthetic or aesthetic will quell it. Heavenly Questions is a contribution to the elegiac tradition as strong as Douglas Dunn's Elegies (1985) and Anne Carson's prose Nox (2010).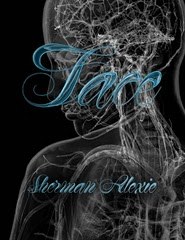 Face by Sherman Alexie. (Hanging Loose Press, 2009, $18, paperback)
Face answers the most pressing question of this holiday season: What is the difference between contemporary verse and prose?
Alexie knows the difference because he writes prose for a living. In Face, when Alexie shifts from prose to verse or from verse to prose, he does so out of need. Watch how he manages the distinct forms in this excerpt from "Tuxedo with Eagle Feathers":
Six years ago, or maybe it was eight or ten, I went to a powwow at Riverfront Park in Spokane, Washington. I ate fry bread, watched the dancers—especially the beautiful young women shaking their jingles—and listened to my mother and aunts tell dozens of highly sacred dirty jokes. Later that night, after the last dance, as I walked back to my car,

The man who, as a boy, bullied me—
Who screamed, "You ain't no fucking better
Than the rest of us Skins!"—drunkenly
Approached me with an eagle feather

Hand fan and said, "Hey, cousin, can I pawn
This to you?" If I had wanted revenge
Then, I could have bent him like a damn hinge
And left his body to be found at dawn

By some early rising powwow dancer.
But violence is never the answer
(Until it is), so I thought, "What the fuck?"
And gave my enemy twenty bucks.

But don't sing honor songs for my mercy.
I bought those feathers out of pity,

because I realized that I had defeated my childhood bully. I was the rich and famous writer and he was a drunk. No, I need to qualify that. There are plenty of rich and famous drunk writers; it's my sobriety that separates me from my drunken childhood and my drunken profession….
People say "free" verse releases them to express something deeper and more authentic than they otherwise would be able to achieve, but, in my view, Alexie's verse is the freest verse on the playground. It's exhilarating to watch him leap and twist and swing in lines you never doubt he chose.
Alexie's verse choices are what is called "traditional"—he is fond of villanelles and ABCB quatrains, he uses slant-rhyming and assonance to extend his range of end-words, and there is an iambic beat to much of this work. But Face is at the same time full of invented or nonce forms of dazzling virtuosity. Perhaps I can describe one of these without spoiling it.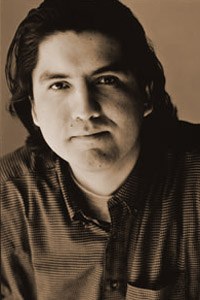 In "Comedy is Simply a Funny Way of Being Serious," a retailing of a bit of Aristotle's Poetics, Alexie impersonates Borges. The poem begins as a mono-rhyming sonnet in two septets. Seven superscript numerals indicate footnotes to specific portions of the poem. Sure enough, below the second septet, a line scores the page, and below that line we find seven notes, each in couplet form, such that these notes comprise a second sonnet, this one with a complicated nonce rhyme scheme featuring six uses of the word "poem" and a witty substitution of the word "joke" where a seventh "poem" might have been. This second sonnet, too, is festooned with tiny superscripts, this time tiny letters. Below this second sonnet, a second line scores the page, and below that line resides a third sonnet, in three ABAB quatrains and a couplet.
Are you having fun yet? Alexie is, and it's contagious. Here are the last two footnotes to the second sonnet:
cRodney Dangerfield was a stage name, a lie
That, with each self-loathing punchline, kept growing
Until the Rodney mask completely disguised
The face of a Jewish kid named Jacob Cohen.

dIt is difficult to forgive the poem
That spends its time in search of the next joke.
Forgive? Face is a big, joyful book. It takes risks few contemporary poets even take seriously, because they are so busy taking seriously some very safe poems. It includes story poems, dream poems, riffs on religion, allusions to Pink Panther films, lots of local politics, and lots of self-scrutiny by a speaker who sounds a lot like Sherman Alexie and who is sometimes very angry. It is fiercely and capaciously imagined, and it is as fresh as any book of poems I have read in years.
I'll forgive, but I won't forget. And that's what verse is all about.
Happy Holidays!
===================================
The Invisible Bridge by Julie Orringer (Knopf)
A young, American writer, who has captured an entire world of two Hungarian brothers before the Second World War—a wonderful epic reminiscent of I.B. Singer in its scope and authority and the precision of the prose.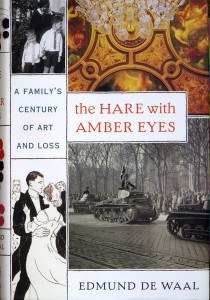 The Hare With The Amber Eyes by Edmund De Waal (Farrar, Straus and Giroux)
I also loved a book suggested by a young English friend, The Hare With The Amber Eyes by Edmund De Waal, a memoir by a famous English potter about his ancestors, the wealthy Jewish family Ephrussi (who were bankers in Odessa) and who subsequently settled in Paris and Vienna and, finally, Japan. Using a charming collection of Japanese "netsuke" to trace the family's meteoric rise and fall, De Waal gives us a unique story spanning more than a hundred years that is unforgettable for the honesty of its content and the extraordinary gracefulness of the writing. A most delicious gift.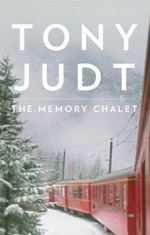 The Memory Chalet by Tony Judy (The Penguin Press)
Tony Judy's The Memory Chalet is his last book, a collection of feuilletons he wrote while dying of ALS (he died in August) and brilliant in its perceptions and willingness to write honestly, as only someone who has nothing more to lose can write. Buried in these small essays are some of the most stringent comments on our society and its values—or lack thereof—that I have seen in recent times. A must for the younger generation, and moving memories, especially about train travel, as well.
=========================================================
My two favorite things to give are exotic salts from different parts of the world and really good olive oil (my favorite is Spanish).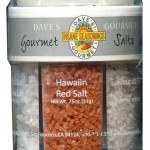 Dave's Gourmet Salts
6 different tasting salts from Himalayas, Hawaii, France, etc.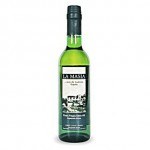 La Masia
Spanish organic olive oil from Andalusia. It tastes of olives, not fruit. Spanish chefs say you have to use Spanish olive oil, otherwise . . . .