"Our film has community and spirituality," says Gerald Peary. "It also has conflict."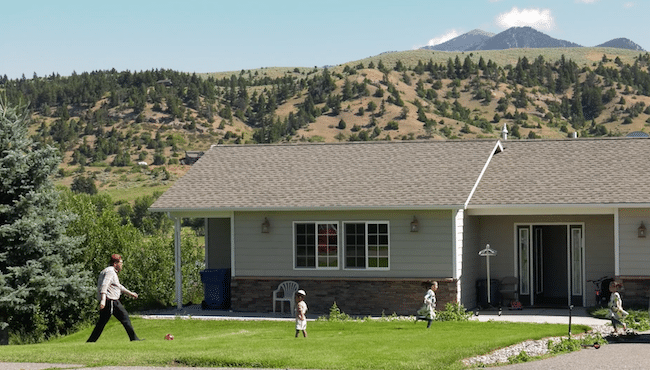 By Bill Marx
The Arts Fuse's critical cadre is an accomplished crew. At the Harvard Book Store at 7 p.m. on July 11 visual arts critic Grace Dane Mazur will read from her new novel The Garden Party. Film critic Tim Jackson is at the moment completing a documentary, while film critic Gerald Peary and his wife Amy Geller are in the midst of raising the funding to complete their documentary — The Rabbi Goes West. And that is the focus of this shout-out. I have seen short excerpts from the work-in-progess and can vouch that the effort is quirky, thoughtful, and compelling. Here is some info on the film:
There are 1,300 Jewish families in a state 14 times larger than Israel. Filmmakers Gerald Peary and Amy Geller met a lot of them, making The Rabbi Goes West. They were trailing their protagonist, Chaim Bruk, a young, charismatic Hasidic rabbi from Crown Heights, Brooklyn, who moved to Bozeman, Montana, to bring his brand of Orthodox Judaism to the American West. He's set up a synagogue in his Bozeman home, where he resides with his wife, Chavie, and five adopted children.

But not all the Jews of Montana are excited about Rabbi Chaim being there. Other rabbis, both Reform and Conservative, felt that Chaim was poaching on their congregations, and that his kind of Hasidism, Chabad, was actually a religious cult.

"Our film has community and spirituality," says Peary. "It also has conflict." In January 2017, during the time they were filming, a group of neo-Nazis threatened to march in the streets of Whitefish, MT. It made national news when they launched a cyber attack against several Jewish families, including Francine Roston, one of the rabbis in the film. "While we could have never predicted that such a horrific thing would happen," says Geller, "we've documented the events in Whitefish and are weaving this story into our film."
The filmmakers plan to release The Rabbi Goes West in 2019. But to do that they are asking for support. Peary and Geller need to raise $40,000 to finish editing the film, compose an original score, and return to Montana for a final shoot. So, as of July 12 (through August 10), a Kickstarter campaign kicks off to raise the necessary funds. For more information, including how you can donate (it would be a mitzvah!), go here.
---
Bill Marx is the editor-in-chief of The Arts Fuse. For over three decades, he has written about arts and culture for print, broadcast, and online. He has regularly reviewed theater for National Public Radio Station WBUR and The Boston Globe. He created and edited WBUR Online Arts, a cultural webzine that in 2004 won an Online Journalism Award for Specialty Journalism. In 2007 he created The Arts Fuse, an online magazine dedicated to covering arts and culture in Boston and throughout New England.