We will not get another Angels in America unless we demand it  — and stop accepting bogus substitutes.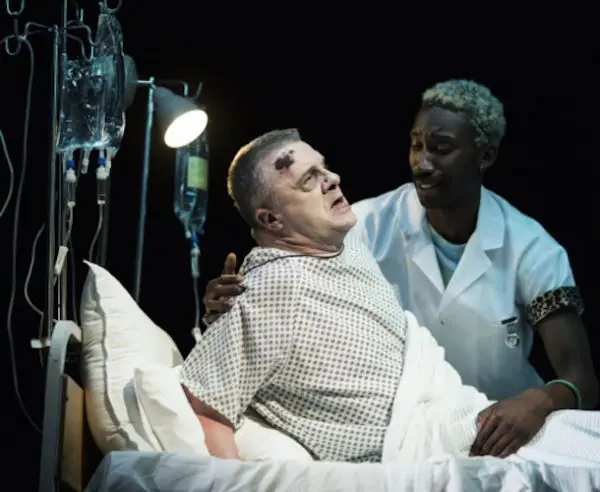 By Bill Marx
Co-lead New York Times theater critics Ben Brantley and Jessie Green, along with three of the paper's stringers, generated lots of flapdoodle with their list of scripts in "The Great Work Continues: The 25 Best American Plays Since 'Angels in America.'" But, for me, most of the commentators have ignored the article's revelation of an acutely embarrassing artistic reality. Since Angels in America we have not had any successful American play (non-musical) that approaches its inspiring size, ambition, imaginative breadth, and political provocation. Why the 25 years of relative modesty? And where are the complaints? Why the pervading sense of smug self-satisfaction among our critics and theater-makers?
In the British online publication The Stage, Andrzej Lukowski (Theater Editor of Time Out London) hints at some possible explanations. He admits that, despite its gridlock of "family reunion" dramas, the NYTimes list has its worthies (including Suzan Lori-Parks's Topdog/Underdog, Branden Jacobs-Jenkins's An Octoroon, Wallace Shawn's The Designated Mourner, and Paula Vogel's How I Learned to Drive). But he goes on to argue, convincingly, that the contemporary English stage blows the American countdown away. Lukowski mentions, among other dramatists, Caryl Churchill, Lucy Pebble, Alice Birch, Debbie Tucker Green, Martin McDonagh, Mark Ravenhill, Jez Butterworth, and Kwame Kwei-Armah. He doesn't even note some of the older guns that come to my mind, such as Howard Brenton, Edward Bond, and Peter Barnes. Compared to the finest plays penned by his gathering, ours look small and pat, domestic rather than demonic. Lukowski observes that "outside the top 10, there are few spots of genuine genius: it's interesting one-hit-wonders and well-crafted middle-class dramas about family reunions." He doesn't argue that the best of the Americans aren't as good as best of the Brits. But we are way outnumbered.
"What should have been a celebration," Lukowski concludes, "feels instead like a headstone, a presentation of evidence that America is greatly diminished as a dramatic force." He is spot-on: for two decades the American theater has been content to cower in the shadow of Angels in America. It has gone into retreat, plodding "stolidly away from it." He laments the situation – "it is bad for all of us" — and hopes that some of the younger playwrights on the NYTimes list will take up the gauntlet. But will they? Lukowski blames the situation on our government's failure to subsidize the arts. True enough, but there are strong forces, cultural and economic, that are keeping American drama stuck in its strangled nook. We just don't want what powerful stage drama gives badly enough to make the sacrifices necessary to nurture it.
In America, nothing sucks the oxygen out of the room with more deadly force than financial success. Musicals are booming, so that is where all the attention and money is streaming, a sweet spot that magically unites commerce, branding, and universities. This is not to say there have not been terrific songfests over the past 25 years. Just that it explains why our most talented stage practitioners are not writing plays, but working hard at scoring with the latest lucrative singing/dancing sensation. A number of major repertory theaters, many at educational institutions that should be cultivating serious dramatists, are abdicating their responsibility to develop American plays. Instead, they crank out musicals for export to Broadway. (At the turn of the century, Harvard University assisted the career of Eugene O'Neill. Now, under the artistic entrepreneur Diane Paulus, Harvard's American Repertory Theater is hopping up The Great White Way with Jagged Little Pill(s).)
The reasons behind the appeal of the musical to the generally white and well-off theater demographic calls for another column. For now, it is enough to point out that music (often of  a particularly homogenized kind) makes the medicine/message go down easier, sidestepping what the best plays demand of us: confrontations with the dark, the difficult, the intractable. I came across some apt words by novelist Colum McCann on the duty of imaginative dramatic writing. It should be about "the freedom to articulate yourself against power …  You have to stand outside society, beyond coercion, intimidation, cruelty, duress … Become more dangerous … Good sentences have the ability to shock, seduce, and drag us out of our stupor … Transform what has been seen … Oppose the cruelties. Break the silence." With the rise of social media and the deadly siren call of electronic screens, large and small, theatergoers have become increasingly intolerant of the kind of complex language and thorny ideas necessary to snap them out of their spell. Companies are eager to cater to the demand for spoon-fed comfort, and musicals are a popular vehicle.
The Golden Age of Television is also syphoning off attention, talent, and innovation. Why write a play for the stage when there's a burgeoning demand for TV scripts that pay well? Granted, the Golden Age of Television has become arguable — we are already beginning to see the downward slide in quality as the demand for more 'product" is met by an increasingly overcrowded field of producers. But long-form television is where the profitable action is for many of our most talented writers. So American drama has understandably — given the spiraling lack of interest and  resources — been bleeding first-class talent for decades. The Australian theater director/playwright Simon Stone put it well: "Jesus Christ, if theatre could be half as good as HBO, we'd be hitting gold."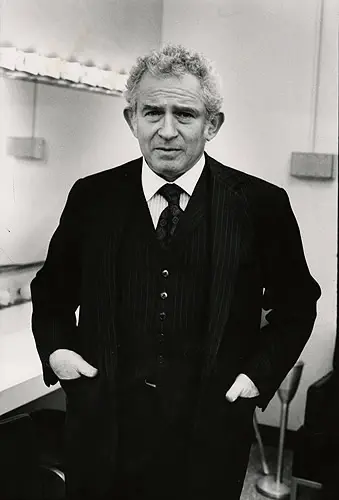 Though, of course, television drama is not the answer. It only shapes the increasingly narrow expectations of theatergoers who demand (and then get) what they experience on TV — which undercuts the elemental power of the live stage. Fifty years ago, in "The Playwright as Critic," Norman Mailer noted TV's parasitic  influence on playwriting as he evaluated some ham-fisted offerings on Broadway (which included the musicals Fiddler on the Roof and Man of La Mancha!). For Mailer, theater, at its best, proffers an experience "sufficiently magical to live in the deepest nerves and most buried caves of the memory …  plays [that] speak of the fire at the edge of the wood and hair rising at the back of the neck when the wind becomes too intimate in its sound." Theater should be "religion for the irreligious." In contrast, TV "attacks the unconscious like a trip in a jet — you move from continent to continent or spectacle to spectacle without the accompaniment of a change in mood to prepare the flesh. … So a work of deep drama on television would inspire anxiety, for one's own depths might open to what? — to the baleful electronics of what far-off God? what cold star? No, you keep it neat. The scene is recognizable to ward off any shriek, and the situations are odd and out of focus — just sufficiently unsettling to keep your mind off the flickering of the set." His vision remains relevant: on what cold star lives Amazon, Netflix, and Facebook?
For Mailer, TV amounts to manipulation, and that sickness has only festered in the theater over the past five decades. ("To talk of Broadway is to talk not of amusement but of disease.") And that leads to another reason American drama finds itself in such anemic shape. Those who care about the artistic (rather than financial) health of theater are not challenging the growing power of manipulation, aided and abetted by the ethos of business and the passivity of the status quo. Too often, our critics value scripts exactly as the theaters market them. (Boston's reviewers, for example, are far too Panglossian.) In the short run, that means a dramatic triumph comes along just about every other week. It also encourages dead silence in the face of evidence that there's a crisis in American drama (as Lukowski suggests), from the scripts picked to be produced to small-bore aesthetic quality and a meagre diversity of voices. For a detailed analysis of why there are so few new scripts with the heft of Angels in America, particularly on our larger, more moneyed stages, please read Todd London's excellent Outrageous Fortune: The Life and Times of the New American Play.
Salesmanship fades after twenty-five years, and a demeaning reality can be glimpsed through the mountains of confetti. The truth is, superior drama demands a genuinely radical/mad imagination, one that goes beyond sound bites, that doesn't worry about placating the tastes of aging white audiences. We need audacity, not mechanical bows at the cardboard altar of 'empathy.' We will not get another Angels in America unless we demand it — and stop accepting bogus substitutes.
---
Bill Marx is the editor-in-chief of The Arts Fuse. For over three decades, he has written about arts and culture for print, broadcast, and online. He has regularly reviewed theater for National Public Radio Station WBUR and The Boston Globe. He created and edited WBUR Online Arts, a cultural webzine that in 2004 won an Online Journalism Award for Specialty Journalism. In 2007 he created The Arts Fuse, an online magazine dedicated to covering arts and culture in Boston and throughout New England.