Of course, that was the reason I was there. One of the best features of the London Jazz Festival is the programmers' willingness to expose musicians from other world music traditions who engage with jazz in some meaningful way . . .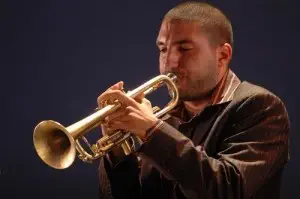 By Steve Elman.
Well, I just can't remember the name of that pop tune, and my web searches didn't help. Chucho Valdés played it as his piano trio feature on Thursday night at Barbican Hall, and I felt this diary entry wouldn't be complete without the tune's title, but one must soldier on, as those on this side of the pond might say.
In fact, song titles and personnel throughout the concert gave me a considerable headache. The music was new to me for the most part and I was unfamiliar with nearly all the musicians on stage.
Of course, that was the reason I was there. One of the best features of the London Jazz Festival is the programmers' willingness to expose musicians from other world music traditions who engage with jazz in some meaningful way, and this show seemed like an ideal pairing—Lebanese-born trumpeter Ibrahim Maalouf fronting his jazz-rock combo and Chucho Valdés with his Afro-Cuban Jazz Messengers.
By way of proper credit here, I should thank Lance Liddle of bebopspokenhere for ferreting out all the players' names, Joan Cararach of All About Jazz for the informative interview with Chucho, dated September 20, 2010, and Stephen Altoft and Donald Bousted for their Short History of the Microtonal Trumpet.
Maalouf played the opening set. He really had no need to apologize for his music, but his remarks on stage betrayed his feeling that what his band was playing constituted more rock than jazz, and he expressed some concern that the crowd might expect him to play something more traditional, more "serious."
In fact, his group plays a very traditional-sounding jazz-rock and takes its work very seriously, though Maalouf, who will turn 30 in December, hadn't yet been born when I was playing this sort of stuff on the radio. Anyone who remembers Larry Coryell's Eleventh House, the early Brecker Brothers band, Ian Carr's Nucleus or Chick Corea's more electric edition of Return to Forever would find this to be very familiar territory . . . with one important difference: when trumpeters Randy Brecker and Ian Carr ventured into modes reminiscent of Spain or the Middle East, it was via the work of John Coltrane, Miles Davis, Dizzy Gillespie, and ultimately George Russell. Maalouf brings these elements into his music genetically.
Maalouf's parents were both musicians. His father Nassim is credited with inventing a trumpet with a fourth valve, designed to accommodate the quarter-tones of Arabic music. There are precedents for this sort of instrument going back to the 1920s and precedents using it in a jazz context (notably Don Ellis's work in the 1960s), but I think that Maalouf is the first jazz musician to embrace the quarter-tone trumpet completely, play it brilliantly, and solo on it with complete authority. Don Ellis, great as he was, used the fourth valve sparingly and somewhat jarringly, emphasizing its off-pitch for dramatic effect. Maalouf uses it all the time, integrating the quarter-tones into his solos logically. As a result, he gets more precise execution of the kinds of notes other trumpeters hit via lip fakes and half-valving.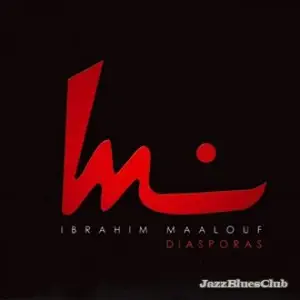 But quarter-tones don't make a trumpeter into a stylist by themselves, and Maalouf has a lot more to offer than just pitches in the cracks. His attack is as soft as a cat's fur, far from the bright, metallic sound that's so common it seems to be forged in the brass. Art Farmer played this way, and Bill Coleman before him, but they were on a path that's been taken by few others. Maalouf advances their work into a new era. He can play so caressingly that he sometimes makes his trumpet sound like a clarinet.
Classical training has given him great speed and clarity, when he chooses to use them. I preferred his long, lyrical solos in this concert, haunting and soulful, when he often suggested vocal lines (so much so that he even used his voice in falsetto to conclude his last solo of the night, and he was remarkably effective even doing that). This made perfect sense in the context that framed all of the music—the Arab traditions of song, oud, and reed.
I wished that the rest of the group was up to his level of musical accomplishment. Guitarist Nenad Gajin has some strong ideas, but too often he roared down the road that's been worn to dust by Bill Connors, Al DiMeola, Jim Mullen, and many less talented, jazz-rock guitar heroes. I enjoyed the solos where he played against the time and the moments where he evoked the oud or bouzouki; there were just too few of these bright spots. Frank Woeste gave us electric keyboards that recalled Corea, Zawinul, and very little else. Bassist Benjamin Molinaro did what he was asked to do but did not leave much of an impression.
However, here's a good word for drummer Xavier Rogé. His solo in the last tune of the set, a 6/8 thing much like Chick Corea's electric music, revealed a surprising subtlety for a player who had previously driven the band with a rocker's finesse. He used some soft dynamics to begin his solo and then built in waves of intensity rather than the all-too-familiar march to the crescendo. He deserved the ovation he got.
Before the interval, one dissonant note on Maalouf's composition "Beirut," which was supposed to portray his first visit to his home city as an unaccompanied young adult, viewing  its devastation with horror while listening to Led Zeppelin on his Walkman: the world does not need a jazz version of "Stairway to Heaven," no matter how beautifully the leader plays in the quiet sections.
After the break, Chucho.
It's getting to the point now where the 69-year-old, Cuban pianist-composer only needs to be introduced with his first name, and some would say it's about time. Trumpeter Arturo Sandoval and saxophonist Paquito D'Rivera left for greener pastures and became world-famous after serving their time in the Cuban fusion band Irakere, but Chucho, the group's primary composer and godfather, stayed.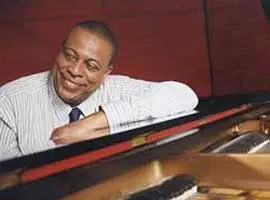 He was helped immensely by his appearance in Fernando Trueba's music documentary Calle 54, where he and his father, Bebo Valdés, both performed. The gradual opening of Cuba and the greater freedom he has had to tour and perform outside of his homeland have also helped to build his reputation, so I was looking forward to engaging with his music in person.
Thursday's set was almost a three-ring circus of Afro-Cuban music. There was much of substance, and much to enjoy, so let me get the negatives out of the way. There was that tune, the name of which I still can't remember, that Chucho played with only the accompaniment of Juan Carlos Rojas Castro on drums and bassist Lázaro Rivero Alarcón. It's hugely popular on softrock stations; if you like, you can imagine any of the songs you know in its place. Chucho started out toying with "Cast Your Fate to the Wind," the old Vince Guaraldi hit, but when he went into the tune, I groaned. And when he ramped up the interpretation to molto schmalzando by quoting Rachmaninoff's first piano concerto at length, I wondered who had stolen the soul of the great Cuban pianist and channeled Liberace in from the great beyond.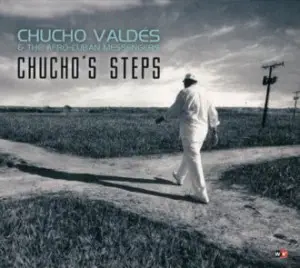 But that's enough snark. I was impressed by bata drummer Dreiser Durruthy Bambolé, who also sang incantatory vocals much as Chano Pozo and Sabu Martinez did in great Latin jazz recordings of ages past and proved a remarkable dancer in a star turn in the encore rumba. Robles also had some potent drum dialogues with conguero Yaroldi Abreu Robles, and Robles showed off a melodic approach to his own drums on "Both Sides."  Juan Carlos Rojas Castro had to play the thankless role of third drummer in the band, but his approach to the traps was vital and solid.  Lázaro Rivero Alarcón played a competent electric  bass when  needed, but I preferred him  on acoustic, especially because he uses a special five-string instrument that allows him to reach submarine levels of support.
The use of "Messengers" in the band's name is a deliberate homage to Art Blakey, and two horns provided the front line needed for Afro-Cuban hard bop.  Trumpeter Reynaldo Melián Álvarez, featured on fluegelhorn on "Begin to Be Good," had plenty of the requisite fire, a nice contrast to Maalouf's approach earlier in the evening. Tenor soloist Carlos Miyares Hernández, featured on "Danzón," is a real find, a guy with a big fat sound and a broad, well-grounded approach to his instrument, giving us tastes of Wayne Shorter and John Coltrane but also calling up Johnny Griffin and Dexter Gordon.
Chucho' sister, Mayra Caridad Valdés, came on stage for one tune, and it was a stunner. She has true diva presence and sure pitch, with beautiful, dark color in her lower register that recalls Sarah Vaughan.
And Chucho. He has massive technique, using all the standard Latin devices you'd expect—he grand tremolos, the hammering block chords, the right-and-left-hand unisons, on a foundation of progressive harmony that shows familiarity with McCoy Tyner and subsequent pianists. He holds power in reserve, turning on the juice when he wants to make things exciting but usually playing with a regal majesty.
Perhaps all this talent on stage provoked unwarranted expectations. I hoped for a kind of Eddie Palmieri transcendence in the music, and it didn't quite get there despite all the individual brilliance. The band is touring behind the new CD Chucho's Steps, and the repertoire was almost all from that release. Maybe I wanted some older material—a resurrection of some Irakere stuff or a Cubanized version of Blakey's own book a la Ray Barretto.
In any case, I learned a lot. That's what jazz festivals are for, right?
On the way out, I decided to buy Ibrahim Maalouf's CD and to put off buying Chucho's. Go figure.