The BPYO is as responsive, confident, technically skilled, and emotionally expressive an orchestra as they come.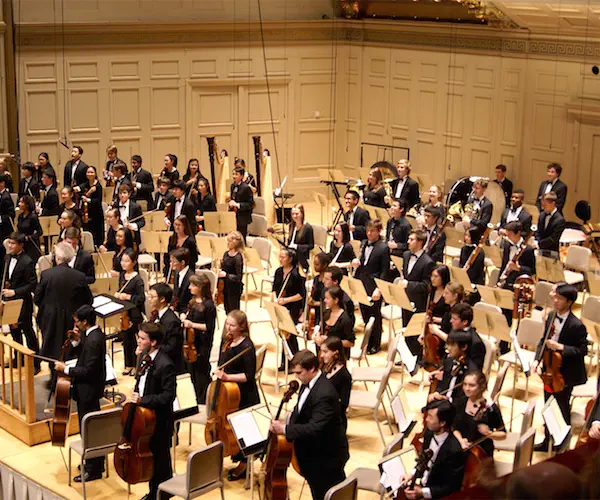 By Jonathan Blumhofer
Their name is somewhat misleading. Yes, the Boston Philharmonic Youth Orchestra (BPYO) is made up of players aged, roughly, 12 to 21. And, yes, their sound is more consistently fresh and energetic than what you usually hear from a long-standing professional ensemble.
Outside of those two peculiarities, though, there's nothing youthful (in the derogatory sense, anyway) about the BPYO. Quite the opposite, really. They're as responsive, confident, technically skilled, and emotionally expressive an orchestra as they come. The BPYO's Sunday afternoon concert at Symphony Hall, led by founder and conductor Benjamin Zander, reinforced those latter qualities while also reminding that not all professional-level orchestras are manned by, well, professionals.
What other conclusion might one have come to after hearing their stirring, visceral reading of Wagner's Overture to Tannhäuser? Warm and noble in the famous Pilgrims' Hymn, wild and sensuous in the Venusberg music, theirs was a Tannhäuser worthy of Boulez at Bayreuth, not only impeccably in tune but played with such a strong ear for detail that all its busy inner workings could be heard, from the noodling viola melody that accompanies the opening of the Hymn to the reeling clarinet licks in the bacchanal. It offered plenty of atmosphere, too, Zander drawing out Wagner's delicate scoring for violins (for example) to strong effect.
Similar clarity of playing marked the BPYO's reading of excerpts from Prokofiev's Romeo and Juliet. They performed a thirteen-movement suite compiled by Zander; it basically organizes both of Prokofiev's suites into a narrative whole, one that neatly condenses the action of the ballet into just about an hour.
On Sunday, the BPYO's was a reading of bright color and immense energy. "The Capulet Ball" snapped with menace. The tremulous string-writing at the beginning of the "Balcony Scene" was breathtakingly delicate before the whole orchestra launched into full-throated, passionate lyricism. Violins nailed the etude-like acrobatics at the beginning of the "Death of Tybalt," while its closing pages, ear-splitting brass laments and all, were the picture of searing anguish. The keening horn-and-violin writing during "Romeo in the Tomb of Juliet" was heartbreaking. It was, in all, a mighty Prokofiev performance.
Good as Romeo and the Wagner were, though, what came in between was even better. That was a performance of Tchaikovsky's Piano Concerto no. 1 that simply blew every mite of dust and cobweb off of this much-played (and -loved) score and presented it as a fresh, compelling, totally invigorating piece of music.
Much of the credit for this is due to soloist George Li, a 22-year-old virtuoso (and Massachusetts native) whose career has taken off since winning the Silver Medal at the 2015 Tchaikovsky Piano Competition.
From a technical standpoint, Li's playing is flawless. No flourish or run is too much for him to handle. All the notes speak, they're articulated evenly, and are balanced perfectly between his hands. He tackles the most challenging feats – double-fisted octave runs, swirling arpeggios, hand-splitting chords – with charisma and ease. On this level alone, he's a crowd-pleasing performer.
But he's also a thinking-music-lover's performer. Li's Tchaikovsky is a case in point: played with a clear sense of the music's long-term trajectory and with very close attention paid to each individual phrase, it teased out a line here, pulled back on a gesture there. While flexible at times, Li's overall sense of rhythm was tight and strict. His shadings of dynamics and delivery of the score's many hairpin swells were never tossed off, nor were the music's legion of articulations. Rather, they all worked together to help to craft a clear view of the Concerto's structure.
Li's take on the score's huge first movement was, as a result, exhilarating: this was a reading in which the music's virtuosity served its lyricism (not the other way around) – the latter was front-and-center for nearly all of its twenty-minute duration and, played this way, there was ample drama to be mined through all of it. More than simply serving as a kind of respite, the second movement offered moments of winsome playfulness, not to mention episodes of sumptuous beauty. And the finale danced with tremendous spirit.
Zander and the BPYO were fully Li's interpretive equals, playing with zeal and warmth. There were several moments of welcome tension between soloist and orchestra (particularly in the first movement), Li sometimes pushing ahead with a line, and Zander holding the orchestra back just enough so that you could feel the pull between the two before both met up again to continue on their way.
Sonically, the orchestra never overpowered Li, though it did give him a run for his money during the score's big moments (especially the finale's scorching climax). Somehow, though, the pianist projected through and over the ensemble, like a young Yefim Bronfman, equal parts musical poet and muscle-man.
It seemed a bit excessive in the moment, given the demands of the Concerto, but Li provided a short encore of Gluck's Melodie in D and played it immaculately.
Throughout the afternoon, the BPYO was in terrific fettle. It offers no weak sections; winds and brass are particularly strong. Among the afternoon's several excellent solos was Christopher Forbes' account of the saxophone part in Romeo and Juliet; principal violist Dominick Douglas also had a fine turn in that piece, as did principal trumpet Elmer Churampi during the "Folk Dance." Principal flute Carlos Aguilar and principal cello Sebastian Ortega delivered soulful performances of their respective solos during the Tchaikovsky, while concertmaster Sophia Szokolay gave a fervent reading of her short moments in the spotlight during the Tannhäuser Overture.
---
Jonathan Blumhofer is a composer and violist who has been active in the greater Boston area since 2004. His music has received numerous awards and been performed by various ensembles, including the American Composers Orchestra, Kiev Philharmonic, Camerata Chicago, Xanthos Ensemble, and Juventas New Music Group. Since receiving his doctorate from Boston University in 2010, Jon has taught at Clark University, Worcester Polytechnic Institute, and online for the University of Phoenix, in addition to writing music criticism for the Worcester Telegram & Gazette.