An Arts Fuse regular feature: the arts on stamps of the world.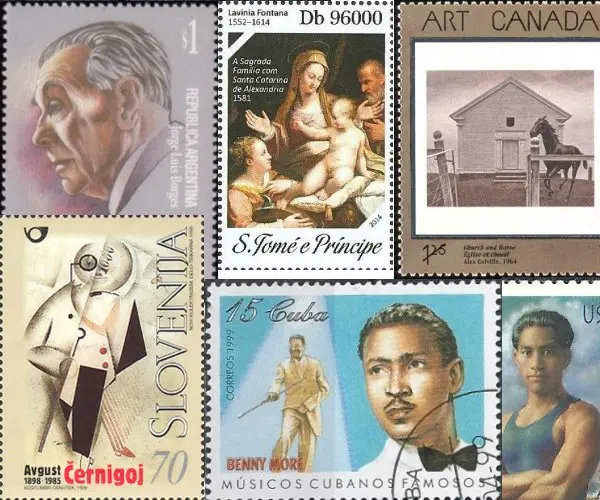 By Doug Briscoe
It's the birthday of Jorge Luis Borges (24 August 1899 – 14 June 1986). The Argentine master was born in a suburb of Buenos Aries. When he was all of nine he translated Oscar Wilde's story "The Happy Prince" into Spanish and saw it published. He was reading Shakespeare in the original at twelve. When he was fifteen the family moved to Switzerland, and Borges added German to his résumé. They remained in Geneva until World War I ended, then lived in Italy and Spain before returning to Argentina in 1921. (In the same year his father had a novel published.) Borges wrote poems and stories, contributed to newspapers, worked as a librarian, and began to lose his eyesight. He was completely blind by the late 1950s. His many-layered, dare I say hyperintellectual, writing was introduced to English readers with the publication of his immortal collections Ficciones and Labyrinths in 1962. To the dismay of many lovers of literature, as well as to himself, he was never awarded the Nobel Prize. In 1939, he wrote the following, which has relevance in this our summer of 2017: "Nazism suffers from unreality…It is uninhabitable; men can only die for it, lie for it, wound and kill for it. No one, in the intimate depths of his being, can wish it to triumph."
Italian painter Lavinia Fontana (August 24, 1552 – August 11, 1614) is thought to be the first woman known to have painted female nudes. Born to the painter Prospero Fontana of Bologna, she developed a reputation as a portraitist for the wealthy. She was the breadwinner of he family, as her husband Paolo Zappi (or Fappi), whom she married in 1577, acted as her assistant, adding minor details to some of her work. Pope Clement VIII invited the family to Rome in 1603. For a long time some of her portraits were incorrectly attributed to Guido Reni. Philatelically she is represented only on a few souvenir sheets from Togo and São Tomé. In one of these the upper left stamp—and the background for the whole sheet—shows Judith with the Head of Holofernes (1600); the stamp next to it is a fascinating glimpse of medical history. The Portrait of Antonietta Gonzalez (1595) shows a little girl whose father, Pedro González (Petrus Gonsalvus), suffered from the first recorded case of hypertrichosis and passed it on to his offspring. The sheet's bottom row offers Portrait of Isabella Ruini as Venus (c1590) and Head of Young Man (1606). From the São Toméan offerings I've selected Holy Family with Saints (1578) and Holy Family with Saint Catharine of Alexandria (1581).
Sports figures don't figure in Arts on Stamps of the World unless they branched into the arts. Ice dancing might be an exception. Hawaiian swimmer and surfer Duke Kahanamoku (August 24, 1890 – January 22, 1968) makes the grade because he was an actor in fifteen films between 1925 and 1955, when he took the role of a native chief in Mister Roberts. (I don't include among the number the films in which he portrayed himself.) Duke, incidentally, was his given name, not a nickname. But his excellence lay in water sports, as he claimed gold and silver swimming medals in the 1912, 1920, and 1924 Olympics. (In 1920, he finished second in the 100 meters below another swimmer-turned-actor, Johnny Weissmuller and above his brother, Samuel Kahanamoku, who took the bronze.) Another remarkable accomplishment was his extraordinary rescue of eight fisherman in Newport Beach, California on June 14, 1925, when he was able to use his surfboard to bring the men to the shore. Only four others of the 29 crewmen survived.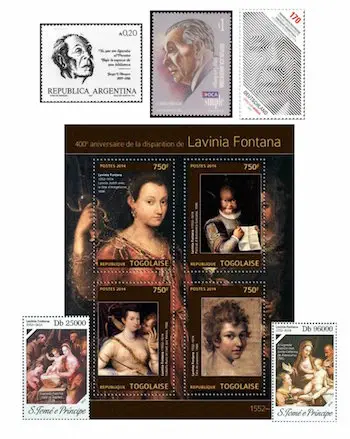 Avgust Černigoj (Italian: Augusto Cernigoi, August 24, 1898 – November 17, 1985) was a Slovenian Constructivist painter born in Trieste. He studied there and in Munich and at the Bauhaus school in Weimar. He took part in the first Constructivist exhibition in Yugoslavia in 1924 (which has been partly re-created at the new Museum of Modern Art in Ljubljana). He fled the country after police discovered Communist literature among his papers, returning to Trieste, but he loved his native land and enjoyed the last years of his life there. Černigoj did important work in collage as well as in book illustration, lithography, and woodcuts. The pair of centennial stamps offer up his painting Banker and his sculpture El (1924).
Cuban singer/songwriter and bandleader Benny Moré was born Bartolomé Maximiliano Moré on 24 August 1919. He practiced his art in a variety of Cuban popular genres (bolero, mambo, guaracha, etc.) and earned the nicknames El Bárbaro del Ritmo and El Sonero Mayor. He formed the Banda Gigante in the 1950s and led it until his death on 19 February 1963.
Canadian painter Alex Colville (24 August 1920 – 16 July 2013) served in World War II, landing in southern France and taking part in Operation Market Garden when his unit, the 3rd Canadian Division, relieved the American 82nd Airborne at Nijmegen. As a war artist he captured some of these moments on canvas. On returning home he taught at Mount Allison University in New Brunswick from 1946 to 1963. Thereafter he devoted himself to painting until being named chancellor of Acadia University (1981-1991). Two Canadian stamps show his work: Family & Rainstorm (1955) on a stamp from 1982 and Church and Horse (1964) from 2002.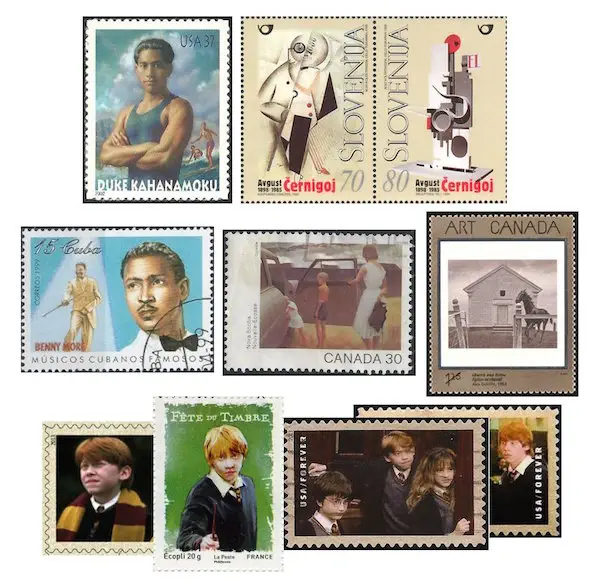 English actor Rupert Grint (born 24 August 1988) is seen on a few stamps in the character of Ron Weasley in the Harry Potter movies. In the big U.S. set of twenty stamps from 2013, Grint shows up on three of the designs along with colleagues Daniel Radcliffe and Emma Watson, and he's also on a French Harry Potter stamp.
Four important English writers, a poet, an essayist, and two novelists, remain stampless. Robert Herrick was baptized on 24 August 1591 and buried on 15 October 1674. Max Beerbohm (1872 – 20 May 1956), Jean Rhys (1890 – 14 May 1979), and A. S. Byatt were all born on this date, Byatt, whose real name is Dame Antonia Susan Duffy, in 1936.
---
A graduate of the University of Massachusetts with a B.A. in English, Doug Briscoe worked in Boston classical music radio, at WCRB, WGBH, and WBUR, for about 25 years, beginning in 1977. He has the curious distinction of having succeeded Robert J. Lurtsema twice, first as host of WGBH's weekday morning classical music program in 1993, then as host of the weekend program when Robert J.'s health failed in 2000. Doug also wrote liner notes for several of the late Gunther Schuller's GM Recordings releases as well as program notes for the Boston Classical Orchestra. For the past few years he's been posting a Facebook "blog" of classical music on stamps of the world, which has now been expanded to encompass all the arts for The Arts Fuse.