Barrington Stage director Joe Calarco has come to the material with a radically different production idea.
Ragtime, Book by Terrence McNally, Lyrics by Lynn Ahrens and Music by Stephen Flaherty. Directed by Joe Calarco. Based on the novel Ragtime by E.L. Doctorow. Staged by the Barrington Stage at the Boyd-Quinson MainStage, Pittsfield, MA, through July 15.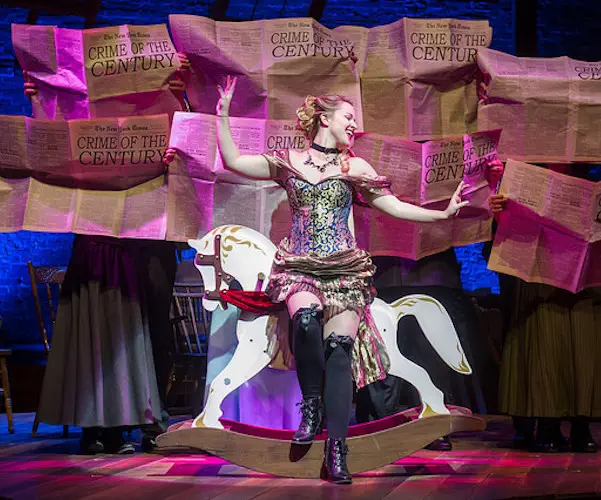 By Helen Epstein 
White Privilege, Black Lives Matter, contemporary celebrity culture, the Trump administration, and the international immigrant crisis must have seemed like compelling reasons for a revival of Ragtime, the musical adaptation of E.L. Doctorow's ironic 1975 novel set in the early 1900s. Back then, Doctorow's book was considered revolutionary (and was briefly controversial) for breaking convention and imagining historical figures in fictive encounters.
Turn-of-the-century celebrities Emma Goldman, Houdini, Booker T. Washington, Evelyn Nesbit, and Henry Ford are all featured in the musical. So are three archetypal American groups – rich white suburbanites in New Rochelle, New York; poor Negroes living in Harlem; and newly-arrived Jews on the Lower East Side — all pursuing the American Dream.
Czech director Milos Forman was drawn to examine this rich slice of Americana in a movie adaptation of Ragtime in 1981. In 1998 playwright Terrence McNally turned the material into deftly-condensed Tony award-winning musical. Both versions were extravaganzas featuring sumptuous sets, costumes, special effects, and pageantry.
Barrington Stage director Joe Calarco has come to the material with a radically different production idea. Eschewing spectacle, he frames the action entirely within the confines of a rather homely attic. The space is strewn with turn-of the century objects, such as period lamps, an upright piano, a wooden rocking horse, and a miniature ceramic replica of the house in New Rochelle where much of the book's action took place a century ago. A contemporary Mother and Little Boy make their entrance from a trap door at center stage. The kid picks up a book and reads a condensed version of the opening lines of the novel:
In 1902, Father built a house at the crest of the Broadview Avenue Hill…and it seemed for some years therafter that all the family's days would be warm and fair.
Father, Grandfather ,and Mother's Younger Brother (Doctorow did not give his rich white characters names) join Mother and Son in turn-of-the-century costumes to introduce themselves and then sing the show's recurring ragtime melody, with help from the chorus offstage:
And there was distant music, simple and somehow sublime

Giving the nation a new syncopation

The people called it Ragtime.
If this expository style sounds intrepidly simplistic –- some critics have charitably called it allegorical — it gives you a good sense of what follows. We are introduced to a cast of stereotypes including charismatic musician Coalhouse Walker ("In Harlem, men and women of color forgot their troubles and danced and reveled to the music of Coalhouse Walker, Jr.") and his girlfriend Sarah, who tries to bury their live baby in the New Rochelle house; immigrant Father and silhouette artist Tateh  ("In Latvia, a man dreamed of a new life for his little girl") who journeys with his daughter from New York to Lawrence, Massachusetts and then to Atlantic City in search of  making a living; and a group of racist Irish firemen.
The slight plot involves Walker's acquisition of a Model-T Ford and his run-in with the Irish firemen, leading him (with Younger Brother's assistance) to threaten to blow up New York's Morgan Library. But there is not much connection between the characters or groups in this musical; it is more like a collage of scenes that, absent the visual spectacle, doesn't generate much there there.
I'm always eager to see productions of musicals at Barrington Stage. The theater has had an excellent track record with recent revivals (Man of La Mancha and On the Town) making the most of its limited resources and intimate stage space. The best of the company's work has moved to Broadway. This staging of Ragtime seems unlikely to follow suit. Not only is it a weaker show than the previous American musical classics –- not much develops between the characters, in the story or in the music — but because, with the exception of a very few moments, Calarco's production adds little theatrical heft to the script.
Calarco has assembled an uneven cast of actors and singers. Some  perform in a realistic understated style, others seem at times to be channeling Ethel Merman. I admired Elizabeth Stanley's quiet determination to give some dimension to the character of Mother and J. Anthony Crane's attempt to bring gravity to the melodramatic character of Tateh. These, and some of the other supporting actors, are able to somehow to make characters out of caricatures. While I admired the singing voices of Darnell Abraham as Coalhouse and Zurin Villanueva as Sarah, their acting lacked subtlety.
Also, the miking of the performers and the musicians was a serious problem: the lyrics were often garbled, and what were meant to be stirring anthems sounded more like keening.
This was my first experience of Ragtime, the musical, and I was disappointed. Stephen Flaherty's music and Lynn Ahrens' lyrics open the show with an exciting bang, but then fail to build, as does McNally's often static script. I am skeptical that any director could make this show soar, but Calarco's cluttered and literal staging comes off as heavy-handed. Little about the performances, set, costumes, sound or lighting design was particularly memorable: much of it was banal. The three child actors, who have the least to say or do, were appropriately adorable — they provided the production's few moving moments.
---
Helen Epstein is the author, co-author, editor or translator of ten books of non-fiction. She e-publishes classics of non-fiction with Patrick Mehr here.