An Arts Fuse regular feature: the arts on stamps of the world.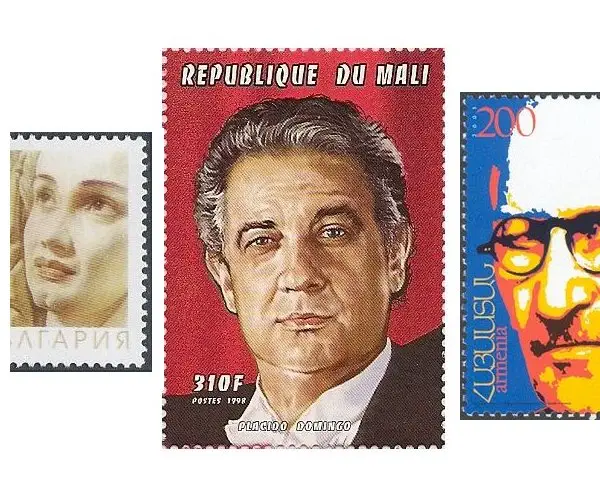 By Doug Briscoe
January 21 is the birthday of two opera singers, Plácido Domingo and Katya Popova, and of Armenian poet Vahan Tekeyan. Sources don't agree on the birthdates of Eastern European composers Rigor Shirma and Todor Skalovski, but either or both may have been born on the 21st.
Everybody knows Plácido Domingo, even if only through the Three Tenors, so I'll concentrate my efforts today on today's other figures.
Vahan Tekeyan (1878 – April 4, 1945) has been called the "Prince of Armenian Poetry" and is particularly admired for his sonnets. Born in Constantinople, he spent much of his life in Egypt as an editor, teacher, and political activist and died in Cairo. Online information about him is sketchy at best. His English language Wikipedia article tells us he has relatives living in Watertown and Cambridge using a variant spelling of the family name.
Rigor (Gregori) Shirma was born in the village of Szakuny, near Brest in what today is Belarus. Polish Wikipedia gives 20 January (OS 8 January) 1892 as his birthdate, but the Belarusian and Russian pages agree on the 21st. Shirma was active in many musical fields, as a choral conductor, folklorist, publisher, journalist, and teacher. Because of his political activism (he objected to the Russification of Belarus), he was thrice arrested but acquitted or quickly released in all cases. He collected over two thousand Belarusian folk songs and published several volumes of them. Shirma was also a literary critic. He died in Minsk on the 23rd of March 1978.
English, Macedonian, and Ukrainian Wikipedia agree that Croatian composer Aleksa Todor Skalovski was born on 21 January 1909, but Croatian Wiki says 26 January. He composed the Republic of Macedonia's national anthem ("Today Over Macedonia"). In his youth he studied conducting at the Mozarteum in Salzburg with Furtwängler (whose birthday is coming up on the 25th) and was named principal conductor of the Macedonian Philharmonic Orchestra, founded near the end of World War II, and first director of the Macedonian State Opera (1948-1954). Skalovski died in Skopje on 1 July 2004. The stamp depicts him with another Macedonian composer, Trajko Prokopiev, who was also born in 1909. Skalovski is on the right.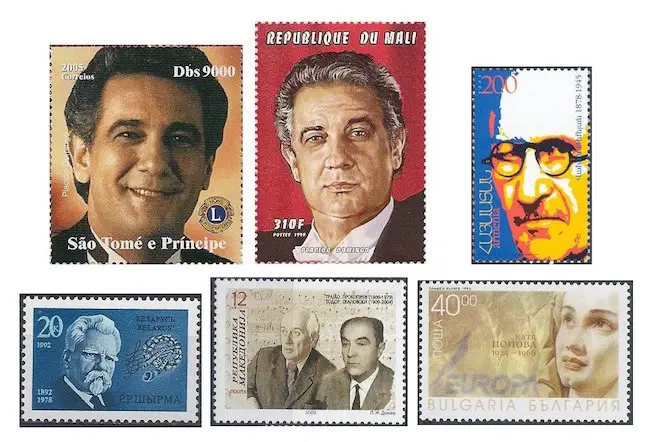 Bulgarian soprano Katya Popova was born on this date in 1924 in Pleven. In 1947 she was chosen from seventy applicants to be a soloist with the Sofia National Opera and made her debut that year as Esmeralda in Smetana's Bartered Bride. She sang with the Bolshoi in Moscow in the 1955-56 season and appeared at the Opéra Comique in Paris shortly thereafter. Katya Popova died in a plane crash on 24 November 1966 while on her way to Berlin.
Although there's no philatelic connection, you may be interested to learn that on this day in 1789, The Power of Sympathy: or, The Triumph of Nature by William Hill Brown (1765–1793), likely the very first American novel, was published here in Boston by Isaiah Thomas. You could have picked up a copy for nine shillings.
It would be nice some day to see a stamp honoring the great British actor Paul Scofield (21 January 1922 – 19 March 2008).
---
A graduate of the University of Massachusetts with a B.A. in English, Doug Briscoe worked in Boston classical music radio, at WCRB, WGBH, and WBUR, for about 25 years, beginning in 1977. He has the curious distinction of having succeeded Robert J. Lurtsema twice, first as host of WGBH's weekday morning classical music program in 1993, then as host of the weekend program when Robert J.'s health failed in 2000. Doug also wrote liner notes for several of the late Gunther Schuller's GM Recordings releases as well as program notes for the Boston Classical Orchestra. For the past few years he's been posting a Facebook "blog" of classical music on stamps of the world, which has now been expanded to encompass all the arts for The Arts Fuse.