"Playing these standard pieces on period instruments is a little bit like reading a novel or poem in its original language after having studied the English translation for many years."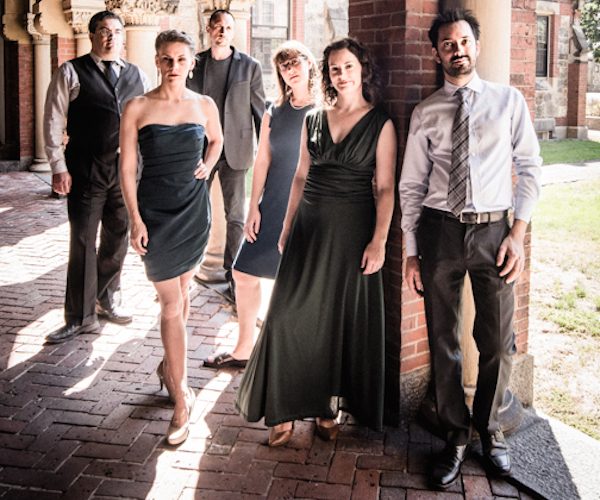 By Jonathan Blumhofer
The period-instrument ensemble Grand Harmonie (GH) returns to the Boston area on Sunday (November 6 at the United Parish of Brookline, 210 Harvard St., Brookline, MA) with its all-Mozart program Gods and Mortals, the second of the four series' the group is presenting locally this year. In anticipation of the event, I spoke with GH members Yoni Kahn (horn) and Kristin Olson (oboe) a bit about the upcoming concert, the remainder of the group's season, and a special concert series they recently began that's delivered at New York City's Mount Sinai Hospital.
---
Arts Fuse: Grand Harmonie really seems to have established its own period-performance niche between New York and Boston areas over these last five years, which is no mean feat, given the number of fine early-music groups already in the area! How does the current season build – in terms of programming, education, mission, etc. – on what's come already?
Yoni Kahn: Our fifth season riffs on our previous seasons in a couple of ways. We opened in September with Dvorak's Serenade for Winds, which was a natural extension of last year's season-opener, Mozart's Gran Partita (which inspired Dvorak to compose his Serenade). Our focus on Mozart, both for this concert and our May collaboration with On Site Opera, builds on our experience with Mozart since the very beginning: our first chamber concert in 2012 included Mozart's C-minor wind serenade (K. 388) and our first orchestral concert in 2013 featured Robert Levin's reconstruction of Mozart's 4-wind Sinfonia concertante.
Part of our niche is exploring hidden gems in the repertoire: we're presenting George Onslow's wonderful Romantic wind quintet in February and our final orchestral concert in March highlights Carl Maria von Weber's innovations in wind writing with [me] performing Weber's Concertino for horn. One unique aspect of this season's programming is that it features guest artists in several roles: pianist David Kim in September, violin soloist and leader Cynthia Roberts in November, and conductor Scott Allen Jarrett and soprano Jacquelyn Stucker in March.
AF: This weekend's concert offers some pretty familiar music by Mozart (the Fifth Violin Concerto, Serenata Notturna, and Jupiter Symphony) but each piece is really a world unto itself. How did you devise the program? As you've thought about it and rehearsed the programs, have you found unexpected connections between the works on the program? Or between them and other pieces Grand Harmonie is performing this season?
Kahn: We devised the program in collaboration with Cynthia Roberts. Of course, we suggested she play a violin concerto, and the A-major Concerto was her pick. The Serenata Notturna was a fun complement: it highlights several other principal string players and even puts the timpani in a starring role. Much of our programming has a focus on winds, but brass and timpani are integral parts of the classical orchestra as well and we enjoy unearthing pieces which highlight unusual combinations of instruments (last season's Brass Menagerie, for instance, featured Mozart divertimenti for flutes, trumpets, and timpani!).
The Jupiter Symphony seemed like the perfect piece with which to stretch our musical muscles: the counterpoint is so intricate that to perform it without a conductor requires each member of the orchestra to have his or her ears open to as many other players as possible.
In terms of connections between the pieces, it was fun to hear another take on Mozart's "Turkish" style in the violin concerto after having played the Gran Partita last year, which also features a "Turkish" finale. It's also interesting to hear the evolution of Mozart's style: he was only 19 or 20 when both the concerto and the Serenata were written, and by the time he wrote his final three symphonies, his harmonic language was incredibly sophisticated. Hearing so much early Mozart has been extremely helpful while putting the finishing touches on our arrangement for On Site Opera of La Fina Giardiniera, which Mozart wrote around the same time.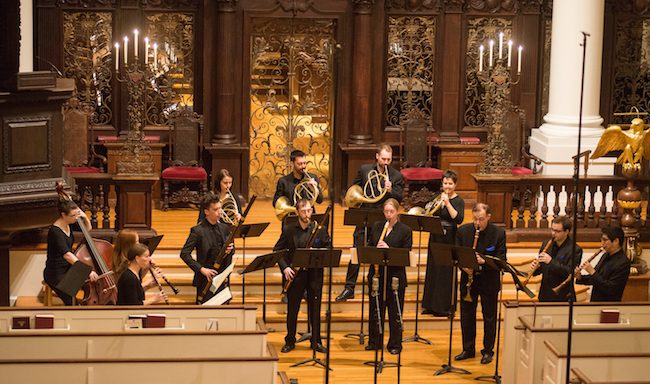 AF: As performers/interpreters, what are some of your approaches to keeping canonical pieces like the Jupiter Symphony and the Turkish Concerto fresh (besides, of course, playing them on period instruments – which is a great way to start!)?
Kahn: Playing these standard pieces on period instruments is a little bit like reading a novel or poem in its original language after having studied the English translation for many years. You know the overall structure and form, and some of the key details, but the composer's intent becomes so much clearer on the instruments the music was written for, and hidden beauty emerges. As an example, the first movement of Jupiter has a jarring C minor chord which erupts out of silence. This chord would be surprising in any performance, but on period instruments, we discovered in rehearsal that the voicing of the chord makes it even more dissonant! The natural brass are playing open fifths, and their overtones combine to create a faint resultant tone of E natural, which clashes wildly with the E-flat which is being sounded by the high winds. This effect is almost impossible to replicate on modern instruments.
Period performance practice, gleaned from treatises and correspondence from Mozart's time, suggests many of our approaches to dynamics, articulation, and even the practice of performing without a conductor, which would have been the norm when these pieces were first performed. Speaking of a conductor, when one is used, the interpretation of the piece usually comes from this one person, but we've been delighting in having ideas and interpretations spontaneously generated from within the orchestra during rehearsal. It makes preparing this program feel like a true collaborative process.
AF: Tell me a bit about the Mount Sinai Concerts for Patients. How did they come about and how have they been received? Have there been unexpected takeaways for you, as performers, from giving them? Are there any plans to expand them, either in New York or in the Boston area?
Kristen Olson: I founded Mount Sinai Concerts for Patients with Baroque violinist Nadir Aslam after we coincidentally had the same lung surgery just a week apart in the same hospital. After such an experience, we knew we had to give back to the hospital and to the patients through the gift of music. We present monthly Baroque concerts in the gorgeous and resonant Guggenheim Atrium of Mount Sinai Hospital, including performances by choirs, full orchestra, chamber music, and Bach aria groups. We have been shocked by the outpouring of love and appreciation we have received from countless patients, families, and doctors.
Last month, we experimented with presenting an all-Vivaldi orchestral program at a different hospital. The Memorial Sloan Kettering Cancer Center opened their doors to us and we had a wonderful time playing for patients in a more intimate setting. We do hope to continue to expand to other locations in the future, but at this time we are still mainly focused on the hospital where we had our surgeries and recoveries.
I've never felt so viscerally than at these concerts that what I am doing makes a difference. Our sound (at Mount Sinai) reaches eleven floors of patient rooms above the atrium and we know, since we stayed in those rooms too, that anything happening in the lobby is heard. We are offering the gift of music to people who can give us nothing in return – often times, they can't even physically come to the concert area because they can't leave their beds. These are not audiences who are buying tickets, writing reviews, offering applause, or anything else. It's a wonderful and humbling experience to simply give and expect nothing. Mostly, I'm just glad to have my lungs back and to play oboe!
---
Jonathan Blumhofer is a composer and violist who has been active in the greater Boston area since 2004. His music has received numerous awards and been performed by various ensembles, including the American Composers Orchestra, Kiev Philharmonic, Camerata Chicago, Xanthos Ensemble, and Juventas New Music Group. Since receiving his doctorate from Boston University in 2010, Jon has taught at Clark University, Worcester Polytechnic Institute, and online for the University of Phoenix, in addition to writing music criticism for the Worcester Telegram & Gazette.