This superb production offers audiences a chance to discover or rediscover an American classic.
The Rose Tattoo by Tennessee Williams, Directed by Trip Cullman. At the Main Stage, Williamstown Theatre Festival, Williamstown, MA, through July 17.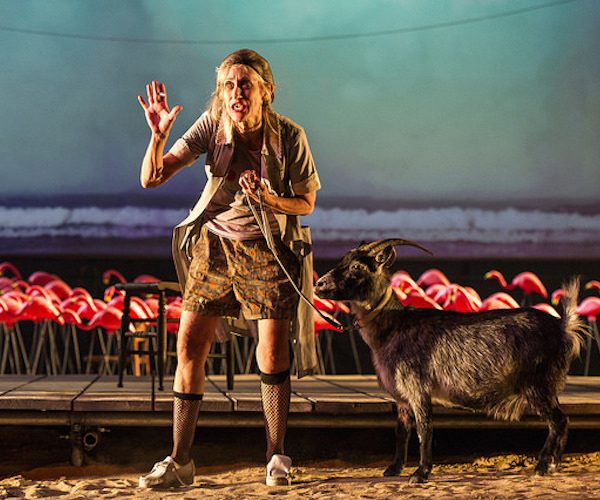 By Helen Epstein
Every once in a while the Williamstown Theatre Festival lines up all its formidable resources — big budget; spacious, state-of-the-art facility; pipeline to New York playwrights, actors, directors, and designers; and a virtual army of theater professionals and apprentices — and gets a production exactly right. Its revival of Tennessee Williams' 65-year-old comedy is impeccably cast, brilliantly designed, unexpectedly wacky, and deeply moving. It offers audiences a chance to discover or rediscover an American classic.
The operas of Puccini and Donizetti came to mind as I watched this satisfying and sumptuous production — and not only because Williams' lines are so musical and the characters are Sicilian. The playwright clearly had 19th century plots on his mind as he interspersed Italian and English idioms.
"It is the hour that the Italians call prima sera … Serafina Delle Rose is seen on the parlor sofa, waiting for her husband Rosario's return," Williams wrote in the stage directions. " … Serafina looks like a plump little Italian opera singer in the role of Madame Butterfly."
Williams' scripts offer a wide range of roles for women, but The Rose Tattoo is unusual because it contains more female than male characters. Flanking the starring role of Serafina is her teenage daughter Rosa, the wise woman Assunta, the witch La Strega, and the mistress Estelle, as well as several of her dressmaking clients with speaking parts. Though it has been seen by critics as a star vehicle, this production of The Rose Tattoo plays more as an ensemble piece.
The scale and feel of director Trip Cullman's staging is operatic. Cullman has utilized every inch of the large stage and extended it into the audience via a narrow boardwalk bisecting the orchestra. He has integrated Sicilian songs in places where Williams indicated sounds or musical phrases. A non-stop video of breaking waves curves around the periphery of the strikingly off-kilter set. Two tall wood electric poles lean precariously over a small Gulf Coast cottage with an idiosyncratically furnished living and sewing room. The rickety bookcase and table contain many of the play's key props: a framed photo of the rakish husband, a wristwatch, a piggy bank, and a funeral urn. Upstage is improbably filled to capacity with pink flamingos.
Those dozens of ingeniously-lit flamingos evoke a range of associations, depending on your background: Florida, the tacky lawn paraphernalia of the American '50s, or (to one of my colleagues) the anti-Italian prejudice that pervades the script. Like Porgy and Bess, Fiddler on the Roof, and West Side Story, this is a piece of theater about a particular time and culture by an outsider. Williams can be accused of using stereotypes and ethnic slurs such as wop, macaroni, spaghetti, and Dago. But he also caricatures his "American" characters in the same way and uses the Sicilian community to play out universal themes of folklore and fable.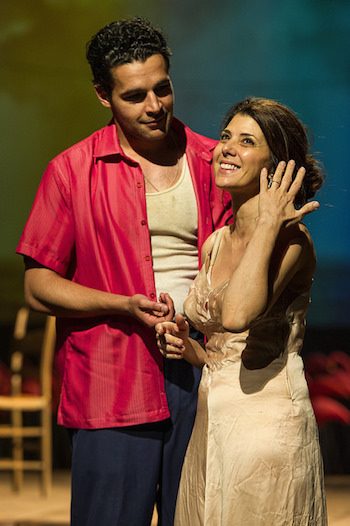 His coastal town in Louisiana is a half-real, half-fairy tale village. Its unchanging rhythms are suggested by the recurring patterns of light over the waves. A chorus of women in black provide a running commentary on the story, punctuated by a live goat who upstages the actors and even the adorable children every time he enters.
Marisa Tomei looks little like "a plump little Italian opera singer" Williams called for. Slim and athletic rather than buxom, she's a 21st century Serafina, who — in the ever-changing sociology of American immigration — could now be living on the Gulf coast as a Mexican or Vietnamese immigrant. Tomei brings movie star charisma, fragility, and a light touch to the role of the self-important, pious, and credulous seamstress who becomes a distraught, disheveled widow and wino before she falls in love again. We believe in her Serafina's self-righteousness, bewilderment, and eventual delight.
Gus Birney as Rosa gives a remarkable performance as the awkward adolescent daughter who shares her father's passionate nature and struggles to break free of her widowed mother. One of the charms of a Williams play is that it inevitably echoes characters (some might say recycles material) from others and Gus Birney makes us think of Laura in The Glass Menagerie.
The mother and daughter are supported by an excellent group of actresses: Barbara Rosenblat is grave and convincing as the wise, medicine-woman Assunta, who moves and delivers her lines like an ancient seer. Constance Shulman and Leslie Fray round out the female characters, the first as the more comic than menacing witch, The Strega; the second as the tall, blonde American Other Woman who has been Serafina's husband's lover.
The male lead, Christopher Abbott, is funny and charming as the clumsy and hapless young truck driver, Alvaro Mangiacavallo, the grandson of a village idiot and a man with three dependents who brings the widowed Serafina back to life. Abbott's deft comedic timing reminded me of a young Kevin Kline. Will Pullen is fine as the young sailor Jack Hunter, who promises Serafina that he will respect her daughter's virginity and then is seduced by the strong-willed Rosa.
The design of this production is spectacular. The set, costumes, music, and lighting cohere into an immensely satisfying complement to Williams' supremely human story of life, love, and illusion. Try to get a ticket!
---
Helen Esptein reviews summer theater in the Berkshires. Her books can be found here.