By Bill Marx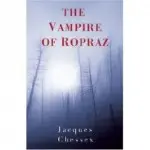 Two more reviews posted on my World Books page at PRI's The World.
Tommy Wallach doesn't think promises of profundity are kept amid all the rampant obscurity in Yoko Tawada's "The Naked Eye."
I have fun reviewing two horror novellas by Swiss writers that cast a skeptical eye on their country's superstitious masses. Jacques Chessex's terse "The Vampire of Ropraz" deals with ghastly mutilations in a Swiss village at the turn of the century, while the classic nineteenth-century novel "The Black Spider" serves up chillingly glorious visions of the Devil unleashing hordes of killer bugs on the countryside.
Next week for World Books I plan to review "Anonymous Celebrity," Brazilian writer Ignácio de Loyola Brandão's amusingly acidic satire of our self-destructive obsession with fame, fortune, and gossip.