Carl Palmer's ELP Legacy will perform its "Remembering Keith and the Music of Emerson, Lake & Palmer" show next week in Arlington.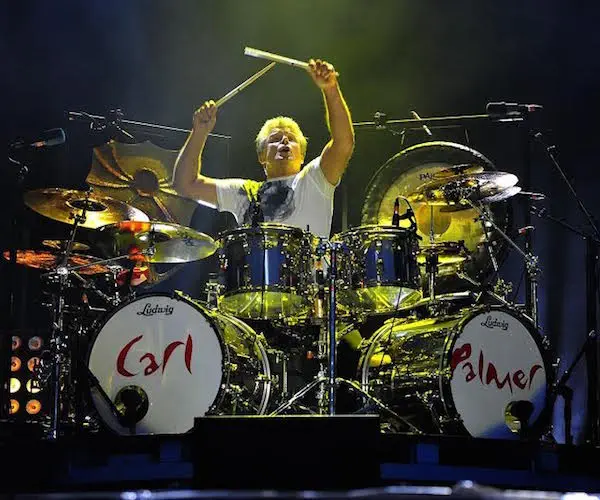 By Blake Maddux
From the late 1960s until the mid-1980s, percussionist Carl Palmer performed in bands that were artistically innovative, commercially successful, and frequently both.
Of his work in his first rock band, the mod/R&B-oriented The Craig, music critic Bruce Eder wrote, "Palmer—all of 16 years old—revealed a prowess that might have made Keith Moon…start keeping an ear pointed in his direction."
In 1969, Palmer was briefly a member of the spookily theatrical psychedelic band The Crazy World of Arthur Brown, which had hit #1 in the UK and #2 in the US the previous year with the song "Fire," and the proto-progressive rock band Atomic Rooster.
At age 20, Palmer successfully auditioned for the trio that keyboardist Keith Emerson was assembling with vocalist Greg Lake. Fittingly christened Emerson, Lake & Palmer, the band played its first concerts in August 1970 and were an immediate sensation.
ELP released nine consecutive gold albums between 1970 and 1978, making them—along with Yes and Jethro Tull—one of the biggest names in progressive rock. Although its albums included 20-minute side-long tracks ("Tarkus") and imaginative interpretations of works by classical composers such as Modest Mussorgsky ("Pictures at an Exhibition"), the band also reached the American singles chart with the Lake-penned songs "Lucky Man" and "From the Beginning."
Two years after ELP's 1979 disbanding, Palmer teamed up with members and alumni of Yes, King Crimson, and The Buggles — most famous for "Video Killed the Radio Star," the first video to air on MTV — in the supergroup Asia. This quartet's eponymous debut album topped the US albums chart for nine weeks, thanks largely to the #4 powerhouse single "Heat of the Moment." Asia's sophomore album Alpha reached #6 and included the top ten hit "Don't Cry."
In addition to continuing to record and tour, Palmer co-owns Drum Clinics UK, is active in a charity called The Art of Giving, and is a painter.
Keith Emerson died in March of this year, and Carl Palmer's ELP Legacy will perform its "Remembering Keith and the Music of Emerson, Lake & Palmer" show at Regent Theatre in Arlington on Tuesday, June 7, at 7:30 p.m.
Palmer answered some questions for The Arts Fuse via email in advance of the start of his latest American trek.
---
Arts Fuse: Which artists and recordings did you listen to most frequently for entertainment, education, and inspiration when you were a young and aspiring drummer?
Carl Palmer: I grew up in a musical family. My father played piano; my grandfather was a musician, as well. I listened to everything growing up: jazz, classical, rock 'n' roll. I started in a dance orchestra at the age of 14. By the time the Beatles hit in England, I was listening to a lot of British rock. ELP would be the culmination of everything I loved: rock, jazz and classical music.
AF: How did Keith Emerson know of your work when he called you to audition for Emerson, Lake & Palmer?
Palmer: They were looking at a lot of different drummers including Mitch Mitchell [formerly of The Jimi Hendrix Experience]. I was recommended by Tony Stratton-Smith, who was Emerson's manager at the time. I was in Atomic Rooster and I didn't want to join Keith and Greg at first. We had a jam session and that was pretty good, but I still wasn't convinced. Eventually, they convinced me the music would be something special and I decided to join up. Keith and I were both classically trained so the idea of the band's music really appealed to me.
AF: You were a young man when ELP formed. Were you prepared for what you were getting yourself into?
Palmer: We knew we had something special. We knew the musicianship was extraordinary and the material was strong. We never expected it to blow up as quickly as it did. Appearing at the Isle of Wight in 1970, which was the Woodstock of England, had a lot to do with our "overnight" success
AF: How did it feel to go from selling a dependable half-million copies of each ELP album to topping the US album chart for two months and selling several million copies of the first Asia release?
Palmer: Well, all the ELP records up to Love Beach were very successful and went platinum. So, having the same success with ASIA was great, but for me it was about being in a second group that included amazing musicians and had great songs. Asia benefited from the launch of MTV. We were there in the beginning and had a lot of videos which were played all the time. When ASIA exploded on MTV, radio had to embrace the records, as well. I have worked very hard at my career, but I have also been lucky to have joined actually four successful bands: The Crazy World of Arthur Brown, which as #1 in America in 1968 when I was 17; Atomic Rooster, which has success in Europe; and of course, ASIA and ELP, who were both international successes. [Palmer capitalized all of the letters in Asia in his email response.]
AF: What do you think are the best non-ELP albums that you have played on?
Palmer: The first ASIA album was a very strong (and very successful) album. Alpha, the 2nd ASIA album had many great moments as well. I also am proud of my 2-CD Carl Palmer Anthology — Do Ya Wanna Play,Carl?
[Reporter's note: While it seems foolish to contradict a source who presumably knows everything about his own career, I do feel obligated to point out some inconsistencies between what Mr. Palmer wrote and what my research revealed. First of all, each of Emerson, Lake & Palmer's first nine releases – from their eponymous 1970 up to and including 1978's Love Beach — have been certified gold for at least 500,000 sales, according to the Recording Industry Association of America (RIAA) website. Going platinum requires at least one million U.S sales. However, the RIAA did not create the platinum disc award until 1976, and for many years did not confer that honor upon albums released prior to that. In fact, Pink Floyd's 1973 album Dark Side of the Moon had sold 11 million copies when it was first certified platinum in 1990. Thus, it is possible that there are albums that have sold the requisite million copies despite not having been officially recognized as having done so. Second, all that I have read indicates that The Crazy World of Arthur Brown never had a #1 single in America. As stated previously, the band's 1968 single "Fire" did reach #1 in the UK, but peaked at #2 in the US.]
---
Blake Maddux is a freelance journalist who also contributes to The Somerville Times, DigBoston, Lynn Happens, and various Wicked Local publications on the North Shore. In 2013, he received an MLA from Harvard Extension School, which awarded him the Dean's Prize for Outstanding Thesis in Journalism. A native Ohioan, he moved to Boston in 2002 and currently lives with his wife in Salem, Massachusetts.