Women still dominate the dance field as performers and choreographers.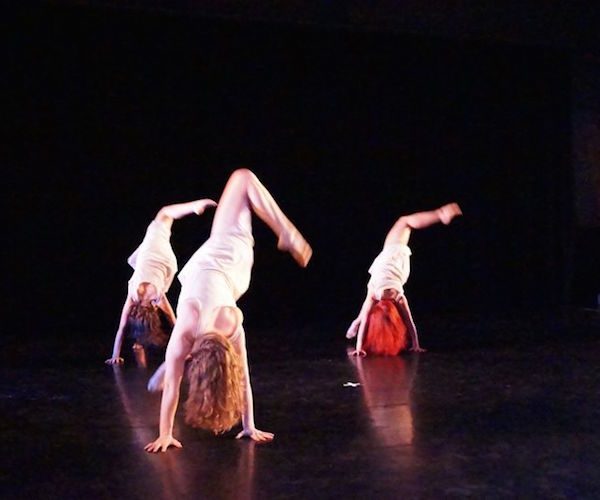 By Marcia B. Siegel
CATALYSTS, a winter series at the Dance Complex, was the brainchild of Complex director Peter DiMuro. The idea was to present a mixed bill of local choreographers' works over three weekends instead of scheduling one choreographer for one weekend as was customary. This would afford the artists greater public exposure and more performance time with the work. Chavi Bansal, Sarah Mae Gibbons, Kat Nasti, Michael Figueroa, and Callie Chapman were awarded five weeks of rehearsals and the production essentials for the series. The resulting dances, along with guest artists (Anna Reyes and Emily Beattie), would be programmed in a different order each week. At the last of the seven performances on Saturday night, all the grantees except Chapman were represented, with a solo by Anna Reyes. Responder Jill Johnson, head of the Dance Program at Harvard, gave a brief, sympathetic feedback talk following the performance.
Saturday evening's show had a nearly all-female cast; Figueroa was the only male dancer, alongside seven women, in his own piece. In a way, this says something about how studio dance is evolving here. Or not. Women still dominate the field as performers and choreographers. It would be rash to draw any large conclusions from this, but the new audiences being sought for this series do get an impression, whatever they make of it.
Gibbons, Bansal, and Nasti all seemed to be working with self-invented movement vocabularies that utilized few elements from the formal techniques of ballet or modern dance. The dancers in all three pieces looked relaxed — something to do with the lack of careful placement, perhaps. Their movement was pedestrian rather than pre-designed, with some contemporary gymnastic additives like rolling, falling, handstands. In all three dances, individuals could come together as a community but personal contact or interaction was rare.
In Gibbons's I know places where . . . the four dancers faced the audience as if to introduce themselves, then dispersed into the space on their own journeys. The presumably revelatory lineup recalled a trope used to personalize the dancers in contemporary dance, but here the initial suggestion of candor dissolved into displays of movement featuring whole-body flings, arches, and falls initiated by the arms. As one or two at a time moved to center floor, the others would be watching, another familiar pseudo-dramatic device.
In lieu of any scenic design, the dancers periodically drew aside the drapes upstage to uncover full-length mirrors. This device threw the audience back into its own face, but it didn't reveal anything more about the dancers.
There may have been more to Chavi Bansal's Touched by Water than was evident from the movement alone. The six women were dressed in slips, by now a familiar sign of women's sexual power and vulnerability. It's possible the dance had to do with ritual sacrifice of children — a program note might have focused our attention.
Again, there was made-up movement — rolling, falling, airplane arms, and little interaction. All that propulsive, circular movement, it seemed to me, didn't encourage stopping and confronting. Bansal's dancers did fall into small groups and, almost inadvertently, canons emerged out of the shared movement phrases.
When the Philip Glass "Musica Para" dissolved into a muffled thumping that was less like a pulse beat than an ultra-sound, two women inched along the floor, reaching for each other. When they'd clasped hands, one of them dragged the other upstage and left her there, curled up.
After that came my favorite part. Two more women made their way backwards down the risers through the audience. When they got to the dance space, we heard gurgling, gargling sounds coming from everywhere and nowhere, being produced by all the women. That's when the dance ended.
Kat Nasti's as we begin and end was another self-made women's piece. Seven dancers wearing shifts in different sizes and styles walked very slowly into the space, importantly but not informatively. More Philip Glass provided a background, followed by two familiar Arvo Pärt pieces. When the women had all entered, with yoga-like backward rolls and twisting turns, a succession of bourrées pierced the space. Startling to see them, one by one, become totally composed and upright, their bodies gliding across the space. Nothing came of this sudden containment.
The movement continued, revolving obsessively. After what seemed an interminable séance where one woman rolled back and forth, throwing her legs over her head without making a complete somersault, the circles evolved into running. In my notes I scrawled "dramatic exit," but I don't have a clear memory of what that was.
If the women's pieces resonated with compositional ploys from the years of postmodern dance, Michael Figueroa's KnockOut also borrowed from a postmodern icon, Trisha Brown's 1976 dance Sololos. In this brainy tour de force, one dancer sat in the audience and called out instructions to the others, spontaneously choreographing their pre-learned phrases. Figueroa's cast of seven women plus himself used this process, taking over a microphone in turn, to give instructions. I began to learn the codes. "Personal" seemed to signal everyone to begin a phrase of their own. "Line" provoked the seven in the space to form some kind of lineup, without knowing how they were going to do it. At intervals, different dancers were commanded to leave or enter the dancing space.
Eventually, to a continual mashup of musical snippets, the evolving pattern subsided into chaos. People were doing seven things at once. The sound track was yammering. People crossed in front of the audience with signs to applaud or boo, or possibly to moan. With one last, disorderly lineup, the dance ended.
Anna Reyes's Sublimation, to "Life Round Here" sung by James Blake, was a short but jam-packed succession of complicated moves, mostly spirals it seemed. Reyes was very clear and very present. And she wore neither a slip nor street clothes, but a pair of turquoise gym shorts, a black bare-midriff top, and a silver bracelet.
---
Internationally known writer, lecturer, and teacher Marcia B. Siegel covered dance for 16 years at The Boston Phoenix. She is a contributing editor for The Hudson Review. The fourth collection of Siegel's reviews and essays, Mirrors and Scrims—The Life and Afterlife of Ballet, won the 2010 Selma Jeanne Cohen prize from the American Society for Aesthetics. Her other books include studies of Twyla Tharp, Doris Humphrey, and American choreography. From 1983 to 1996, Siegel was a member of the resident faculty of the Department of Performance Studies, Tisch School of the Arts, New York University.