Dan Hodge turns two hundred and fifty stanzas of Shakespeare's rhyme royal into the stuff of a high-class poetry slam: for an hour and twenty minutes, the performer holds the audience spellbound.
The Rape of Lucrece by William Shakespeare. Adapted and performed by Dan Hodge. Presented by Peterborough Players, 55 Hadley Road, Peterborough, NH, through September 13.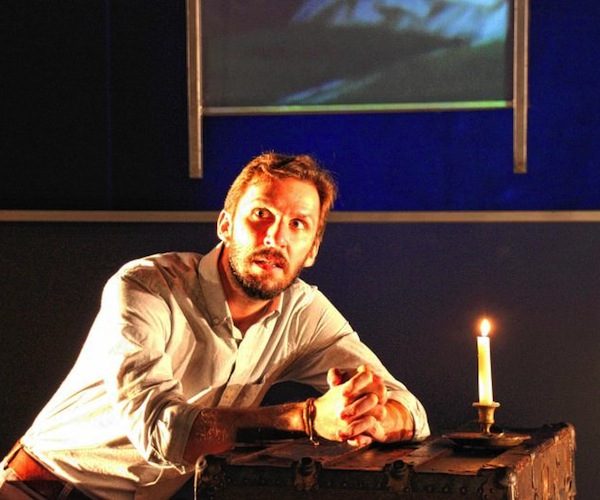 By Jim Kates
This is what I'd like summer stock theater in general and the Peterborough Players in particular to be doing a lot more of: risk something genuinely new or classically old — in this case both at the same time — something to stretch the audience. But, of course, there's no box office in it, so I should be grateful that at least they slipped it in at the end of the season. You have just this weekend to catch it.
What Dan Hodge does with William Shakespeare's Rape of Lucrece is to take the poet straight for the most part and get out of his way, where others might be tempted to trick out the difficult old diction and strain unnecessarily to catch attention with shticks and doodads. Hodge knows he doesn't have to do that. He trusts his author and turns two hundred fifty stanzas of rhyme royal (ababbcc, if you care) into the stuff of a high-class poetry slam, an hour and twenty minutes of performance that holds the house spellbound from beginning to end.
Only at the very outset does he intrude himself enough to slide us into the text, and he does that within a single stanza.
The Rape of Lucrece was not written for the stage, athough it contains much that is recognizable from the plays, even whole phrases, lines and scenes (Lucretius holding his dead daughter in his arms might be rehearsing Lear) and it can look complicated and dense on the page. But it was written to be declaimed, and Shakespeare can always be illuminated by putting his work in front of the footlights. Hodge illustrates the narrative with skill and variety, translating the words into his body almost at times like an ASL interpreter interchanging verbal and physical language.
The story itself is not at all complicated. It is one of the founding myths of Roman history, in which the arrogance of the seventh king was inherited by his son Sextus Tarquinius, who used his power to have his dastardly way with the virtuous wife of an upstanding citizen. This rape and Lucretia's subsequent suicide focused the outrage of the Roman people spurred on by her husband, her father, and Junius Brutus (whose great, great, umpteenth grandson will be impelled by his heritage to assassinate Julius Caesar). They expelled the whole Tarquin family from Rome, abolished the monarchy and established a republic.
Shakespeare dropped the politics except for a nodding reference at the end, either because he assumed everybody already knew the history or because he deemed it too politically suggestive and dangerous. Instead, he concentrated on the psychology and the atmosphere. Almost a fifth of the poem is given over to the exploration of Tarquin's vacillations and justifications, and a similar chunk to Lucrece's agonized range of reactions to her violation — from anger through self-blame — that are all too familiar to our modern sensibilities.
Modern sensibilities are what Hodge so deftly taps into. One member of the first-night audience compared the adaptor-actor's presentation to good rap, the rhymes and meanings carrying each other and the listener over any rough spots. He is so at home with Shakespeare's rhythms that he lets them take care of themselves and plays for the drama, trusting the words themselves for the poetry.
The production is at its most contemporary in its very last word. Shakespeare ends the poem with "Tarquin's everlasting banishment." For those conscious of the historical context, this is heavy and condign punishment, revolutionary, in fact. But for those whose context is different, "banishment" may feel too light a sentence for the crime and its consequences, letting Tarquin off easy. Hodge simply repeats the word "banishment" with a slight pause, giving it a tinge of irony.
And so, to the very end, risk: old, new, challenging the audience, which rose to the challenge, on the first night, with a standing ovation.
---
Jim Kates is a poet, feature journalist and reviewer, literary translator and the president and co-director of Zephyr Press, a non-profit press that focuses on contemporary works in translation from Russia, Eastern Europe and Asia. His translation of Mikhail Yeryomin: Selected Poems 1957-2009 (White Pine Press) is the winner of the second Cliff Becker Prize in Translation.