This exhilarating Tristan & Yseult shakes us out of our role as passive observers and reminds us of the euphoria and the heartbreak love can bring.
Tristan & Yseult, devised and performed by Kneehigh Theatre. Adapted and directed by Emma Rice. Presented by Arts Emerson at the Emerson/Cutler Majestic Theatre, Boston, MA, through March 15.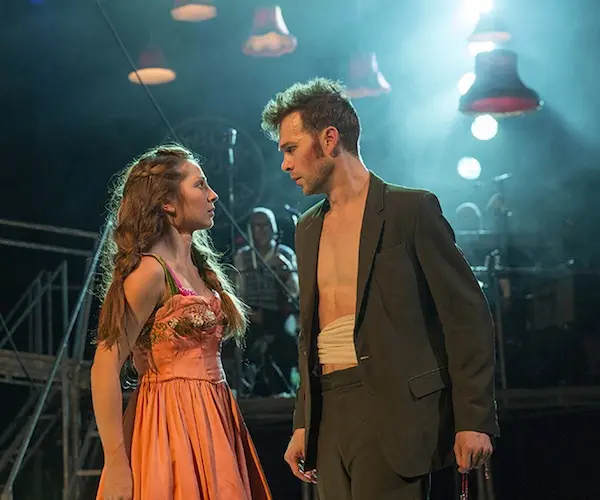 By Terry Byrne
Music fuels Kneehigh's raucous and romantic tale of Tristan & Yseult. From its opening numbers, "Dream Lover" and "Only the Lonely," to selections from Wagner's opera Tristan und Isolde and a goose-bump inducing version of Nick Cave's "Sweetheart Come," the core band of four multi-talented players creates a layered soundscape over which the company of eight actors/dancer/acrobats/musicians add plenty of potent storytelling.
What makes this production so compelling is the spectrum of emotional extremes that director and adapter Emma Rice creates. Loosely set in a nightclub called the Club of the Unloved, Rice establishes the sense of a place where the unloved gather, feel safe to confess their loneliness and desperation, and then throw caution to the winds at the slightest provocation.
Acting as the Greek chorus, calling themselves "love spotters," this nerdy gaggle of witnesses, dressed in rain slickers, hoods and horn-rimmed glasses, at first seems ridiculous. They impishly work the crowd in the beginning of the show, demand sing-alongs and other bits of amusing participation, and then, unexpectedly, playful boundaries crumble as they morph from watchers to participants and we, like they, are drawn inexorably in as we recognize the vulnerabilities of these oh-so-familiar characters.
The narrative of Tristan & Yseult is based on the medieval tale of a young Frenchman named Tristan (Dominic Marsh) who is taken in by the Cornish King Mark (Stuart Goodwin) after Tristan helps Mark win a battle against Ireland. Mark then sends Tristan to Ireland to fetch Yseult (Hannah Vassallo) to be his bride as a spoil of war. With the help of a love potion and the voyage back to Cornwall, Tristan and Yseult fall for each other. Yseult also comes to care for Mark. Mark's jealous aide Frocin (Damon Daunno) brews up trouble when he exposes Tristan and Yseult's affair.
What lifts this adaptation above cliché is the visceral way the emotions are dramatized. Although no choreographer is credited, the company engages in a series of crisply designed dance routines; the giddy height of passion is evidenced in the couple literally flying through the air; the voyeuristic act of betrayal is illustrated with clownish acrobatic beauty; and even the loss of innocence by Yseult's maid (Niall Ashdown) is transformed into a tender dance of seduction and sadness. Bill Mitchell's set design feels like a yin-yang amalgamation: part circus ring and part holy temple, it is where clownish love spotters mingle with star-crossed lovers.
Both the musical selections – ranging from The Police to traditional Irish tunes – and Stu Barker's original compositions, showcase the versatility of the performers as the cast and the musicians move easily from drums to hammered dulcimer, from accordion to flute for a musical foundation that engages the eyes as well as the ears.
Carl Grose and Anna Maria Murphy's text of mostly rhyming couplets serves to clarify and amplify the action. A character called Whitehands (Kirsty Woodward) — dressed in a '60s era pillbox hat and suit, — serves as a kind of detached narrator, creating transitions until she, too plays a pivotal role in the story.
Throughout this story, vivid imagery – the white sail or a black sail, short-term passion or love that endures, a king who rules with his brain not his heart, the devastating strains of Wagner's "Liebestod" – shake us out of our role as passive observers and remind us of the euphoria and the heartbreak love can bring.
---
Terry Byrne has been writing about the arts for nearly two decades. She has an MFA in Playwriting from Boston University and is a Resident Scholar at Brandeis University's Women's Studies Research Center.