Andrew Barbato's musical turns the Dormouse, the White Queen, and even the Red Queen ("Off with their heads!") into nurturing Montessori teachers, concerned with comforting and reassuring an upset Alice.
Alice, a new musical adaptation of Lewis Carroll's Alice's Adventures in Wonderland and Through the Looking-Glass written and directed by Andrew Barbato. Music by Lesley DeSantis. At the Wheelock Family Theater, Boston, MA, through November 16.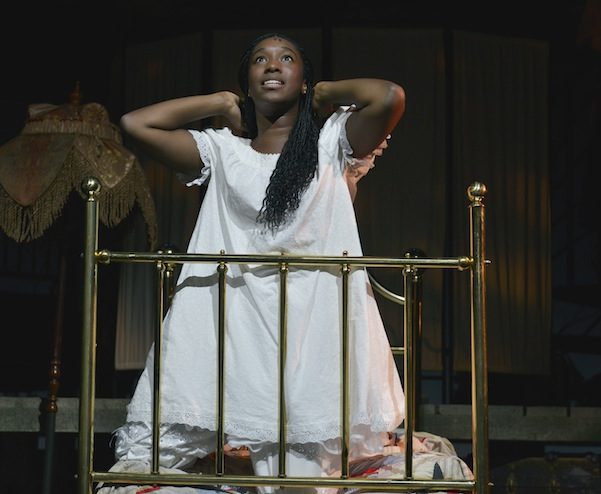 By Lin Haire-Sargeant
There is much to enjoy in the Wheelock Family Theater's Alice, a musical interpretation of Lewis Carroll's high Victorian children's books Alice's Adventures in Wonderland (1865) and Through the Looking-Glass and What Alice Found There (1872).
Talented 24-year-old playwright Andrew Barbato has imagined an entertaining coming-of-age story for Alice (ably played by Maritza Bostic). It's the morning of her 13th birthday, and Alice dreads attending a party where she must mind her manners and play the piano for guests. Her imaginary world, Wonderland, is her only escape. As designed by Matthew T. Lazure, Wonderland's vertical stage-filling maze of wooden trunks, platforms, ladders, and staircases contains plenty of places for Alice to hide, fall down rabbit holes, and change sizes. Beloved characters from the books (The Queen of Hearts, The White Queen, Tweedledee and Tweedledum, the Cheshire Cat, and many more) are arranged around the set like statues that come alive and interact with Alice. In the story that follows there are lively song-and-dance numbers; there are tears; there is laughter. As the playwright explained in a post-show discussion, each scene teaches Alice a different lesson about growing up. By the end of the play, Alice has been successfully coaxed to attend her party and to accept her impending womanhood.
But there's a problem.
Lewis Carroll didn't want Alice to grow up.
Alice's adventures were told by Charles Dodgson (pen name Lewis Carroll) to 10-year-old Alice Liddell and her two sisters on a series of idyllic boat-ride picnics on the River Thames in the summer of 1862. He imagined for the children a glimmering alternative world, viewed through the golden gauze of summer afternoons. Alice's father Henry Liddell was dean of Christ Church at Oxford University, where Dodson taught mathematics. The writer cherished his friendship with this distinguished family. Though shy and uncomfortable with grownups, in the company of little girls he blossomed. Adept at magic tricks, comic verse, and genteel, childish puns, his relationships with his numerous "child friends" were correct but intensely loving. It was not thought odd or alarming at the time that a grown man would be fixated upon little girls; indeed, all the evidence confirms that Dodgson never committed an impropriety. But he remained an unmarried bachelor all his life. Is there anyone less likely to create a story celebrating maturity, aside from J. M. Barrie, creator of Peter Pan? Alice cannot grow up any more than Peter. Carroll's delightful imaginative world depended on Alice NOT celebrating the birthday that would take her to womanhood.
In addition, anyone who tries to faithfully adapt the Alice stories for dramatic presentation encounters a formidable obstacle: drama depends on development. Films can count on spectacle; a few successfully reproduce the static anarchy of the Alice books, such as Disney's cheerfully nonsensical 1951 animated Alice in Wonderland and, on a darker note, Czech Jan Svankmajer's surrealist 1988 stop-motion Alice. But a theater production is more earthbound—it has to get somewhere. But Carroll's books are word-art. On the page, the transformations Alice goes through can happen as quickly and as effortlessly as a child can imagine—there is no worry over emotional impact or symbolic meaning. Many of the originals for Carroll's poetic parodies can be known only through footnotes; others, like the tail-shaped lyric "A Mouse's Tale," must be seen on the page to be appreciated. This kind of intimate charm is not stageable.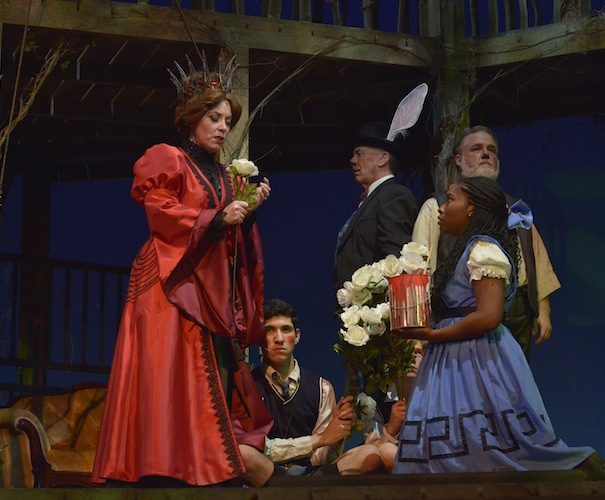 Barbato's version departs from Carroll's in other ways. Barbato's 13-year-old heroine is emotional and vulnerable. Carroll's Alice may be a 7-year-old upper-class Victorian female, but she is as tough as Winston Churchill in the face of danger. She is never fazed by the behavior of Wonderland's rude and self-absorbed characters; her automatic good manners and perfect poise smooth over any encounter. In fact, it's vital that the characters are indifferent to Alice. She has to take her own fate in hand, and she does. In contrast, Barbato's play turns the Dormouse, the White Queen, and even the Red Queen ("Off with their heads!") into nurturing Montessori teachers, concerned with comforting and reassuring an upset Alice. Furthermore, whereas mathematician and logician Carroll uses the rules and pieces of games (cards, croquet, and chess) to supply a firm scaffolding for his witty chaos, Barbato eschews game structure for the biological imperative: grow or die.
That said, perhaps imposing a coming-of-age plot on Alice was the best option open to playwright and adapter Barbato. It is a time-honored story format that works well on stage, with child protagonists engaging in struggles that move them from ignorance into knowledge. The Wheelock Family Theater has a strong history of producing such plays. Recent seasons have included The Miracle Worker, The Secret Garden, and Anne of Green Gables: all of these stories center on girl protagonists who overcome trauma in order to reach self-determination. Alice acquires power too, regulating her size to suit the situation and finally reaching the garden that is her goal. Barbato makes good use of these factors—in one effective scene a long skirt is unfurled from the top of the set and Alice pops up above it, suddenly 20 feet tall. At the end of the play, Alice herself creates the garden she has been desiring by imagining it—child actors' flower bud hats suddenly sprout outsized bright flowers. "The garden is all around you," Alice learns. "Nothing is impossible." These are fine lessons for children, and Barbato is to be applauded for including them.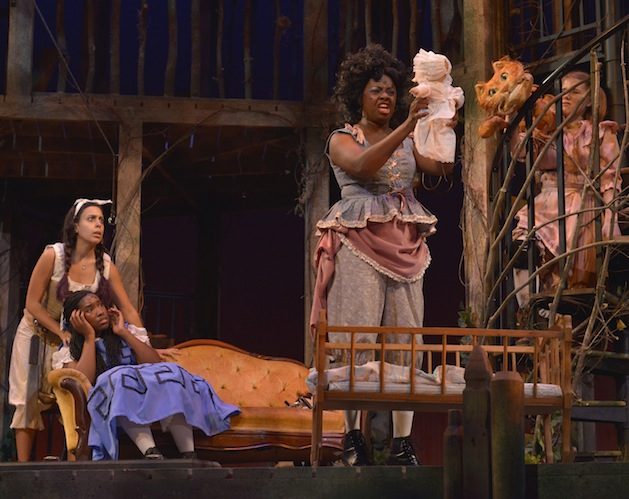 Still, it must be noted that some children like their Alice "real." In a post-show discussion, about 20 children crowded the front rows, eager to question the playwright. The first asked, "Why did you change Alice up?" Barbato answered that he had chosen the parts he liked best from the Alice books and movies and made that into a new play. Another question followed: "Why didn't you just make the play out of the book?" Barbato replied that it wouldn't have been any fun for the script to tell the same story as the book. "But some plays do," the child insisted. Other questioners asked why some things were left out of the stage adaptation, and why characters from Through the Looking-Glass were mixed in with a mostly Wonderland-inspired play. The children debated Alice's age: "She's ten." "No, seven and a half!" "No, she's about five!" and wanted to know the actors' ages. It turns out that several of the "flower buds" (some as young as nine) were products of Wheelock's acting programs for children. The age of the woman playing the Cheshire Cat was a big surprise. Julia Talbot's movement and acting skills would be impressive in an adult, but she's only 14, another Wheelock acting alum.
Other performance standouts: Jenna Lea Scott, delightfully funny as the Frog Footman; Russell Garrett, who brought the whimsical polish of the British Music Hall tradition to the role of the Mad Hatter; and Aubin Wise as the White Queen—her gospel-diva singing has no logical connection to the setting, but she's such a pro that it is a joy to go wherever she leads. The Duchess (Robin Long) and the Cook (Alexandra Nader) convulsed the audience with housekeeping so crazy that it turns their baby into a pig! Finally, Elbert Joseph as the speaking part of the Caterpillar (four other actors played his lower segments down a spiral staircase) haughtily interrogates Alice in dialogue straight from the Carroll text. Actors, musicians, designers, and production staff bring energy and polish to this production of a new work.
Alice's score, written by Lesley DeSantis, dutifully samples cabaret and gospel styles. The production's performers generally deliver the tunes via the now declamatory Broadway mode: enthusiasm trumps nuance. It did not help that during the first act the voices of the singers were amplified to the point of pain. The volume was turned down in act two, which at least made listening more comfortable. Aubin Wise's beautiful voice and expert delivery stood out, as did the antic vocal turns of Tweedle Dum and Tweedle Dee (Noah Virgile and Dashiell Evett). Pianist Robert L. Rucinski's versatile ensemble was excellent throughout, accompanying the singers with tact and steadiness.
The production I attended drew an impassioned young audience, in the know about Alice and more than ready to be thrilled by a retelling of her story. The widespread graying of the theater-going demographic is not apparent at the WFT, where the majority of the people onstage and in the audience are, as Shakespeare would say, in their salad days. If nothing else, this Alice confirms something that we tend to forget at our peril—that theater is a special enthusiasm of the young.
---
Lin Haire-Sargeant directs the MassArt Playwriting Workshop, which gathers Boston-area playwrights and actors together every two weeks to read and critique new work. A novelist (H.—The Story of Heathcliff's Journey Back to Wuthering Heights) and playwright (Dead; Green Pastures), Lin is Professor of Literature and Writing at Massachusetts College of Art and Design.