In this book, personality trumps process, although The Eugene O'Neill's Theater Center's purpose is, at its source, process.
The O'Neill: The Transformation of Modern American Theater, by Jeffrey Sweet. Photographs edited by Preston Whiteway; Forewords by Michael Douglas and Meryl Streep, Yale University Press, 336 pages, $60.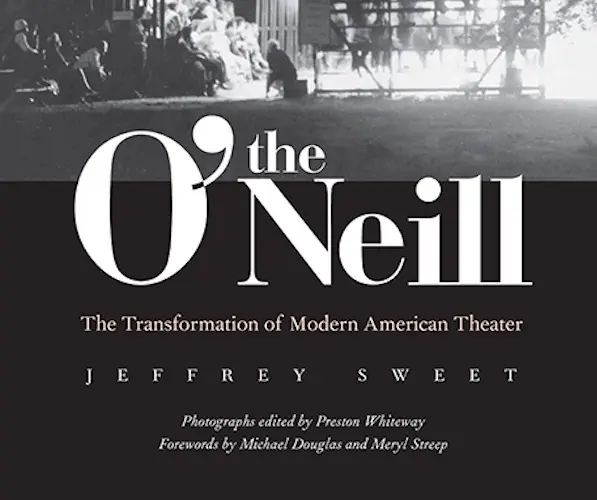 By Joann Green Breuer
Meryl Streep's graceful and generous foreword is emblematic of Jeffrey Sweet's chronicle. It, like the glossy book which it introduces, is sequined with shining star names, coyly intimate in its casual admiration of celebrity. Well, the actress and author both were there, as were, and, Thespis willing, will be, hundreds of other creators, critics, and in-the-know audiences. Sweet moves in close to the personages of the O'Neill, conducting passels of interviews and going though thousands of documents. It is clear Sweet cares about his subjects and, despite our pretense of indifference to the famous, so do we. These folks, like decorative holiday trees, intrigue, and magnetize, even as we realize that they may outshine the forest of context.
Sweet is the author of Something Wonderful Right Away, an appropriately charming history of 2nd City, the hot bed breeder of comics who have kept us laughing and cringing with dazzling cultural improvisational insight for decades. Sweet's plays The Value of Names and Flyovers are far less humorous (exception: his book for the musical Luv), but also bend an ear to American social issues, the McCarthy era, and film criticism. His bailiwick is broadly American.
The Eugene O'Neill Theater Center was founded in 1964 by George C. White, at his prodigious age of 29. Scenically seaside situated on the former Hammond Estate in Waterford, Connecticut, the organization has grown over its fifty years from its original call to create an institute for the development of new plays to incorporate six linked and equal standing organizations: the National Playwrights Conference, National Music Theater Conference, National Critics Institute, National Puppetry Conference, Cabaret & Performance Conference, and the National Theater Institute, the last offering theatrical training in collaboration with the Moscow Art Theater. Permission to name the institute after Eugene O'Neill, the great American playwright who frequented the area, was granted by his widow, Carlotta. Her letter of delight is here reproduced, as are many other documents and speeches by artists who have been associated with the O'Neill.
Sweet's assessment of the purpose of establishing the O'Neill accepts without question the founder's generalization: The Transformation of Modern American Theater.' Some truth in the claim is evident, but some truth is ignored. Radicals have always been prodding the arts with their daringly vital irreverence. Pervasive wails of commercial theater as a dying institution have been endemic for decades. The O'Neill was set up to stand as a countervailing creative force and pattern. In lieu of out-of-town tryouts of (usually) domestic drama before its Broadway opening, there would be script in hand readings, minimal rehearsals, and even less décor. Artists would emerge from varied cultures, and would flourish. When it came to developing new plays, the eager efforts of carefully selected and talented casts and directors would take a back seat to a meticulous focus on the text. The O'Neill would be a theater lab where playwrights are present, willing to have their work judged, edited, reshaped, improved if not perfected.
Art is, however, not a democracy. It can matter most when one does not knock the corners off to make it well-rounded.
Theaters across the country have adopted the 'staged reading' as frequent economic substitute for full production. But theater is as visual as it is verbal. What we see on stage has resonance and metaphor beyond words. Rehearsal re-searching matters. First impressions can stun, but later and deeper acquaintance can uncover the unsuspected and surprising.
Sweet is not interested in such complicated issues. His book is encomium not evaluation, and as such has much to recommend, and a little to rebuff. The history of the O'Neill is recounted in detail. It is a story of passion and perseverance, unique in its organization and longevity, worthy in accomplishment. And it should be recorded, remembered, and rationally respected, if not always revered. There are more names juggled in the volume and its version of history than room for in this article. Conversations recalled in antipathy and admiration can, at times, feel like gossip in print: there's back stage back-biting, rifts revealed, especially surprisingly between the O'Neill and Yale University, and between the prolific and significant playwright August Wilson and long-time visionary director Lloyd Richards. Individuals' abilities, foibles, follies, and foresight are noted more often than their artistic philosophies are explicated. Sweet does not subject scripts to intense analysis. Personality trumps process, although the center's purpose is, at its source, process. On the other hand, many plays chosen by the myriad O'Neill readers to be developed there did win numerous conventional prizes: Pulitzer, Tony, Obie. One can measure value in a variety of criteria. Broadway's ways, at first spurned, are later touted.
There is an ironic aspect in the lavish production of Sweet's book. It stands in silvery contrast to the O'Neill's sylvan acres. There's the bevy of terrific black and white photos of actors before they became stars: posed and candid, unadorned and unselfconscious, on stage and off. The performers are standing around barns and rough hewn tables, boxes, benches, paths through grass, all humble and semi-comfortable. The book, at a hefty sixty dollars, has the look of coffee table fodder, to be displayed, not digested.
---
Joann Green Breuer is artistic associate of the Vineyard Playhouse.