The reason these films are in this series is because of their color, and they do not disappoint.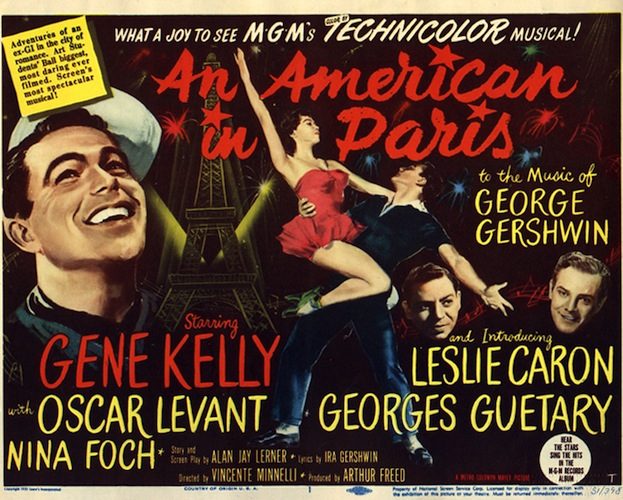 By Paul Dervis
The Museum of Fine Arts concludes it's Technicolor Musical Series with two of Gene Kelly's most famous projects. An American in Paris and Singin' In The Rain are award-winning films that ushered in a new kind of musical. The movies, produced by Arthur Freed, took great risks and received a number of Oscar nominations: An American in Paris won 6 statuettes, including Best Picture. Singin' In The Rain is listed by the American Film Institute as #5 on their All Time Greatest Films list.
Seeing these two films screened together in the museum presents a good opportunity to compare their contemporary significance. Although from today's perspective Singin' in the Rain would most likely be rated as the better film (largely because of its exposure in That's Entertainment), An American in Paris was the more groundbreaking project. Although the producers initially only wanted to use the title song by the late George Gershwin, his brother Ira would only give up the rights to the tune if the film was scored exclusively with Gershwin's music. Even though Ira Gershwin wrote some original lyrics for An American in Paris, a good portion of this musical is performed without words. In fact, the final 20 minutes of the movie is an extended dance sequence. This had not been done before for such an extended period in a sound film — the producers were taking a gamble… and it paid off handsomely. It's impossible to imagine the ending of An American in Paris without this amazing dreamscape.
In contrast, Singin' in the Rain, which has its own dream sequence featuring Gene Kelly and Cyd Charisse as dance partners, comes off as a somewhat derivative version of the earlier pairing of Kelly and Leslie Caron. The 20 minute dance sequence in An American in Paris draws on a number of different styles, including (famously) ballet. Both Caron and Charisse make great partners for Kelly, Charisse coming off as the better dancer. But it is Caron who synced with the Master. Kelly choreographed both films, and ultimately it is his dance moves that makes each of them unforgettable.
The story lines of the two films are also studies in contrast. Singin' in the Rain focuses on Hollywood as it made its bumpy transition from silent films to talkies. That tumultuous time has the potential for high drama, but here it is played solely as fodder for romantic-comedy. An American in Paris examines the trails and tribulations of American expatriates in Europe. Not the '20s Gertrude Stein, Ernest Hemingway variety, but the post World War II disenfranchised artist (in the vein of novelist Mordecai Richler and others). So this film has a much darker hue.
The casts in both films are quite similar. Kelly plays the lead in both. Oscar Levant plays Kelly's sidekick in An American in Paris; Donald O'Connor has the task in Singin' in the Rain. Interestingly, Levant was lined up to play the O'Connor role. It would have been a very different film. Walking on walls in the number "Make Em Laugh," O'Connor provides some of the most memorable moments in film history. But Levant had been a very close friend with George Gershwin and was considered an important interpreter of the composer's work. His piano solo during "Rhapsody in Blue" is remarkable. So his contribution to An American in Paris cannot be underestimated. His dream of giving a Gershwin concert in which he was the pianist, the conductor, and all the musicians as well as the audience goes a long way to make this film much more than a conventional musical.
A teenage actress played Kelly's love interest in both films. Leslie Caron was making her film debut, while at the age of 19 Debbie Reynolds was already an old hand. One was a singer, one was a dancer. Both seemed a bit out of place performing with the 40-year-old Kelly.
The reason these films are in this series is because of their color, and they do not disappoint. An American in Paris contrasts a variety of soft images — the smokey night air, the twinkling lights of the city at dusk, and the washed out façades of aging buildings — with the bold and vibrant colors of the Parisian costumes. There is a sensuality to the visuals in this film that suggests a contemporary visual sensibility. Kelly wanted to film this in Paris, but it was filmed on a back lot in Hollywood. lends itself to fusion of illusion and romance brilliantly crafted by director Vincente Minnelli.
The MFA's series of technicolor musicals ends this Sunday (June 1) with these two films. Although the print for An American in Paris was problematic at times, it is still very much worth viewing these two musicals on the big screen.
---
Paul Dervis has been teaching drama in Canada at Algonquin College as well as the theatre conservatory Ottawa School of Speech & Drama for the past 15 years. Previously he ran theatre companies in Boston, New York, and Montreal. He has directed over 150 stage productions, receiving two dozen awards for hs work. Paul has also directed six films, the most recent being 2011's The Righteous Tithe.