The most satisfying theatrical experience of my Berkshire summer has been the Chester Theatre Company's production of Arlene Hutton's three-part Nibroc Trilogy in Chester, Massachusetts.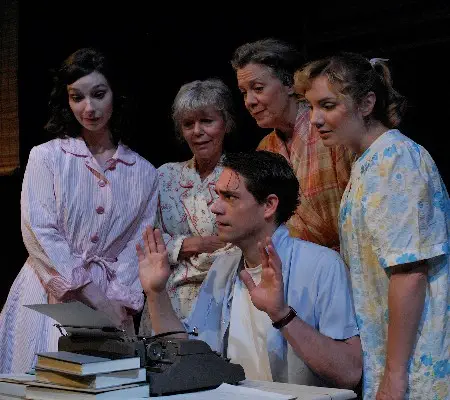 Gulf View Drive by Arlene Hutton. The third play in the Nibroc Trilogy. Directed by Daniel Elihu Kramer. Staged by the Chester Theater Company, Chester, MA, through August 22.
Gulf View Drive, the third play of the trilogy, is set in 1953. The historical context has shifted from Appalachia in the 1940s to Florida in the Eisenhower years; the set has changed from a wooden farmhouse in the hills to a screened-in, cinder block house on the water. Anthropology came to mind as I registered this change in locale, and I found myself thinking about how rarely American plays convey so vivid a sense of place and local culture as these three that seem to work well as stand-alones or in sequence.
Ms. Hutton has said that she didn't set out to write a trilogy but got so involved with her characters that she wrote a second play for them and then a third. I got involved with the couple too. Everybody loves a romance, and I was hooked from the moment Raleigh Brummett, the wise-cracking, young soldier just discharged from the military, talked his way into schoolteacher May Gill's heart on a train from California heading east in Last Train to Nibroc. I reflected on their relationship at odd moments in my day, noting how they did and did not resemble people I know in my very different secular and urban New England culture.
Hutton's solitary male protagonist, as performed by the engaging Joel Ripka, is one of the quirkiest and most sympathetic male characters I've recently seen onstage. An aspiring writer saddled with an illiterate, ill-tempered, widowed mother; an irresponsible and pregnant younger sister; and epilepsy, he manages to be even-tempered, even-handed, supportive, and preternaturally kind.
His schoolteacher bride, as performed by Allison McLemore, radiates intelligence as well as inner tension and impatience. She's the kind of woman who would have had a far easier life had she been born a generation later and brings to mind—if you're of a certain age—the smart, demanding female teachers of the 1950s.
A lens of second wave feminism, in fact, accounts for some of the novelty of Hutton's Gulf View Drive. The play includes three more roles for women, two of whom could easily have been written as caricatures of "white trash" but who, in excellent performances, come alive as multi-dimensional people.
There is the self-pitying, devout Southern Baptist widow Mrs. Brummett who, in Susanne Marley's performance, sustains our interest as we witness the effects of her bad mothering. There is her daughter Treva, performed by a sprightly Sandra Blaney, a pony-tailed, pregnant, young mother who has abandoned her young children and her abusive husband. There is the endlessly patient, middle-class, denominational-tolerant Mrs. Gill, a widow whose son has been killed in the war. Carole Monferdini brings a groundedness and common sense to this role that is utterly convincing and helps account for her daughter May's independence and high mindedness.
When, outside of an Almodovar movie, had I recently seen so many plum roles for women?
The relationships between the four women and the one man left in their intimate lives would be enough material for a play, but Hutton takes on much more. One of my companions at Gulf View Drive felt overwhelmed by the many themes and subjects ricocheting through the play, but I felt they were invigorating. They include the great changes set in motion on the home front by the second world war, including the employment and then unemployment of women and the opening up of a remote and parochial Christian society to the world; the post-war passage of the GI Bill and its effect on education; demographic change such as the emigration of Kentuckians to industrial centers in the Midwest as well as south to Florida; technological change as print and radio give way to the new mass medium of television; the first glimmerings of new thinking about race.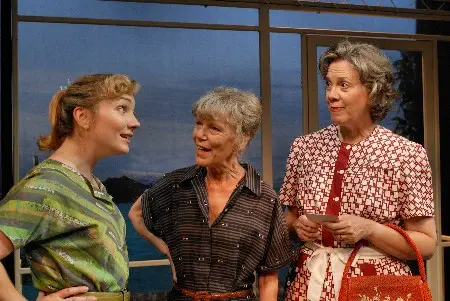 Our writer hero Raleigh lands a lucrative publishing gig; our heroine May Gill is fired from her job because she has let the African-American janitor's son audit her English classes; "no-good," pregnant daughter Treva applies to and gets accepted to Berea College, a college dedicated to giving young Appalachian adults a higher education, and, more surprising, her mother agrees to accompany her and take care of the new baby. Saintly Mrs. Gill recovers from her double losses and turns down a marriage proposal and a comfy future in Ohio.
Hutton's script rarely lets its actors or audience down. It's fun, witty, moving, and poetic. The Nibroc Trilogy builds from a chance encounter on a train between two passengers to a full portrait of a society in the grip of major changes. This production, ably directed by Daniel Elihu Kramer, with dead-on costumes by Charles Schoonmaker and the evocative sound design of Tom Shread, deserves to be seen by a wider audience.
Helen Epstein's book on Tina Packer is now available on Kindle. She has also written a biography of Joe Papp. Order through the link below and The Arts Fuse receives a percentage of the sale.