We were surprised to come upon one of the last things you'd expect to find on the Outer Cape: a French bistro and boulangerie.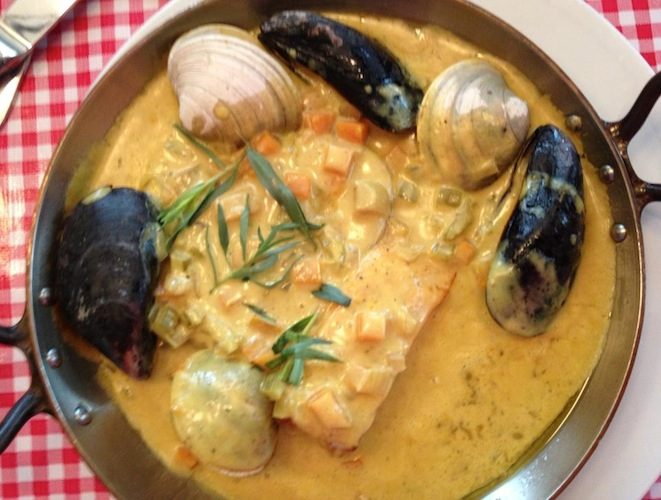 PB Boulangerie
15 Lecount Hollow Rd, South Wellfleet, MA
By Glenn Rifkin
When we decided at the last minute to head down to Wellfleet on Cape Cod on a recent Friday, the plan was simple: walks on the beach with the dog, read, sleep late, indulge in some Wellfleet oysters and a good bottle of wine. My wife found us a rustic cottage that would take dogs and was walking distance to the beach. The beaches in Wellfleet are magnificent; long expanses of smooth sand that rush from the water up to the massive dunes that mark the Cape Cod Seashore (and are eroding at an alarming clip). Surfers in wet suits brave the 48 degree water in early May and the beach is pristine and nearly empty as the summer season is still a few weeks away. Dogs can run off leash — at least if the beach patrolman in his ATV doesn't spot you and issue a summons.
We had no specific culinary plans beyond the oysters — my wife's favorite — and we were surprised to come upon one of the last things you'd expect to find on the Outer Cape: a French bistro and boulangerie. The PB Boulangerie opened in 2010, several years after our last visit to Wellfleet, and we might have missed it if it wasn't sitting at the corner of Lecount Hollow Rd and Rt. 6, the turn we had to make to get to our cottage. It took one look for both of us to say simultaneously: "We'll have to try that place."
What we didn't realize was that this particular bistro, so far from New York or Boston, was the domain of a wonderful French chef named Philippe Rispoli, a native of Lyon, the heart of French cuisine, and a former colleague of famed chef Daniel Boulud. Rispoli first worked with Boulud at DANIEL in New York City and later became executive chef and ran the Daniel Boulud Brasserie at the Wynn Resort in Las Vegas. He and Boulud both come from country farm villages outside Lyon and formed a kinship in the U.S. Boulud saw something promising in the young chef. He mentored Rispoli, an ambitious young man who knew by age 14 that he wanted to be a great chef, powered by memories of the mouthwatering food his mother and grandmother prepared for him as a child.
At Boulud's restaurant at the Wynn, Rispoli teamed up with an old friend, a master baker named Boris Vilatte, who also hailed from Lyon.In 2010, anxious to start their own restaurant, the pair bypassed New York and Boston in favor of Wellfleet. It seemed an odd choice but Rispoli had fallen in love with the Cape and this historic seaside community while vacationing there with his then wife and her family. Here, he figured, they could build something from the ground up and make it a destination location.
We popped in on Saturday morning for lattes and some of PB's outrageous pastries.The tiny boulangerie, the walls lined with a variety of freshly baked breads, and the glass cases brimming with inviting patisserie, apparently draws legions of fans during the summer, with lines out the door. And just the sight of the cozy restaurant beside the bakery got our mouths watering. We made a reservation for that night and spent much of the day thinking about dinner.
When we arrived that evening, the air chilly and clear, we found a roaring fire pit out front that provided the welcoming scent and warmth of a wood fire. Checking in with the maitre d', it became obvious that he did not have our reservation. He rushed to cover up and offered us seats at the bar or a short wait for a table. All I could think of was the Seinfeld episode when Jerry approaches the car rental counter at the airport and the young woman informs him that they have no cars. "You know how to take the reservation," Jerry states. "You just don't know how to hold the reservation. And that's really the most important part of the reservation."
Before I could get annoyed or do my best Seinfeld imitation, my wife urged me to grab the bar seats because they provided a front row seat into Rispoli's open kitchen. A talented cook in her own right, she loves nothing more than watching the chaotic ballet in a high quality restaurant kitchen.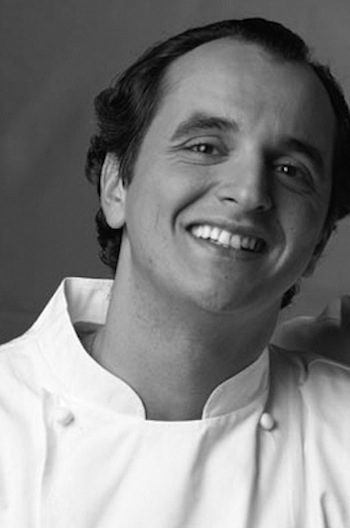 We were not disappointed, in the show or the meal. We asked for glasses of a fine Sauvignon Blanc and I decided to try the escargots de Bourgogne for my appetizer. My wife ordered L'arc en Ciel de Betteraves en Salade, a salad of rainbow beets, roasted walnuts, goat cheese and endives. It was both beautifully prepared and delicious. My escargots were quite possibly the best I've had (this is a dish ordered once every few years, so I am no escargots aficionado). The Burgundy snails were served in a parsley garlic butter with the unusual touch of pureed spinach.
For my entrée, I tried the risotto with parmesan with a dish of house smoked salmon. We had watched Rispoli's sous chef carefully prepare the risotto, a process tended to with patience and loving care, and the end result was magnificent. Risotto is not a dish that usually generates hosannas but this one, with the salmon a perfect complement, was remarkable, like a delicious savory rice pudding. My wife ordered the Slow-Poached Codfish, perfectly done with smashed Yukon gold potatoes, braised leeks, little neck clams and served with lemons and clam juice. The fish was tender; the light, aromatic broth was superb serum thao duoc.
Watching Rispoli and his team prepare the steak frites, the fois gras scallops and the rest of his enticing menu for a sold-out house was mesmerizing. We were simply too full to order dessert but we made up for it with chocolate almond croissants for breakfast the following morning. We felt especially lucky to have happened upon PB Boulangerie before the summer season. Once the weather heats up a reservation here is a sought-after goal. French cuisine won't replace Wellfleet oysters and summer lobsters anytime soon, but if it is this good, it will morph into a Cape tradition quickly enough.
---
Glenn Rifkin is a veteran journalist and author who has covered business for many publications including The New York Times for more than 25 years. Among his books are Radical Marketing and The Ultimate Entrepreneur. His efforts as an arts critic and food writer represent a new and exciting direction.