By Gary Schwartz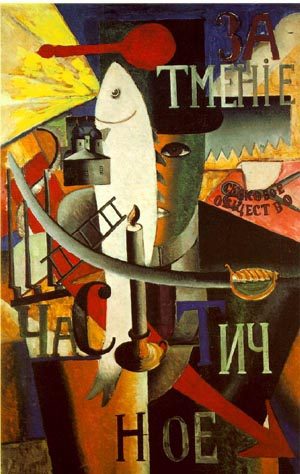 Yesterday evening I finally found time to visit the Kazimir Malevich and the Russian Avant-garde exhibition at Amsterdam's Stedelijk Museum. Among the discoveries I made was that a major anniversary is coming up. On February 19, 1914, at what is always called a "tumultuous meeting" of the Jack of Diamonds artists' association in Moscow, the Ukrainian-Russian artist Kazimir Malevich declared reason to be abolished. The Stedelijk puts it thus in a wall text: "During his proclamation, Malevich wore a large wooden spoon on the lapel of his jacket, which, together with the motif of a saw, became the emblem of his new movement. It is no coincidence that both the spoon and the saw occupy a prominent place in the painting An Englishman in Moscow of that same year."
There can be no doubt that Malevich was right, and that since February 1914 – Malevich called the new regime Februarism – reason has played a distinctly subordinate role in human affairs, including art. It's time to face up to this. We can start by celebrating the first centenary of Februarism by wearing a wooden spoon on Wednesday the 19th.
---
Gary Schwartz was born in Brooklyn, New York in 1940. In 1965 he came to the Netherlands with a graduate fellowship in art history and stayed. He has been active as a translator, editor, and publisher; teacher, lecturer, and writer; and as the founder of CODART, an international network organization for curators of Dutch and Flemish art. As an art historian, he is best known for his books on Rembrandt: Rembrandt: all the etchings in true size (1977), Rembrandt, his life, his paintings: a new biography (1984) and The Rembrandt Book (2006).
His Internet column, now called the Schwartzlist, appeared every other week from September 1996 to April 2007 and has been appearing since then irregularly.
In November 2009, Schwartz was awarded the coveted tri-annual Prize for the Humanities by the Prince Bernhard Cultural Foundation of Amsterdam. He is the founding director, now emeritus, of CODART. Responses always welcome at Gary.Schwartz@xs4all.nl.