Dramatist Richard Nelson's language is plain poetry, which passes as prose. It is conversation, as another poet hymned, transmogrified.
The Apple Family Plays: Scenes from Life in the Country, written and directed by Richard Nelson. In Repertory through December 15 at New York's Public Theater.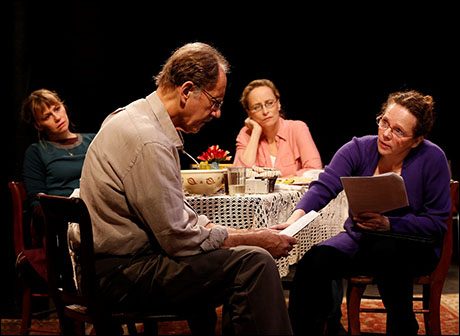 by Joann Green Breuer
This is a response, not a review, because I have seen only the first two of this quartet of Richard Nelson's Apple, which is to say American, family chronicle: The Hopey Changey Thing and Sweet and Sad. To follow, and sold out, at New York's Public Theater are Sorry and Regular Singing. So far, so breathtaking. From Turgenev's Month in the Country, through Chekhov's Seagull, Uncle Vanya, Cherry Orchard, and Three Sisters, an artistic high way guides us up, up to Nelson's magic mountain, and within. It takes one's breath away.
The DNA of the Russian greats is woven, like an inspirational double helix, into Nelson's scenes. And, like new life itself, the Apple family is unique, precious. Nelson's three sisters have one brother, each spends more or less than a month in the country (Rhinebeck, with the Moscow of Manhattan in mind, if not in wish). There are actors, has-been and would-be, leaning in to each other, exchanging halting, urgent attempts to grasp the nature of acting, of theatre. Uncle Ben, Vanya cognate, is the family's tragic anchor. His loss, and therefore that of each, is not of versts of cherry trees but of the fruits of memory.
The RNA of that double helix is an American event, not a chapter heading in a history book but an occasion noted in a later paragraph, one that would not be underlined by even the most diligent student. The Apple family meet around the dinner buffet table: not during a presidential election, but at the mid-term; not on 9/11, but on its tenth anniversary; not Obama's first election, but his second; not on the assassination of JFK, but on the date of its fiftieth anniversary. Nelson demands we pay attention to resonance, aftershock — the gift of art.
Nelson's language is plain poetry, which passes as prose. It is conversation, as another poet hymned, transmogrified.
Warning: Hearing assist devices are essential if you are sitting beyond the third row in the Anspacher stage of the Public Theater, even if you enjoy auditory normality. The Public supplies twice the usual number of such devices, but they can run out of them. Sound designers, Scott Lehrer and Will Pickens, delicately fill each chamber of the heart.
As for acting, judgement is impossible, if not irrelevant. I list the cast out of honor:
Jay O. Sanders: Richard, brother, lawyer
Mary Ann Plunkett: Barbara, sister, English teacher
Laila Robbins: Marian, sister, second grade teacher
Sally Murphy: Jane, sister, non-fiction writer
Jon DeVries: Ben, uncle, retired actor
Stephen Kunken: Tim, boyfriend of Jane, actor
Humility tinged with joy, acceptance tinted with sorrow, individuals attendant to community. We care so much for the Apple family because they care so much for each other. Nelson's art is an act of love, as art is meant to be.
---
Joann Green Breuer is artistic associate of the Vineyard Playhouse.