The Williamstown Theatre Festival's captivating staging of Animal Crackers provides two hours of great fun and near-perfect summer theater for the entire family.
Animal Crackers. Book by George S. Kaufman & Morrie Ryskind. Music and Lyrics by Bert Kalmar & Harry Ruby. Adapted and Directed by Henry Wishcamper. Choreographed by John Carrafa. Physical Comedy Direction by Paul Kalina. Staged by the Williamstown Theatre Festival, Williamstown, MA, through July 13.
By Helen Epstein.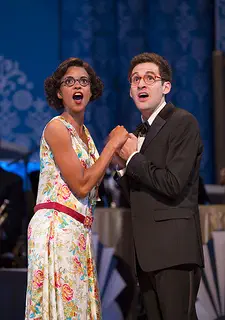 Like a now-growing number of theatergoers, I managed to grow up without ever seeing a Marx Brothers movie. Sure, I had seen images of Groucho—his cigar, bushy eyebrows and moustache—and heard his infamous one-liners like "Ever since I met you I've swept you off my feet." I heard allusions to Chico and Harpo if not to Gummo and Zeppo. But I wasn't sure who was who or how deeply the routines and brand of comedy of this Jewish immigrant family had influenced comedy all over the world.
The Marx Brothers began performing their act in vaudeville shows over 100 years ago. By the time playwright and New York Times drama editor George S. Kaufman and Morrie Ryskind wrote this Broadway musical for the team, the Marx Brothers shtick was well-known: a slapdash yet slightly sinister embodiment of the immigrant wave that was flooding and (for some) contaminating the American populace. Kaufman, Ryskind, Bert Kalmar, and Harry Ruby (who wrote the music and lyrics) were all Jews, still outsiders despite Kaufman's place at the New Yorker and Algonquin Round Table, and well aware of the social realities underlying the anarchistic comedy of Animal Crackers.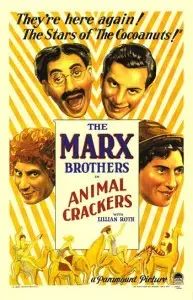 Director Henry Wishcamper (a resident artistic associate at Chicago's Goodman Theatre) was growing up in Maine at the time of Groucho Marx's death in 1977. He lived near a theater school founded by a protégé of mime Marcel Marceau. His exposure to the area's clowning students provided his entrée to theater and is perhaps responsible for the whimsical charm and lightness of this production. Wishcamper has emphasized the vaudevillian roots of Animal Crackers. He not only provides an evening of satisfying variety (episodes of piano playing, tap dancing, stand-up, mime within the play) but gives this year's audiences a very different angle on the 1920s than is proffered by the film The Great Gatsby, as well as a snapshot of the many strands of tradition that shaped twentieth-century, American musical theater.
Wishcamper's breezy adaptation of Animal Crackers had its first incarnation four years ago in Chicago where three of the strongest actors (Joey Slotnick as a sly Captain Spaulding; Mara Davi in the roles of the pert Arabella Rittenhouse and dangerous Mrs. Whitehead; and Jonathan Brody as the Italian pianist Emmanuel Ravelli) inaugurated their roles. Directing a play specifically written for the Marx Brothers, and mindful that the 1930 movie version would be familiar to fans of the team, Wishcamper chose the best bits from the various available sources and gave his actors license to contribute new, sometimes local bits, of their own. Familiar one-liners like "You go Uruguay and I'll go mine" and "In Alabama the tusks are loosa" are joined to new ones like an allusion to Eugene O'Neill aficionados in the Berkshires and to the Austen Riggs psychiatric facility.
Scenic designer Robin Vest, who designed the Chicago production, has made the ballroom of the Rittenhouse Manor an immensely pleasing place. Sky-blue with white and gold accents and a stylized allusion to a crystal chandelier, it put me in the mood of old New Yorker covers and children's books, such as Eloise, in its visual evocation of a Long Island mansion in the 1920s. An excellent, elegant jazz band plays from a platform at stage center, which allows the actors to scamper up, down, and around the two palatial staircases that flank it. The music includes a variety of styles, starting out with echoes of Gilbert and Sullivan's patter songs and moving onto ragtime, Tin Pan Alley ballads, and the blues.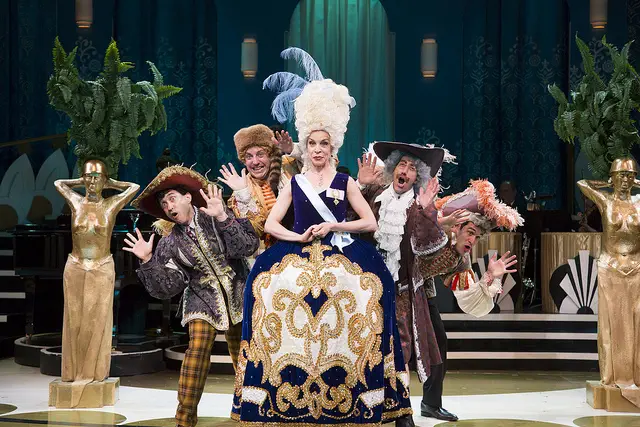 Kaufman's sophisticated script, Groucho Marx's farcical one-liners, new ad-libs tailored to a local audience, running gags, and all manner of word play make clear diction and strong projection essential—a challenging task for actors who are called upon to double or triple in their roles, to clown, sing, and dance as they speak. And, for the most part, the captivating cast pulls it off.
I found Slotnick ("The African Explorer—did someone call him a Schnorrer?") to be an intriguingly impish Captain Spaulding. The versatile Davi rivets the eye as she sings and dances the roles of the debutante Arabella Rittenhouse, the slinky socialite Mrs. Whitehead, and a stone garden statue that comes to life in another character's dream. I was particularly impressed by Renée Elise Goldsberry's vocal range and singing.
The choreography by John Carrafa, "physical comedy" by Paul Kalina, and costumes by Jenny Mannis contribute mightily to this mirthful production. Animal Crackers provides two hours of great fun and near-perfect summer theater for the entire family.
---
Helen Epstein is the author of Joe Papp: An American Life and the co-publisher of Plunkett Lake Press eBooks of Non-Fiction.