By Debra Cash.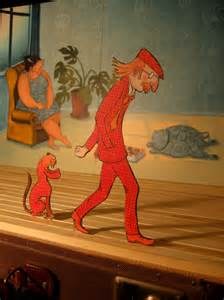 Can't get to New York for the 10th anniversary edition of the International Toy Theatre festival in New York? Never fear. Theatre buffs who delight in miniaturization and have a robust appreciation of the ways paper and mechanically reproduced media shine fascinating lights on contemporary entertainments will want to reserve (standard-sized) seats for events at the Puppet Showplace Theatre in Brookline Village June 28 and 29.
In Don Chico con Alas, presented by Facto Teatro from Mexico City, the brave Don Chico, living in the mountains of Chiapas, decides he must build himself wings to reach the sky. Barbara Steinitz and Björn Kollin from Berlin reveal a busy, urban neighborhood stashed in a suitcase and follow the adventures of a pack of local dogs and their mismatched masters in Schnurzpiepegal (Like Master, Like Dog). New York's Great Small Works, a collective comprised of former and current Bread and Puppet Theatre performers, repurposes the headlines in its long-running political cri de coeur, Terror as Usual. The latest episode explores the death of Florida youth Travyon Martin and is sure to denounce the epidemic of gun violence in the United States.
On display at the Puppet Showplace Theatre will be a selection of toy theatre models beginning with the inexpensive printed paper versions that enabled nineteenth-century audiences to go home after a show at a place like Drury Lane and recreate its highlights in their parlors.
Family matinees will include hands-on workshops where kids can go beyond bland dioramas to craft their own puppet playthings.
Kids are intimate with the truth that tiny doesn't necessarily mean powerless.
c Debra Cash 2013