In the House. Directed by François Ozon. At selected cinemas.
By Gerald Peary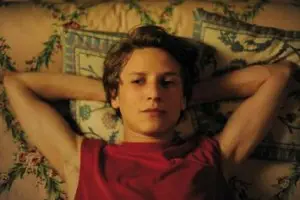 A snobby, somewhat prissy, high school literature teacher, Germain (Fabrice Luchino), should be grateful to be employed in France at Lycee Gustave Flaubert, named for the esteemed writer he adulates. But his teen students care only for pizza and their cell phones, not for Madame Bovary. So he's exasperated by those he's paid to instruct, and correcting their vapid papers is a nightly ordeal. But one evening he reads aloud to Jeanne (Kristin Scott Thomas), his art-dealer wife, an assignment from a student that is not only fairly well composed but intriguing in content. Sixteen-year-old Claude Garcia (Ernst Umhauer) writes about having himself invited over to the house of a fellow student, Rapha, dumb but affable, just so he can peek in on the life of a "perfect family," which includes a hard-working, sports-crazy dad and a dreamy, very attractive, middle-aged wife (Emmanuelle Seigner).
"To be continued," Claude abruptly ends.
Germain, never generous with grades, gives this essay a B+. But soon, he is caught completely in the intrigue, pushing Claude for more and more chapters of his adventures in the residence of this ostensibly idyllic family. Germain couches his interest with a pretense that he's teaching Claude to produce real literature. But it's glaringly obvious that he's getting a vicarious kick out of Claude's peeking and probing. And we, the audience, are, of course, also implicated in the voyeurism, as we are there in the home as Claude tiptoes about, opening drawers, watching and listening, and plotting to seduce the wife. Gay filmmaker François Ozon is referencing Pasolini's blasphemous classic Teorema (1968), in which the mysterious "The Visitor" sleeps his way through all the males and females of a bourgeois household. He's also paying homage to Alfred Hitchock's masterpiece of Peeping Tomism, Rear Window (1954), by concluding the movie with two characters peering into the back of a lit apartment building, where, in one unit, murders are taking place.
A fantastic film? Not really. In the House is sometimes ingenious, but all the main characters are cold, arrogant, and off-putting. You probably won't care at all what happens to any of them. Also, Ozon makes an unfortunate decision to push his narrative into metafiction, with scenes, probably imaginary, illustrative of literary theories or perhaps occurring just in the mind. Someone's mind. A character? The filmmaker?
Never generous with grades, I give this film a B-.
---
Gerald Peary is a Professor Emeritus at Suffolk University, Boston, curator of the Boston University Cinematheque, and the general editor of the "Conversations with Filmmakers" series from the University Press of Mississippi. A critic for the late Boston Phoenix, he is the author of nine books on cinema, writer-director of the documentaries For the Love of Movies: the Story of American Film Criticism and Archie's Betty, and a featured actor in the 2013 independent narrative Computer Chess. He is currently at work co-directing with Amy Geller a feature documentary, The Rabbi Goes West.