More comments on the films in this year's Boston Jewish Film Festival, including Dolphin Boy, an uneven documentary about dolphins and healing and Dusk, one of the finest films in the festival.
By Joann Green Breuer.
"Neighbors Near and Far" is this year's cut line for the 23rd Boston Jewish Film Festival (BJFF). Congratulations are certainly due for its longevity and general quality, along with sympathy for its effort to come up with a new cut line, even if it makes more politically correct sense than it does semantic sense.
This is an other installment in my overview of a selection of the BJFF fare. The festival ends on November 15th. My comments will be brusque, partly because the BJFF no longer supplies a program with attributions to artistic contributors to the films: casts, designers, editors, etc. Financial contributors to the festival, however, are clearly listed.
---
Part One of BJFF reviews.
Part Two of BJFF reviews.
Part Three of BJFF reviews.
---
Dolphin Boy
Despite the fact that the traumatized teen is an Israeli Arab and his doctor is an Israeli Jew, I am pleased to report that their ethnicity is noted but unexploited in the, for me, too lovely documentary Dolphin Boy. Yonatan Nir is the accomplished underwater videographer, swimming along with Morad and the dolphins of Eilat's Dolphin Reef, who bring the boy comfort.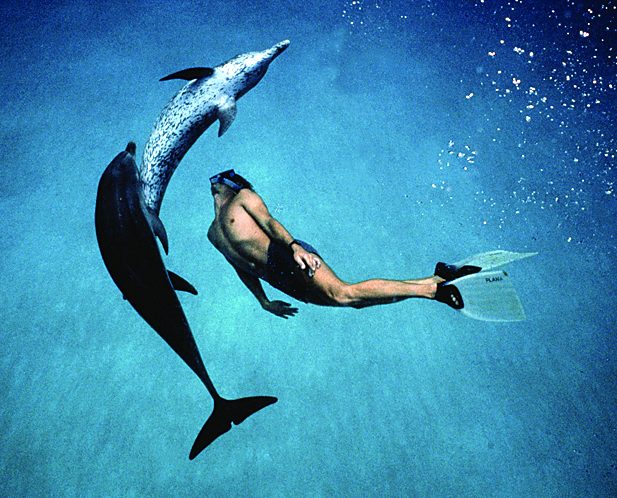 Blue water bubbles with human breaths. The non-verbal squeaks and clicks of marine mammals contrast with as well as complement the silence into which Morad has trapped himself since having been confined and beaten by other Arab teens. The grace of biped and a-pod bodies drifting and diving together almost mystically against gravity, aimless save for collective pleasure, displays all the romance of a Viennese waltz. Lovely. But barely half true to the agony this documentary is meant to relate.
Dolphin Reef is a center that studies dolphins (they pointedly do not refer to it as a place for "therapy"). Dr. Ilan Kutz is the psychiatrist whose hours of analysis, medical interventions, and deep, electric shock brain piercings are not sufficient to relieve Morad from the emotional and communicative paralysis of his post-traumatic state. The final recourse for this compassionate and determined physician, beyond Morad's family's rejection of hospitalization, is dolphins.
Viewers may wonder how "informed consent" for filming can be given when the subject is mute. The beatings are a matter of criminal records. Doctor Kutz's videotapes of his early meetings with Morad were meant exclusively for his private files. Thus intrigued filmmakers must have chose to follow Morad's story not knowing if he would ever speak again, and even if he could, whether he would accede to their request to air his painful experiences. The existence of the film suggests some success for Morad and for all those who care for him.
So, what is the film's problem? The most glaring hint is the time span. Five years. Things cannot possibly have progressed so smoothly, so predictably, as depicted in all that time. Setbacks are presented more as a stage in Morad's psychological development than as another stab in the heart of Morad and his family. One rehabilitation plateau presented in more detail than usual is Morad's conception of the dolphin reef and all its inhabitants, on water and land, as being his birthplace. He does not express it, but the obvious analogy is reef as womb, the waves as amniotic fluid nourishing his emotional rebirth. Reassuring literary imagery does not necessarily make true to life.
I simply could not trust the sweetness with which this continuing episode is handled or the absence of what must have been many desperate, ugly, frustrating hours. These are rarely, if ever, referred to by the well-meaning but rosy-eyed documentarians. Unfortunately, their decision to be always positive undercuts the effort it takes to dare to heal in reality, as well as the soul-wrenching forces needed to accomplish it.
There are indeed many heroes in Morad's journey to awareness, acceptance, and manhood. Kudos are certainly due to Dr. Kutz, to all those, human and else, at Dolphin Reef, and foremost to Morad himself. My monumental hero, however, is Morad's father. He waits by his son, frame after frame, year after year, watching, present, open, impotent or not, optimistic or not, infinite in patience, infinite in love. He will stand by his son, not because he believes all will be well, but because of the mysterious and painful promise that lies within his weathered face, which the filmmakers, despite all the contextual air-brushing to the contrary, cannot but acknowledge.
Dusk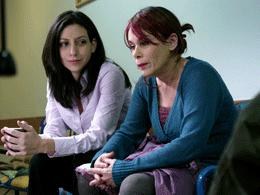 Mothers and fathers who love not wisely, and destructively too well, cross paths in the La Ronde-like, gut-churning tension generated by the Israeli film drama Dusk. The atmosphere is as claustrophobic as the relationships within each of three families who are tracked through one eventful day. Actual and near catastrophes gradually pull the families blindly toward each other. We learn today what each character will realize, possibly, on the implied tomorrow. We watch, intrigued and troubled, as this impressively woven screenplay forms intricate, fault ridden, humane patterns. We leave the movie theater with a furrowed, thought-provoked, aching brow put at artistic and equitable ease.
Issues of identity, blood and ethnic, merge with conflicts raised by balancing the responsibility one owes to the stranger and to one's child.
Inattention, abandonment, and abuse have dangerous repercussions. Inadvertent or not, the original destructive actions lead to even more destructive choices. Avoidable accidents do happen, uncontrollable actions of others yield unwanted, warranted effects; one's own history can be too arduous to confront; one's own responses become self-protectively instinctive. Confrontation seems impossibly agonizing. Rationalization makes its own perilous headway.
At times the parents' choices may feel over-the-top (a mother applying lip gloss while her child is lost, an aging father's grasping at his adult son), but on second thought, we sense that these parents have been habitually inappropriate. That's how they enmeshed themselves, each other, and their offspring, into these tangled circumstances. They can and should have known better. But, sadly, most of humanity is clear-eyed only in hindsight.
Older generations justify their own questionable ethical reasoning. "I do it out of love for my child" is the utilitarian, ultimately futile rationalization they tell themselves. What they do is lie, remain silent, or press their defenses with fervid desperation. Persistent, striking faces let us know that they know their failings and that such knowledge hurts. In two cases (adoption and divorce), mothers do not reveal the whole truth: there may be an expedient argument for secrecy to be made, but, for the sake of their children and themselves, it should only be temporary.
Their children are aware of the moral exigencies, sense finality, liability, and death. As the one adult child demonstrates, living well is not necessarily or sufficiently curative. One post-adolescent is, for a time, trapped between an innocent obligation to a childhood confession and tight-lipped, adult resistance. We watch her make her sorrowful, lonely choice. The poignant message is there is always a choice, and making it, whenever, still matters.
I regret that I am unable to identify Dusk's creative team. No artists' credits were provided in print at this showing. If possible, I will identify some by name in my summary comments. (Editor's note: It is the first feature film directed by Alon Zingman.The cast includes Reymonde Amsellem, Orly Zilbershatz, Shmil Ben Ari, Rotem Zisman Cohen, Natalia Faust, and Gal Zaid. Here is the listing on IMDB.)
Every actor in this ensemble sustains a creatively credible character. Because they are so young, particular bravos accrue to the seven-year-old, Argentinian boy awaiting his delayed circumcision and to the slightly older cancer patient who befriends him. His beauty, ah, those eyelashes, enhances his growing insight; her hermaphroditic hospital attire is a touching symbol of the sensuality she will not survive to experience. But note well: the film's drama could easily have warped into melodrama in less committed, capable, adult thespian hands. I commend the entire cast, even the non-speaking extras who add realistic color to the varied, peopled, daily venues.
Director and screenwriter are masterful. This may be the only film to live up to the festival cut line: far neighbors do become near ones. Elegantly skewed, thematic mirroring seem inevitable, averting any criticism as contrivance: beauty salon treatment/rouge application, policeman investigating a child alone in a car/same policeman clutching at his adult child, kitchen confrontation/clinic dining hall confrontation, real car wreck/toy car wreck.
At the very end of the film, after a wrenching and honest truth has been told, the camera cuts loose from crowded confinements and close-ups to raise its lens skyward (I slip unworthily into cliché) to the light of day. We are permitted to breathe a bit more easily, gratefully, in open air at last.