Visual artist Carmen Sasso's stimulating interpretation of life's colorful evolutionary ebb and flow exudes plenty of color, detail and movement.

Carmen Sasso's "You're Welcome," at the Atlantic Works Gallery until December 28
By Yumi Araki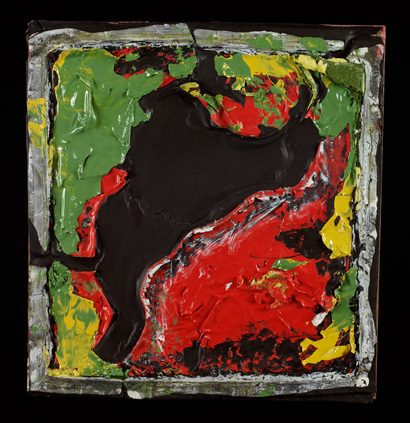 The Atlantic Works Gallery, located in East Boston, MA, offers a magnificent view of Boston harbor. Yet even in competition with this impressive view, Carmen Sasso's exhibition electrifies the open-floor exhibition space in its own distinctive way.

"You're Welcome" is a vibrant collection of lucid dreaming reborn on canvas and in sculptural form, inspired by Sasso's own dreams and his fascination for the synthesis between science and religion. From the wooden structures mounted on to palettes of bold primary colors to the prodigious pink maelstrom surrounding a she-wolf in the largest painting of the collection, each piece chronicles Sasso's interpretation of life's colorful evolutionary ebb and flow.
"I don't have a schism between religion and science," Sasso says as he flips through an intricate pop-up book—a piece that captures the essence of the entire collection's theme—whose pages chronicle Sasso's vision of how religion and science coexisted over time.
The pieces are evocative of a Michel Gondry fantasy, with fluttering two-dimensional figures coming to life three dimensionally with a flip of the page. As an artist with an appetite for research into the origins of ideology, Sasso's bookish persona manifests itself through the details of each page.
The book begins with a scene from the La Chapelle-aux-Saints caves in France, where life and animal worship was first thought to be documented, and ends with a site of amphibian-to-terrestrial evolution, as a mountainous figure of Charles Darwin himself oversees the transformation. In between, Sasso creates a bridge that connects two canyons, which the artist says represents the link between religion and science. The single strand of string, which weaves its way through all the pages of the book, also serves as a symbol that connects religion and science through the progression of time.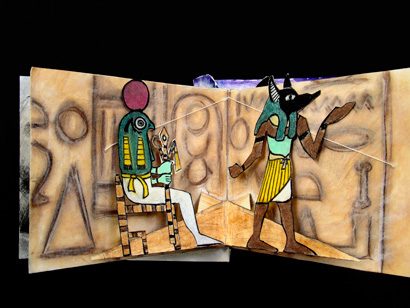 While only one page from the "Religion to Science Pop-Up Book" is open for display, visitors can still experience the sense of playfulness found in all pages of the displayed piece, where two serene Buddha figures pop out perpendicularly from the flat page surface. The other pieces of the collection also adhere to the theme of evolution, as each preceding piece becomes a more complex version of its predecessor.
The Buddha motif reappears towards the end of the collection with a gargantuan painting of a blue Buddha figure, sitting cross-legged inside a bell against an energetic background of bright orange. The piece, which Sasso says took close to two years to complete, requires its own wall space with its intensity. In a way, the exhibition is also a metaphor for Sasso's own artistic progression, as the artist says that he's still learning how to play with color.
On December 17 the Atlantic Works Gallery will host its "Third Thursday Celebration." Visitors will have the opportunity to discuss Sasso's work over wine and conversation with other member artists.