The film is many things. It is a testament to the restaurant, immortalizing it on celluloid. It's also a requiem for the restaurant, which you see as it is closing. It's a manifesto for culinary invention. It's a tribute to chef Ferran Adrià and what he has wrought, how he has transformed thinking about food.
El Bulli, Cooking in Progress, a documentary directed by Gereon Wetzel. Screening at the MFA in Boston, MA, tonight through December 30.
By Sally Levitt Steinberg
Two guys in a kitchen at Ferran Adrià's restaurant El Bulli torture a sweet potato every which way–freezing, steaming, juicing, drying– to get it to be what it is not. Or maybe what it is deep down but we just didn't know it before Adrià and his minions turned it inside out by free association, brainstorming. The sweet potato is so apparently simple, until these chefs put it through the wringer–the evaporator, the vacuum–to emerge in forms unimaginable. These guys are food wranglers, subjecting simple growths to steam and heat and oil, for new takes on old roots and tubers. The word cookery, that rustic, folk word, doesn't seem right for this abstruse, highly evolved project, although Adrià's origins are humble. Maybe the sweet potato transformed is a good metaphor.
At El Bulli this is the year of water, and water is everywhere in these experiments. That's where the oil cocktail comes in. Make a cocktail out of water and hazelnut oil and salt. Peer at it, drink it carefully from the top, where oil floats on water. As shown in the film El Bulli, Cooking in Progress, each year Adrià's ex-restaurant closed its doors for 6 months to develop new concepts and dishes. Cooking in progress is what we see. Leaf and legume, fungus and fruit, sea creature and seaweed—all ingredients are mined for their undiscovered potential to appear in unaccustomed, often indecipherable guises.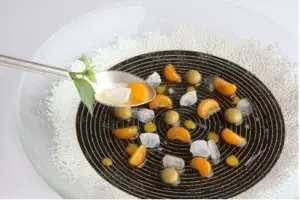 Ice becomes vinaigrette. Marshmallows are made of Parmesan. Sweet potato turns to meringue. Tangerines and olives are doused in the oil and ice vinaigrette. A frozen sheet of ice is sprinkled with matcha tea, brown sugar and peppermint, Ice Lake, a dessert. Adrià invents "vanishing pasta" by concocting a dissolving ravioli that ends up morphing into its saucy filling, which becomes the "ravioli." Nice effect. Nice brain teaser, like many of the other creations.
His way is not your usual step-by-step thought process, it's free-form. The method is food by free association. When you look at the charts and lists and photos he insists on to document, it looks systematic, but the creativity comes from imagining what you can do with ice or oil, and what goes with what in new ways. Another of his dictums—don't copy.
Bewilderment.
The movie starts in the dark with a shot of Adrià's mouth sucking on a fluorescent lollipop, which, it turns out, is made of fish. The mouth also glows in the dark from this weird candy. Does it mean anything? Does Adrià glow in the dark? Or is it just an attention getter? Adrià says during the film that his goal is bewilderment. He succeeds, both on screen and on the palate. You aren't supposed to figure things out, perhaps its protagonist least of all. There's a category of food he calls "bewilderments." It is assumed that you will not ask the secret question: Why bewilder?
Adrià is an unlikely matinee idol. He's stony-faced a lot of the time, impassive. His underlings scan his features for a clue. He nods. But he doesn't necessarily enthuse. His demeanor is unreadable, as much of a riddle as one of his "bewilderments." He is enigmatic not just because of his weird ways with food. You can see his intense and serious absorption in his craft. The machinery in his head clanks. His eyes dart and he seems not to be looking out but rather inward to the next outlandish contortion of food. Sometimes the outlandish prevails. This from a burly Spaniard with a rough hewn way.
Who knows what foods we are seeing? You have to guess. The movie offers no information in voice-over or from the chefs or by titles. Nothing until final gorgeous photos of finished dishes. We don't know what's being created or from what it is made. A green sprig could be seaweed or pine or…? There's no disclosure. There are the verbal exchanges, but they don't amount to much—do you think we should freeze it? How frozen should it be?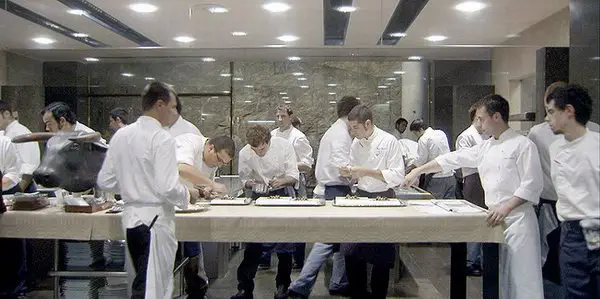 Who decides? Ferran is the decider, as they submit each creation for his verdict. Ferran is mad if it's bad. He nods when it's good. Everyone calls him Ferran. Or is it Leonardo? So wide ranging is his mind as it scans all creatures of the earth, all that grows in the ground, for a possible place on his canvas, all gastronomy, agronomy, marine biology, ichthyology.
The movie is bookended with a few plinks and plunks of something you might call music, but otherwise the only sound is chef talk and kitchen murmur. At the end is the photo parade of beauteous masterpieces issuing from these head trips, now in their finished state of perfection, artistry, ready for the table. The only information given in the film is in the captions under the pictures. Tangerine Blossom With Oil And Ice. We think, oh that's what it was. We watch Ferran say, The more bewilderment, the better.
Deconstructing Ferran, Deconstructor Of Food.
We are watching Ferran, the movie. He's all food all the time. Of course. His intensity, his ferocity, both are palpable, though he's not a raging bull chef. He's a mad scientist chef. Pure concentrate.
Much of the film shows him doing what he does best, tasting. It's his head, but it's his palate too that guides these inventions. Tasting and more tasting. It's all there on screen, you can sense his receptors bristling with sensory input. He is wide awake to how things taste, exactly how. Don't give me anything bad, he says as he tastes something he doesn't like. It has to work. It's the food that stars in this film, if only we were let in on more of what's going on. We watch and watch as the chefs bend over bits of food the way kids pick up twigs or worms. We want to see what happens, and that keeps us watching, but we don't find out much until we see those photos of Adrià's dishes by the only photographer he allows to take pictures of his stuff. The food in this movie doesn't look much like food until the photos get hold of it. It looks like indeterminate matter.
Still, if you are a foodie, you can't not watch. You have to see a pair of regular guys who are chefs go to the market and ask for 5 grapes for testing, to the amusement and somewhat pissed-off tolerance of the vendor, who calls them "my lovelies." They examine live crustaceans, visceral in their garish colors, with scary pincers and claws.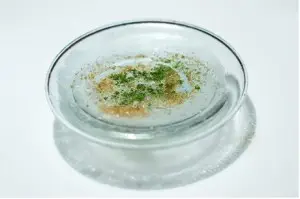 If you have the patience for intense foodiness and for monosyllabic grunts in the kitchen, and for a cinema verité look into a beautiful mind infused with food as its raw material, you will find rewards in this strange revelation of one of the world's innovators. If you like special effects, they are there on the plate. Hollywood this is not. But Adrià reminds of Almodovar. They are kindred spirits in their oblique approach to their chosen crafts, in their color and originality. They both have an antic take on the world. They both reinvent life as we used to know it, and make something different out of it. Something new. Something shiny. Adrià's food could be seen as cinematic.
A Most Ingenious Paradox.
See the movie. Decide what invention is made of. You can't necessarily see it whole, with a unified view. You have to allow for a divided mind about it. It's full of sound and fury, strutting and fretting. Some of it looks like puffery. Showmanship in manner, in food iterations, done for its own sake, the novel or bewildering at times obscuring anything else. Sometimes it's a bit Emperor's New Clothes, not much there there. But you can see that Ferran is an emperor, a quixotic emperor of illogical, counterintuitive cuisine. You can see that he is for real, he's seriously dedicated to taking these food transformations and reinventions as far as they will go. He's the Deconstructor of Food. He is a paradox, part genius, part crackpot, which is usually part of genius, of invention. Is it that lunacy that allows him to go as far out on a limb as he has and end with a gastronomy game changer, a new way for one of the world's oldest activities, feeding people?
Will his approach be passé soon, with the recent Nordic takeover, back-to-nature-and-the-wild cuisine capitalizing on rare twigs and berries, riches of the frozen north in unadulterated form, just as they grew? A backlash perhaps, this return to nature. But no less artful and creative in its approach.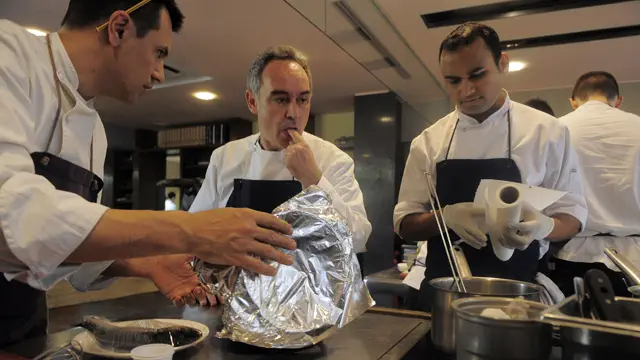 El Bulli just closed but it's persisting, reincarnated as a culinary education and research institute, in its isolated bay on the Spanish coast north of Barcelona. El Bulli means bulldog. The restaurant got its name from the previous owners, a German homeopathic doctor and his wife, who opened a minigolf installation. They owned French bulldogs, bulli. There's also a huge bull's head replica in the restaurant that gets carted around, spoils-of-the-hunt style. Again, nice effect. There's a lot of "nice effect" stuff around in this haute cuisine flick.
El Bulli was rigorous in its standards for everything. As is articulated unequivocally in the film, everything had to be perfect–food, chefs, table appointments, all work in the kitchen. There could be no loopholes. Hard drive crashes were not tolerated—things had to be on the computer, in pictures, written on paper was not good enough for Adrià. Nothing was exempt. He wouldn't give an available table away even if it remained unoccupied—it could set a wrong precedent.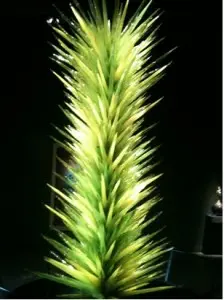 The film is many things. It is a testament to the restaurant, immortalizing it on celluloid. It's also a requiem for the restaurant, which you see as it is closing. It's a manifesto for culinary invention. It's a tribute to Adrià and what he has wrought, how he has transformed thinking about food, even if you don't adhere to his stunts. It's a probe exploring the workings of the brain of an inventor and genius, of the enigma that is Adrià, who as an auto-didact went way out on a limb to do things differently and in the process got the attention of everyone who knows food, for better or for worse. He's a performer, puzzling to the naked eye, twirling in the spotlight, gazes rapt. A most ingenious paradox.
In Boston the film was shown at the MFA, where the Chihuly green icicle– extreme, simple in its brilliance and originality– forms the perfect complement to the crazy creativity and beauty of Adrià's food. The icicle even reminds of Adrià's ice creations. Both are acts of astonishment. The icicle is the perfect embodiment in art for Adrià's food, wondrous, unexpected, a newly minted miracle no one could have thought of before it happened.
©Sally Levitt Steinberg
---
Sally Levitt Steinberg is a writer, journalist, and oral/personal historian. She has written several books including The Donut Book, the world's definitive book of everything-you-need-to-know about donuts. It was chosen twice as a Book-of-the-Month Club selection; it has been featured in all the media, including NPR, the Martha Stewart radio shows, and the film Donut Crazy for the Travel Channel, and its materials form The National Donut Collection at the Smithsonian Museum.
She has written a biography, The Book of Joy, as well as several personal histories and a book on interior design. Her essay, "Coffin Couture," was cited as the best piece in the recent anthology of personal history, My Words Are Gonna Linger. She has written articles for many publications, including The New York Times, The Boston Globe, and The New Yorker. She lives in Boston.
Order The Donut Book through the Fuse Amazon link and the magazine receives a (small) percentage of the sale.