Every musician brings his idiosyncratic personality to his (or her) playing, and yet, even after four big pieces, I was not sure what Russell Sherman's non-piano or piano personality was.
By Susan Miron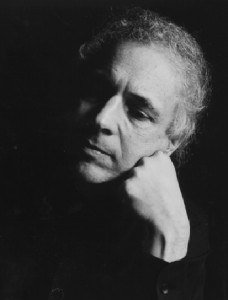 Pianist Russell Sherman, now 81, has enjoyed a cult-like reputation in Boston as both a masterful teacher and performer. Seven excellent pianists whose playing I know well studied with him, and each left sounding like a totally different pianist from the others.
His recent concerts at New England Conservatory's Jordan Hall and at Emmanuel Church have been S.R.O. events, and July 17 at Rockport Music's Shalin Liu Performance Center was a packed affair as well. The 30th season's last concert, it had the air of a Big Event. And this is a series that had no shortage of A List—or Liszt—players this summer.
Every musician brings his idiosyncratic personality to his (or her) playing, and yet, even after four big pieces, I was not sure what Mr. Sherman's non-piano or piano personality was. He walked out on stage demurely and played the enchanting Schumann Arabesque, Opus 18, a piece that has gotten a lot of play the past year and a half because 2010 was the 200th anniversary of Schumann's birth.
Mr. Sherman had performed Schumann at Jordan Hall in October to rave reviews, but this listener found Mr. Sherman's piano playing with its many shades of piano difficult to adjust to. I had heard all the pieces on his program with a larger dynamic range and more drama and had heard much of this music in this hall.
Schumann's Arabesque was written in C, like the Opus 17 Fantasy that followed it on the program. Both were barely veiled love letters to his beloved muse, the brilliant pianist Clara Wieck. Ms. Wieck's father, desperately determined to keep the young lovers apart, failed, and they soon got married. In the meantime, the barely encoded messages in the autobiographical Fantasy kept Clara and Robert's love alive until they finally married in 1840. The history of the pieces on this program is curiously woven together. The Fantasy was dedicated to Franz Liszt, who dedicated his monumental Sonata in B minor to Schumann. All of these pieces are impassioned, Romantic creations that have become mainstays on virtuoso piano recitals, and Mr. Sherman no doubt taught each of these to dozens of pupils over the years.
Mr. Sherman has been closely associated with the music of Franz Liszt, and he seemed especially at ease playing Liszt's music. The Sonetto del Petrarca, No. 104 had an interesting compositional journey. It began as one of the three sonnets by the Italian poet Francesco Petrarca (1304–1374) that were love poems addressed to yet another muse, Petrarcha's Laura. After they were set to music as songs by Liszt for an Italian tenor, they became virtuoso, solo piano works that Liszt used for his own use as one of the great, if not the greatest, virtuosos of his day.
Mr. Sherman must have given this piece and the landmark B Minor Sonata (1852–53) a great deal of thought (and practicing) over the years, and he played both with aplomb, humbly accepting very enthusiastic applause. It seemed that his sound and engagement with the music got deeper as the concert went on, until his ravishing encore, Jeux d'eau a` la Villa d'Este. Mr. Sherman's shimmering performance—the best, to these ears, of the evening—made it clear why people have flocked from all corners of the globe to study with this pianist.
---
Susan Miron, a harpist, has been a book reviewer for over 30 years for a large variety of literary publications and newspapers. Her fields of expertise were East and Central European, Irish, and Israeli literature. Susan covers classical music for The Arts Fuse and The Boston Musical Intelligencer.