By Peg Aloi
Lovecraft Country is quite a thrill ride at times, its heady balance of realism and fantasy spiced up with an intoxicating dose of science fiction and time travel.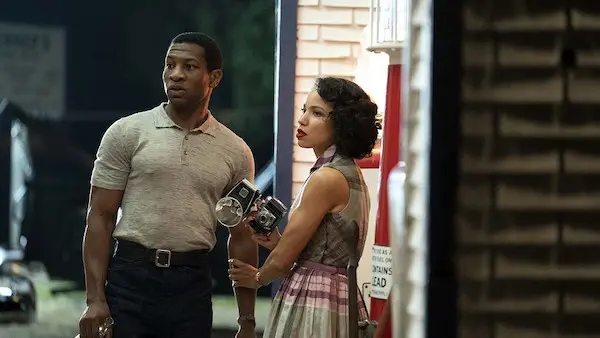 Readers and lovers of horror fiction are generally united in the belief that H.P. Lovecraft holds a distinctive position as a master of the genre, a bold visionary. His style is both formal and engaging, and his penchant for imagining eccentric occultists and monstrous beings covered in slime, tentacles, and razor sharp teeth made him a pioneering voice in the genre. His creation of the "Cthulhu Mythos" has been widely influential and shamelessly imitated. He was also a poet, journalist, and voracious letter writer. Most of his writing was published in the '20s and '30s (Lovecraft died in 1937). Literary critics and fans alike have recently acknowledged that Lovecraft's personal ideology extended toward being rather racist and and anti-Semitic and that this also informed his fiction.
Followers have begun addressing the hate-filled side of Lovecraft. To their credit, they are not dismissing his work out of hand, but are confronting the problem. Recently we saw a somewhat tongue-in-cheek reference to it in the opening scene of Color Out of Space, a Lovecraft adaptation which introduces a young African-American character as not only a deep fan of horror literature and student of the occult, but the eventual hero/narrator of the story.
Lovecraft Country takes the current healthy desire to interrogate the author's racism, while still celebrating his creative genius, to outrageous and brilliant extremes. Created by Misha Green, based on the novel by Matt Ruff, and executive produced by Hollywood wunderkinder J.J. Abrams and Jordan Peele, this series, with the first season's finale airing next week, continues to shock, thrill, delight, and titillate viewers who wait impatiently each week for a new episode to drop Sunday night at 9 p.m. on HBO.
The narrative is set during the '50s Jim Crow era and focuses on a somewhat complex family dynamic. In the first episode, "Sundown," Atticus Freeman (The Last Black Man in San Francisco's Jonathan Majors) has returned to his childhood Chicago home, where he was raised by his aunt and uncle, after a traumatizing stint in the Korean War. He voluntarily enlisted to escape his abusive father. Arriving around the same time is his old school friend Leticia/Leti (Jurnee Smollett), who is dropping in on her older half-sister Ruby (Wunmi Mosaku), with whom she has a strained relationship. Atticus (or "Tic" as he is called) is staying with his uncle, aunt, and cousin. Tic discovers a letter from his father Montrose, who's been missing for years. It contains clues to his family legacy in Massachusetts (the "Lovecraft Country" of the title, though it could be argued the entire nation is seen as such, under the grip of mid-century bigotry).
Uncle George (Courtney B. Vance) and Aunt Hippolyta (Aunjanue Ellis) publish a travel guide "green book" for African-Americans, and their research inevitably takes them to dangerous places. George is also well-read on occultism, like his nephew, and Hippolyta was a star astronomy student in school. Along with Leti, who's a talented photographer, this group likes nothing better than looking into a mystery to be solved. George, Tic, and Leti set off on a road trip east to find out more about the letter, traveling in the reliable "Woody" (a gorgeous red station wagon with wood-paneled sides, one of a plethora of stunning vintage icons that make up the series' impeccable production design). They're stopped and nearly killed by racist police in a "sundown town" where a local ordinance forbids black people to travel through the town by night. In addition to the racist residents, the town also hosts monsters of a much more supernatural variety. The three manage to battle and escape them all. The episode ends with the trio stumbling upon a grand mansion owned by a strange white man named William (Jordan Patrick Smith), who invites them to stay. The home seems to gratify the trio's deepest desires (a grandiose library for George, a closet full of elegant clothes for Leti), but Tic is suspicious when he learns the mansion is the headquarters for a secret occult society that has connections to his family. This society's growing political influence is a prominent thread in the story.
Despite its gorgeous set pieces and sometimes fantastical events, the series is rooted firmly in convincing characters and plausible relationships. In the opening scene between George and Hippolyta a morning snuggle turns sexual (shockingly erotic for a middle-aged married couple), which establishes the show's frank treatment of adult content. Both Vance and Ellis are brilliant here. Likewise, sparks fly between Tic and Leti, and both Majors and Smollett establish a relationship of remarkable range and emotion. But far more adult than some of the steamy sexy scenes are the extreme depictions of violence: some perpetrated by fictional creatures, some by people. Some of that mayhem makes us want to cheer: as when Leti struts, in an emerald green cocktail dress with a baseball bat, from a house party at her new abode in an all-white neighborhood to a line of cars parked outside, all owned by racist bullies. She begins her demolition by smashing up a car the same color as her dress. It's a visual feast and a righteous moment of catharsis. Some of the violence, however, is harder to watch, as when Tic struggles to exorcise the demons of his own abusive upbringing.
That show creator Green is a young African American woman makes this series all the more laudable, given the current renaissance of intersectionality taking place in the entertainment industry. The production's dovetailing of artistic whimsy (contemporary recording artists like Gil-Scott Heron or Patti LaBelle, or poets/playwrights like Ntozake Shange, are on the soundtrack) and cultural resonance (iconic photographs of segregated America inspire the look of several scenes) is rich and detailed. The cast is stellar and letter-perfect. I have especially enjoyed Wunmi Mosaku's Ruby, whose song and dance stylings add lush energy to an already powerful character arc, Jami Chung as a mysterious former lover of Tic's from Korea, and Michael K. Williams' heart-wrenching portrayal of Tic's father, Montrose. Guest directors for each episode also keep the proceedings lively and unpredictable; two of my favorite episodes so far have been directed by women: American actress/director Helen Shaver, and Danish director Charlotte Sieling. Green is a hell of a director, also, and helms "Jig-a-Bobo," a stunning episode inspired by the reaction to Emmett Till's murder.
The show is quite a thrill ride at times. Its heady balance of realism and fantasy is spiced up with an intoxicating dose of science fiction/time travel. But, by rooting the plot and its complex trajectories in real life examples of oppression and prejudice, as well as highlighting the experiences of women, people of color, and gay and trans people, Lovecraft Country does more than just call out the author's horrifying shortcomings. It transmogrifies them. Green's accomplishment is remarkable, and the show's runaway popularity speaks for itself. And, in this nation where our failure to grapple properly with ongoing bigotry looms larger every day, bold, daring art is what is needed going forward. Passion, inspiration, courage, and righteous anger, all dedicated to crafting love out of hate.
---
Peg Aloi is a former film critic for the Boston Phoenix and member of the Boston Society of Film Critics. She taught film studies in Boston for over a decade. She writes on film, TV, and culture for web publications like Vice, Polygon, Bustle, Mic, Orlando Weekly, Crooked Marquee, and Bloody Disgusting. Her blog "The Witching Hour" can be found at themediawitch.com.