By Mark Favermann
Thankfully, public art has become much more than murals for blank wall spaces.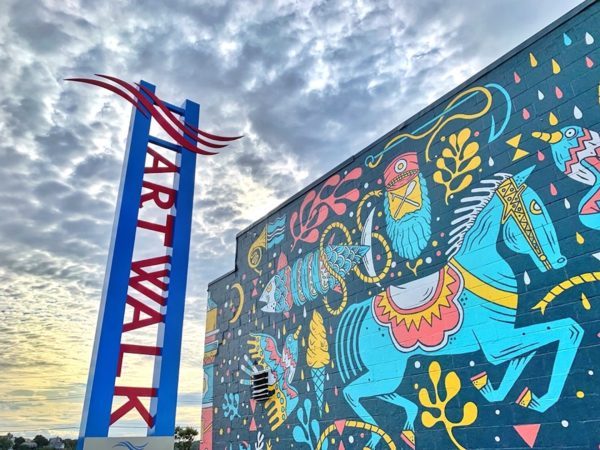 Not so long ago, most public art was permanent and monumental, its imagery literal or symbolic. Then, in the 1960s, artists started to create "happenings," events that were participatory, process-oriented, and performance-based. Today, most public art is temporary, often focused on performance or interactive activity, often ironic or at least layered regarding its political or historical meaning. Social justice issues and public art have now become strongly intertwined. Many artists currently consider themselves activists of some type. Murals (even those edging near graffiti), temporary structures, word art, audio as well as singularly visual events, process art, projections, illuminations, augmented reality pieces, and multimedia events are inevitably conceptual and are often designed to send political as well as social messages in visually evocative ways.
By definition, public art is art in any media that has been planned and achieved with the intention that it will be staged in the physical public domain, usually in an outside location accessible to all. At present, public art is usually site-specific, community-involved, and collaborative. But, in the present political environment, the relationship between creative content and audience may have become more important than the artwork's physical location.
A case in point. In his book Walkable Cities Rules (Island Press, 2018), the acclaimed urban planner Jeff Speck (national and international lecturer, TED Talks, author of several books, etc.) gets a lot of things right in his best practices guidelines for a highly livable, walkable urban environment. However, the Brookline-based writer goes way off the mark when he argues that "public art should be limited to blank walls."
This notion reflects Speck's quirky prejudice against local/regional three-dimensional art. He considers most late 20th- and 21st-century multidimensional public art to be low budget "plop art," usually set willy-nilly (often distractingly) in a civic setting. However, he concedes that earlier Federal Art programs of the US GSA/NEA variety, drawing on the work of prominent, name-brand artists, were expensive large-scale public art projects sited and scaled properly at Federal buildings. Except they didn't always work out so well — for example, Richard Serra's controversial Tilted Arc, which eventually had to be removed. According to Speck's thinking, a community's limited financial resources should limit attempts at public art. He feels that wall murals are cheap, therefore they are good.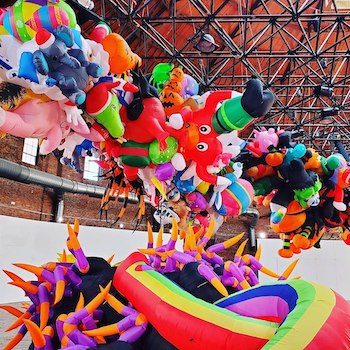 Though most of his urban philosophy deals beneficially with pedestrian-oriented planning, his major public art pronouncement (Rule #93 in Walkable Cities Rules) that imposing blank walls should be covered with large-scale murals is unimaginative to the point of absurdity. Somehow, Speck feels that only murals add to pedestrian comfort as well as to the quality of public spaces. This is ridiculous. Is this the result of trauma? Did Speck get hurt on his skateboard after trying to ride on a piece of metal sculpture?
In  contrast, the late MIT professor Kevin Lynch's seminal Image of the City (MIT Press, 1960) argued that the urban environment "is ever changing in detail." For him, objects made of various materials, of different scale and textures, greatly add to the human experience that the built environment provides. According to Lynch, eclectic objects add the kind of visual clarity and legibility that people can immediately grasp, if only as reassuring symbols. At the very least, an easily identifiable series of landmarks orient individuals to pathways.
Lynch believed that a hierarchy of visual and other sensory cues offers a form of comforting orientation, an intuitive means of recognizing location. Unlike Speck, Lynch acknowledged the value of visual sensations, of color, shape, motion, or polarization of light, as well as other senses, such as smell, sound, touch, kinesthesia, etc. Thus, as early as the '50s, Lynch expressed a prescient openness to forms that have evolved half a century later into contemporary public art.
On the one hand, many communities are tattooed with murals — some are full-bodied, other are more discrete. But Speck either doesn't know about or disregards the fact that public art is not limited to just wall murals.
Recent projects in and around the City of Boston are meaningful examples of the new directions public art is taking. Major temporary mural efforts include those in the cities of Lynn (Beyond Walls), Worcester (WOW!), and Salem, MA (Punto Neighborhood Project). There are also murals along the Southeast Expressway (US Route 93) and along Storrow Drive adjacent to The Charles River Esplanade.
Among the process-orientated projects there was the distribution of 10,000 sunflower seeds by artist Ekua Holmes throughout Boston's Roxbury neighborhood, which was sponsored by Now+There's creative art accelerator program. Recently, a series of art events (Augment) were staged by artist Nick Cave, also under the aegis of Now+There. This was a very visual approach to social justice concerns and included the presence of objects, an interactive process, a procession, and a parade. A spooky but colorful inflatable served as a centerpiece. Using matching funds from Mass Development's Patronicity Program and the Essex County Community Foundation, Lawrence, MA, has commissioned artist John Powell for Iluminación Lawrence, a citywide lighting project that creates an immersive public art gallery through the use of LED lighting and projections. The Town of Hull also used Patronicity to have several artists create an ArtWalk of temporary walls and sculpture located across from Nantasket Beach.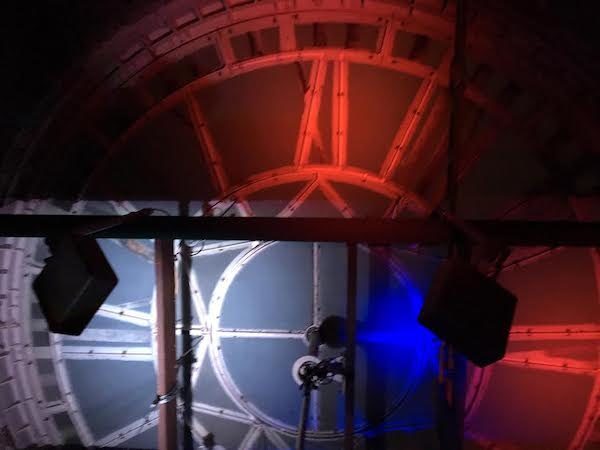 Underscoring the connections between commerce and public art, Natick, MA, has transformed its downtown into a cultural district. The city is using various forms of temporary public art to help generate a distinctive sense of place. It is a model for other towns and cities.
In the past few months, Boston CyberArts has coordinated with the Boston Greenway Conservancy on an Augmented Reality (AR) exhibit. Augmented Reality 2019 overlays interactive digital elements into real-world environments. The intent is to use historical imagery to reflect on the changing nature of what once was a major transportation corridor through downtown Boston.
The CyberArts and the Conservancy commissioned three prominent AR artists and Amy D. Finstein, a local historian, to conceptually explore themes of transportation superimposed with views of the Rose Fitzgerald Kennedy Greenway. Artists Nancy Cahill Baker, Will Papperheimer, and John Craig Freeman created the artwork.
For urbanist Speck and his followers, walkability is an end rather than a means. But public art is much more than colorful wallpaper pasted over large blank spaces in neighborhoods, cities, and towns. It is important that we (people, politicians, civic planners, etc) understand that public art is about more than punctuation: it should animate and provoke, predictably generating controversy and beauty. In all of its variety, public art is our contemporary cultural environment.
---
An urban designer and public artist, Mark Favermann has been deeply involved in branding, enhancing, and making more accessible parts of cities, sports venues, and key institutions. Also an award-winning public artist, he creates functional public art as civic design. Mark created the Looks of the 1996 Centennial Olympic Games in Atlanta, the 1999 Ryder Cup Matches in Brookline, MA, and the 2000 NCAA Final Four in Indianapolis. The designer of the renovated Coolidge Corner Theatre, he is design consultant to the Massachusetts Downtown Initiative Program. Since 2002, Mark has been a design consultant to the Red Sox. Mark is Associate Editor of Arts Fuse.