This is sweet and haunting music; and, like rose oil, it lingers.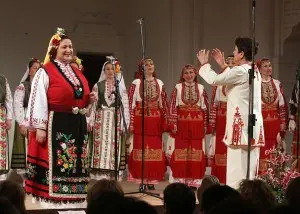 By Mark Hänser
Rose oil is perhaps Bulgaria's most celebrated export; there is even a famed "Valley Of Roses" in that Balkan land. Aromatic, evocative, romantic, melancholy. Just like the voices of another famous Bulgarian product, Les Mystère Des Voix Bulgares, who performed at the Somerville Theater on April 7.
Presented by World Music/CRASHarts, the ensemble — formerly known as the Bulgarian State And Radio choir and since renamed after their  1986 debut album — consists of twenty-three women and two men, plus their conductor, Dr. Dora Hristova. Their repertoire features love and harvest songs, tunes of longing and sung prayers, all performed by way of an ethereal polyphony. Visually, roses are a prominent feature — in headdresses, on scarves and pinafores, and on the men's lapels. This is sweet and haunting music; and, like rose oil, it lingers.
Much of the music in this concert was drawn from the ensemble's first two albums. Singing as a group, or in trios, or in duets, the Voix Bulgares offered microtonal counter-melodies, full-throated cries, parallel harmonies, delightful yips, and scattershot scatting, best described as Balkan jazz. Singers turned to each other during the performance, engaging in secret (at least to the listeners) and knowing conversation. In "Vito Horo," a Bulgarian reel dance, their voices invoked the celebration of a village festival. "Ergen Deda" (or "The Old Bachelor," a song about an old man dressed as a boy) closed the first half of the show. It was a rapturous experience, the number's almost percussive vocalizations ending in an artful cacophony.
The second half of the performance produced an outfit change — for the women, black gowns with scarlet and gold sashes — and even more beautiful sonic dissonances. Three numbers, in particular, stood out: "Svatba", a marriage ceremonial that was soaring and euphoric; the otherworldly "Pilentse Pee" (or "The Bird Is Singing"); and the gorgeous, lullaby-like "Polegnala E Todor" (or "Todora's Dream"), which is about a young woman who, while taking a nap beneath a tree and dreaming of her beloved, is awakened by a wind that blows a branch to the ground. This was an evening of  exhilarating sounds, well served by the acoustics of the Somerville Theater. This is the third time I've seen Les Mystère Des Voix Bulgares in concert, and it was more than a charm — it was magical.
---
Mark Hänser is a visual and performing artist, poet and writer, actor and musician, and educator. Mark has a BA in History from California State University Long Beach, where he majored in Medieval and Renaissance Studies; a BFA in Painting and Interrelated Media, with a minor in Art History, from Massachusetts College Of Art And Design; and an Ed.M in Arts In Education from Harvard University. He has written and edited for a number of publications, including the Boston Phoenix, where he wrote about music.
Mark has taught art in a number of Boston-area arts programs, and taught drama for a semester at the Cambridge Friends School. He really enjoys donuts.