"For artists involved in doing ensemble devising, there is tremendous value in the creative challenge on every level of seeing how high and how far you can go as an artist. The risk is that you could also crash and burn at any time, but it is worth the attempt."
By Bill Marx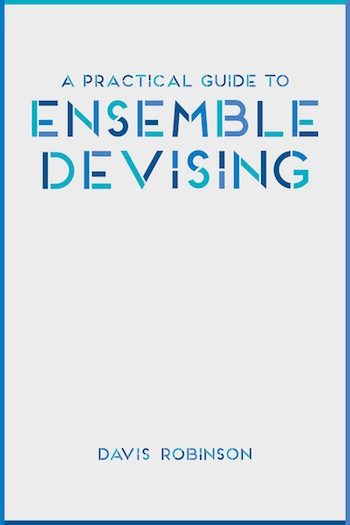 A Practical Guide to Ensemble Devising by Davis Robinson. Palgrave Macmillian, 192 pp, $24.95.
The stereotype pretty well holds true: a dramatist brings a completed script to the director and actors, who in the process of mounting the production make repeated requests (in some cases, demands) for changes during rehearsals. One of the creakiest of showbiz cliches is that of the panicked director and playwright huddled in a hotel room scribbling rewrites just before Press Night. But theatrical times are changing; there is a refreshing desire for more collaboration when it comes to supplying new work for the stage. Over the past two decades the notion of just who makes up the 'creative team' is expanding, with those who used to be sitting on the bench and kibitzing (actors, designers, etc) now on the front lines.
But that enhanced role poses a considerable risk to performers, demanding increased levels of commitment, imagination, and patience. What are the techniques that make for the best collective theater-making? What are potential problems and their solutions? Which groups have done 'ensemble devising' well and how did they go about it? Who better than Davis Robinson, artistic director of the award-winning experimental company Beau Jest Moving Theatre, to share what it takes for people to team up and then dream up unconventional theater works? His new book, A Practical Guide to Ensemble Devising, is a detailed how-to filled with useful ins and outs, exercises and tips, warnings and anecdotes: its wisdom reflects his over three decades of work with Beau Jest, his observations of the productions of other groups, such as The Civilians and PigPen Theatre Co., and his movement and improvisation studies with Jacques Lecoq and Tony Montanaro, Mark Morris and Pilobolus, among others.
A professor of theater at Bowdoin College in Maine and former head of actor training at Emerson College in Boston, Robinson teaches courses on Physical Theater, Improvisation, Comedy, Theater Styles, and Ensemble Devising. He is not a novice author: his book The Physical Comedy Handbook was published by Heinemann Press in 1999 and is now in its 8th printing.
I sent Robinson an e-mail with a few questions about his latest book, asking about the history and growing significance of ensemble devising, as well as wondering just where criticism fits into the picture of artists working together.
---
Arts Fuse: In a nutshell, what is ensemble devising? What is its greatest value for performers? For audiences?
Davis Robinson: At its core, ensemble devising means developing new work collaboratively rather than the usual top-down model using a script with directors directing, actors interpreting, and designers designing. In ensemble devising, actors and designers have much more agency in the creation of a piece, one that often begins with a theme or concept and no script. There are many different models for how this work gets made, but it usually involves a much longer rehearsal process and a unique final product particular to the group of artists who created it.
The value for audiences is that it continues to expand the visual, intellectual and physical possibilities of the kind of theater out there to be seen. An exciting ensemble like Kneehigh Theater can visit Boston (as they did last year with their production of Tristan and Isolte), and audiences get to see a unique production that no one else in the world is doing. There is a ripple effect from work like that which will influence audiences and artists alike for years to come. And for artists involved in doing ensemble devising, there is tremendous value in the creative challenge on every level of seeing how high and how far you can go as an artist. The risk is that you could also crash and burn at any time, but it is worth the attempt.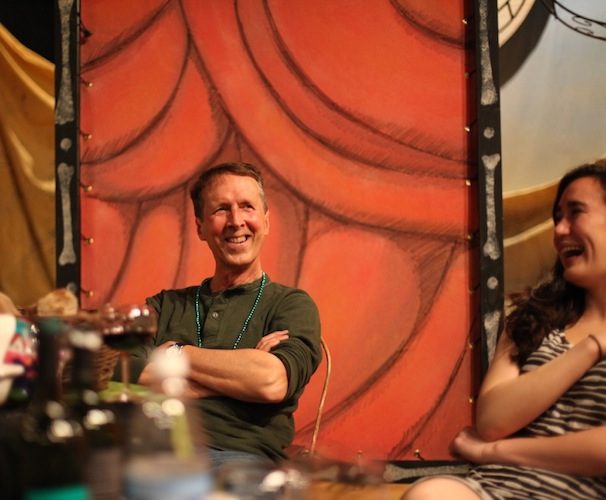 AF: What are the greatest challenges posed by collaborative theater? Is that why ensemble work is so rare?
Robinson: See above. With more chefs in the kitchen, the potential for more disagreements and work that is unfocused or pulled in different directions increases exponentially. It takes time for a group to develop an aesthetic and fine-tune a piece. Every ensemble needs to find a way to manage quality control. Really talented actors, directors, designers, and writers have strong opinions. Capturing and bottling those talents at one time and place for a particular production is rare; talented people will naturally be pulled by demands for other better-paying projects with shorter time commitments. Getting collaborators to align for a period of time and make a really good piece takes a lot of luck, goodwill, and perseverance on everyone's part.
AF: A check on Google suggests that there are not many books on ensemble devising. How new is the form (as least seen as a method) and why is it coming into its own now?
Robinson: The term devising began to surface in England in the late 1980's-early 1990's, and grew I think out of an interest in the avant-garde and experimental theater movement led by Grotowski, Peter Brook, Joan Littlewood, and others. British schools began to add courses on devising at the high school and college level, and the first books to look at the field of devising as an academic subject area were British. In America, several companies had been making original work collaboratively for years using terms such as physical theater, experimental theater, performance art, actor-generated material, etc. It was an alternative professional production model, but not yet a subject area in many colleges.
Devising seems to have taken hold over the last two decades as a term and area of study in its own right, and schools are adding courses in the subject. There are now graduate MFA programs in devising. High schools are doing devised projects. I believe it's come into its own in part because we have become a more visual culture used to the blurring of boundaries: new musical forms sample from multiple sources, theater uses video, music, and spoken word in new ways, Youtube has made every performance model available, and developments in technology have blurred the lines between video, body, image, sound, and performance in exhilarating ways. The body has moved to a more central position in terms of meaning.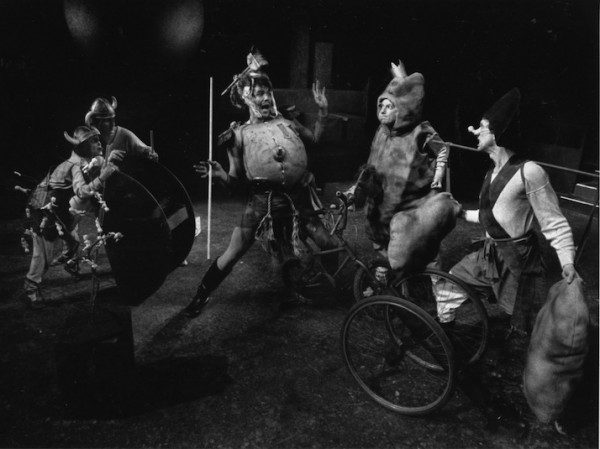 Text and story are still an essential part of theater, but people are seeing a need to respond to an increasingly complex and rapidly changing world with new performance-making tools and dare I say artistic "rapid-response" teams. I have been teaching ensemble work for years and have seen the growth in interest in specific disciplines such as Viewpoints and Lecoq technique, but I couldn't find a textbook for my classes, so I began writing this book about four years ago. Most of the other books on ensemble work interviewed various practitioners, but said little about how they made work. I wanted a "how-to" book. I continued to make changes until this past spring when it went into publication. I fully expect more companies and devisers will be writing about their methods as the field continues to grow. I was lucky enough to have one foot in the professional world and one foot in academia, which helped buy me the time to work on the book, a luxury many performers can't afford.
AF: Collaborative theater's emphasis is on the imagination of the performers. Together, they create new material. Yet, as you admit, the work is usually done in the context of commercial staging demands, which generally means constriction and standardization. Is there a fruitful way to live with this paradox?
Robinson: Yes, in college settings or professional workshops, participants can take big risks and make very interesting work without commercial considerations, work that the public may never see. I recommend all theater artists at any stage of their career give themselves a "retreat" every few years and find renewal in pure, creative work with a mentor or artist you admire, something that helps you to sharpen your skills and learn new methods. This rejuvenating experience can then be applied towards work with your own ensemble or with any group willing and interested in making a piece together for public and commercial consideration. And there is creative satisfaction to be found in the more limited world of fine-tuning a piece for completion, but it relies on the invigorating energy found early-on in the initial imaginative stages of development to carry it through. Art by committee is never pretty, and in the final shaping of the piece a singular point of view needs to emerge, even if several people are contributing to it. That is the hardest work.
AF: Ensemble devising is dedicated to new work — yet it seems to me that opportunities for staging unconventional scripts are becoming rarer. Are companies and institutions seriously recognizing the power of ensemble devising? Or is it primarily favored by university theater departments, who see Ensemble Devising as a powerful form of training?
Robinson: Devised work and new or unconventional scripts both share a problem: there is no name recognition of the new piece to bring in an audience, so the public has to rely on the reputation of the company producing the work or the writer's past work. Some devising ensembles may have a writer in residence, and some writers are good at building relationships with a local theater company to produce their work. But the path for writers still tends to be sending scripts out, New Works festivals with short rehearsal processes, staged readings, and workshop productions that may attract a full-scale production. Devising groups are more interested in playing together with language, movement, and imagery to create a narrative and unless a writer is part of the team, scripts in a devising group change radically over time and tend to arrive at the end of the production process, not at the beginning. Professionally the marriage can be wonderful, as in Anne Washburn's work with actors from The Civilians which led to the script for Mr. Burns, a Post-Electric Play. And yes, more groups are coming out of school programs, like the PigPen theater that played in Boston last year with The Old Man and the Old Moon. They all met at Carnegie Mellon and worked together in school before graduating and taking their work on the road.
AF: Given all the examples taken from your decades of work with Beau Jest, the book almost comes off, at times, as a history of the group. Was that part of your intent in writing this book? What did you learn about the group's accomplishments as you looked back?
Robinson: No, I originally intended to write a book on Ensemble Creation and the Physical Actor to gather together all the exercises I use doing and teaching physical theater. My editors thought that was too broad a topic, and that I should focus solely on ensemble devising while mentioning exercises as needed or applied to doing devised work. As I began organizing the book and putting in order how people make work together, I saw how much ground Beau Jest had covered over the years. We began by making short pieces, then moved on to full length scripts, original work, comic strips, movies, novels, and most recently unknown Tennessee Williams plays. It was a good palette to draw from. And it was the work I knew best, so I referenced it a lot. We aren't terribly famous, but I do know that we are a healthy group that has endured and changed with the times, and felt that was worth passing on. I also tried to include as many other groups as possible since I really have no interest in endorsing any particular aesthetic, style, or way of working. I talk about patterns, common problems, time-saving devices, movement fundamentals, and brainstorming techniques, but I hope the book is capable of helping people generate a diverse range of work.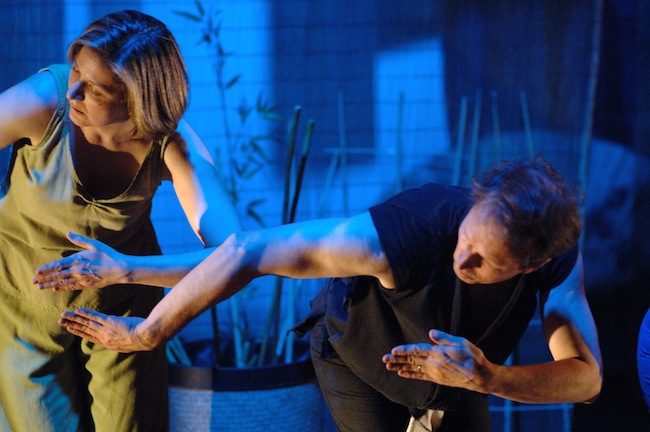 AF:As a critic, I am intrigued that — as a theater piece is being polished in its final stages — you think it would be a help to "invite strong critical eyes and thinkers you trust into the rehearsal every day…" Shouldn't that kind of questioning come in earlier in the process? Isn't there a critical component to the creative collaborative process?
Robinson: There certainly is. You need to make sure a piece is stage-worthy before it goes public, and you need to hear where it is weak or confusing before the audience sees it and while there is still time to make changes. Some groups have more linear thinkers, and can plan out a rough draft of a show before rehearsals begin. Critical eyes are important at that stage, too. I work more intuitively, and like to have a month or two to just play freely with the company before anyone sees what we are doing. At that stage, the work is quite fragile and could go in several directions. The people in the room need to keep throwing paint at the canvas before inviting outside eyes in.
When we do have a sense of the direction of the piece and a few scenes to show, we invite in trusted collaborators who know how we think: Libby Marcus, Larry Coen, Karen Perlow, Judy Gailen, or other actors or designers who have worked with us but aren't in the show. That then starts the lengthy process of shaping, re-writing, editing, new scenes, etc, which could last anywhere from 3-5 months of work before the debut, which is a lot longer time frame than the typical rehearsal process. Final is a relative term. Once that show opens and we get actual critical response from audiences and writers like yourself, we do another round of re-writes and rehearsals to keep tweaking and fine-tuning the work until we feel it is "done", at which point we either continue to tour it, or start work on a new piece.
---
Bill Marx is the Editor-in-Chief of The Arts Fuse. For over three decades, he has written about arts and culture for print, broadcast, and online. He has regularly reviewed theater for National Public Radio Station WBUR and The Boston Globe. He created and edited WBUR Online Arts, a cultural webzine that in 2004 won an Online Journalism Award for Specialty Journalism. In 2007 he created The Arts Fuse, an online magazine dedicated to covering arts and culture in Boston and throughout New England.