Iris, directed by Albert Maysles. Screening at the Coolidge Corner Theatre and Kendall Square Cinema.
By April Lyn Graffeo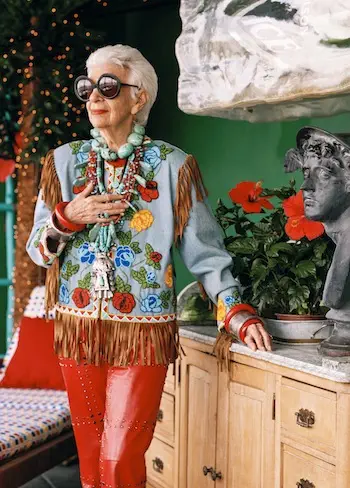 This entertaining documentary from the late Albert Maysles showcases the life of fashion pioneer Iris Apfel, who paved the path for many young aspiring artists. Over the course of Apfel's decades long career, she has managed to earn minor celebrity status: she is a legendary collector of fashion who makes what appears to be ugly, enchanting. Her distinctive genius lies not just in the big and bold choices she makes regarding her choice of couture accessories, but the playfully free spirit that inspires her selection of fabrics and pieces. There is something distinctly American in Apfel's glorification of individuality and freedom.
Apfel's work has touched on all aspects of fashion design, including choosing home decor, working as an expert buyer, contributing to glossy magazines, and engagement as a personal stylist. At the age of 93 she has fearlessly done it all — and she is still doing what she loves.
Apfel's unique sense of style has graced almost every iconic home in America, including the White House. During her travels, mostly to European estate sales, Apfel hunts for the 'perfect' fabric, accessory or element. Each unique piece of couture costume jewelry is paired, layered, and designed to be an eye-catching work of art.
Some critics argue that her approach is overcrowded, almost hoarder-like in its commitment to wanting to overwhelm. But Iris makes a good case for the free-ranging value of her vision of style: beneath the surface busyness, her taste is coordinated, purposeful, and a little over-the-top.
Besides her creative side, the documentary shows that Apfel is not your ordinary "buyer." She comes off as an admirably sharp business woman. The film examines her keen negotiating skills: "You have to know when and where you haggle." She is also a mentor and teacher. Early on, Apfel recognized the need to give back, to encourage aspiring artists to find ways to fulfill their dreams. "Someone needs to pass the wisdom along to the youth," she enthuses at one point.
Apfel's husband Carl recently celebrated his 100th birthday and over the years he has shown unwavering support for his wife's unflagging quest for fashion 'perfection.' A stylish gentlemen himself, the film shows that he takes considerable pride his wife's work at making others look good. At one point he sings the line "That's where my money goes – to buy my baby clothes."
Sporting urban coke bottle black-rimmed glasses and swag designer threads, weighted down with what looks to be a ton of accessories, it is a miracle that Apfel doesn't tip over! She tops her look with champagne color hair and a bold lip color. She claims that her goal has never been to look beautiful. In fact, Apfel was once singled out of a crowd and told "You'll never be pretty, but you have something better…you have style." There is an ironic kicker to this observation: photos of her have been featured in magazines and art venues around the globe. Her personal collections have been exhibited at New York's Metropolitan Museum of Art and at the Peabody Essex Museum in Salem, MA.
Iris shows us a very senior citizen who remains youthful by keeping active, creative, busy, and fun: "You have to push yourself; you cannot give in to every ass ache."
---
April Lyn Graffeo is co-owner and founder of Indra Salon and City Spa of Andover.
2015 marks the salon's eighteenth anniversary, and for the third time it has been graced with a coveted "Best of Boston" award. More information about her and her salon can be found here.