By Paul Dervis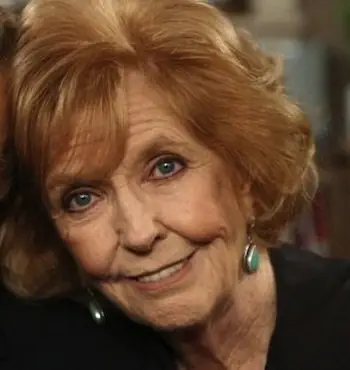 I first met Anne Meara (who died on May 23 at the age of 85) over twenty-five years ago. She was already a legend in many circles. I first remember her when I was a child watching The Ed Sullivan Show while my mother ironed and laughed. I didn't know much then, but I knew that she and husband Jerry Stiller must have been pretty funny to make my mom laugh out loud.
I was a fan of the TV sit-com Rhoda. Valerie Harper was quite good and we all know how Julie Kavner has found fame and fortune since that show voicing Marge Simpson. But it was Ms. Meara's comic turn as airline stewardess Sally Gallagher that made me, a rambunctious college student, tune in.
I split time between Boston and New York from the early eighties until the early nineties, running theaters in both cities. I first worked with Anne's daughter Amy in 1989. That's when I realized that when you cast one of the kids, you were also casting the family.
No parents were more proud or supportive of their children…and it impressed us all.
In truth, Anne Meara left a deep impression on all she came into contact with.
Playwright Hal Corley, who first met her through my theatre company, Playwrights Preview, and went on to work with her, both as an actress and a director, spoke eloquently yesterday about her passing:
RIP Ms. Meara. I was blessed to work with and learn much from her. She was tough, uncompromising, a little scary, and wonderful.
A Boston actor, Tara Dolan Wright, who left for New York three decades ago shared a story about Anne Meara's charm and compassion yesterday:
When I first moved to NY, I was in a play (directed by Paul Dervis) with Amy Stiller amongst others. One of her parents came to each performance. Ben Stiller was having his breakout moment in a play at Lincoln Center so the other parent was at that show. Both Anne Meara and Jerry Stiller were warm, unassuming, and delighted in their child's work. They were generous to all of us in the cast – joining us for drinks after the show – and picking up the tab! I saw them a couple of times after the show and they continued to act is if I had shared in some good part of their lives. Rest in peace, Anne Meara.
Many columns written over the past days have talked about her long and storied career, from the Compass Theatre Improv group in the early fifties, with the comedy team of Stiller and Meara going on to have an amazing run on television and nightclubs, right through her award-winning career on stage both as actor and playwright.
But this column will be more personal.
I stated before that my mother was a great fan. When she became ill from the disease that would quickly take her life, I was working with Amy Stiller. I happened to mention to my mom that Anne was attending the show. My mother flew down to New York in the hopes of meeting her. For half an hour, my mother and Anne Meara talked and laughed and compared notes on motherhood in the lobby of the theatre.
And in the decades of my work in theatre, I know that it was Dianne Dervis's proudest moment. Anne Meara made her feel like a long lost friend…and I will forever be grateful to her for that.
That was Anne Meara.
She was who we lost last Saturday.